By Micheal Rios, Tulalip News 
The (1-4) Tulalip Heritage Hawks were coming off their first W of the season when they defeated Summit Sierra, 51-46, back on December 20. They traveled to Puyallup on Tuesday, December 27, to play the (4-2) Chief Leschi Warriors. Tulalip only had 5 players for this one.
The Warriors were just the better team, especially with the Hawks missing guys, and had their way on both ends against Tulalip. The Hawks hadn't played an opponent like Chief Leschi and struggled to matchup with their athleticism. With only five guys the burden would fall on guard Josh Iukes to carry the team, but the Warriors knew this as well and constantly threw a double-team at him, forcing Josh to give up the ball.
Tulalip trailed 8-21 after the 1st quarter and the deficit only increased at halftime when they trailed 16-48. When the game was over Tulalip lost 28-75. The only bright spot for the Hawks was forward Samuel Fryberg finding a rhythm and getting buckets in front of his cheering family. Sam knocked down three 3-pointers and led his team with 13 points.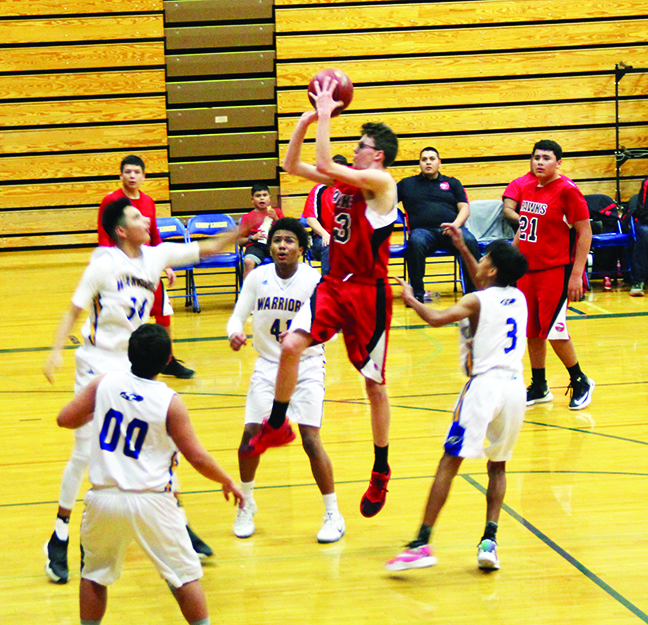 Lummi Nation hosted the Tulalip Hawks the very next day. The game played out very similar to the Leschi game, with Lummi opting to press and double Tulalip's key ball handler. The strategy worked again as Tulalip committed many turnovers on errant passes that led to easy transition buckets for the Blackhawks. Tulalip would lose the game 31-65.
After losing back-to-back games to fellow tribal schools, the Hawks returned home to host (2-5) Grace Academy on Tuesday, January 3. These two teams matched up very well on paper and with a large crowd turn-out, the people were expecting a highly competitive game. Got to give the people what they want.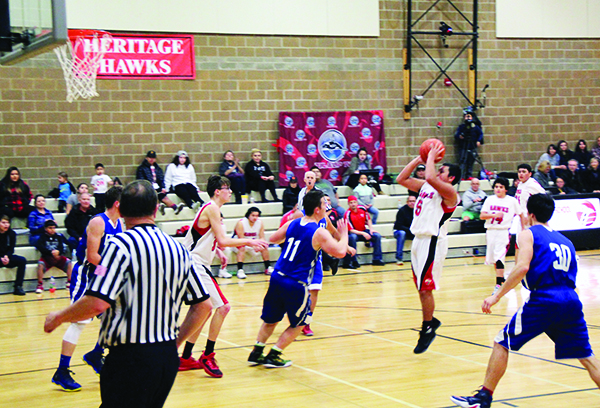 In the 1st quarter, Nashone Whitebear caught fire by making three straight baskets. Trailing 6-9, freshman Josh Miranda found his spots in the offensive sets and made Grace pay for leaving him open. Josh splashed in consecutive 3-pointers to keep his team close. At the end of the opening quarter, Tulalip trailed 14-18.
After some quick buckets by the home team, it was a 19-20 game before Grace went on a 12-2 run. Trailing 21-31, Tulalip called a timeout. The Hawks players were strongly urged to turn up their defensive intensity and stop giving up uncontested buckets if they were going to get back in the game. Paul Shay responded, coming up with two timely steals and going on a 6-0 run of his own. Tulalip finished the quarter strong and cut their deficit to only 4 points, 31-35 at halftime.
Starting the 2nd half, Miranda hit another 3-pointer to bring his team within one point, 34-35. However, this time it was Grace finishing the quarter strong, leaving Tulalip to trail 41-48 with one quarter to play.
In the 4th quarter, the Hawks as a team collectively willed their team to victory. Everyone was scrambling on defense to not give up any easy buckets, they were crashing the boards, and hitting the deck diving for loose balls. Nashone once again got the hot hand and scored three straight baskets. With just over five minutes to go, the Hawks took their first lead of the game 49-48. With the defense still turned on full throttle, Grace Academy was at a loss on the offensive end. They were held to only 5 points in the quarter.
In the game's biggest moments down the stretch, guard Josh Iukes was clutch. Josh hit a corner 3-pointer to give his team a 52-49 lead and then he sealed the deal draining another 3-pointer with only seconds remaining. Tulalip played their best team game of the season and earned their second victory, 55-53.
Nashone and Josh both led all scorers with 16 points each, Miranda with his three 3-pointers scored 9 points, while Paul and Rodney both added 8 points.