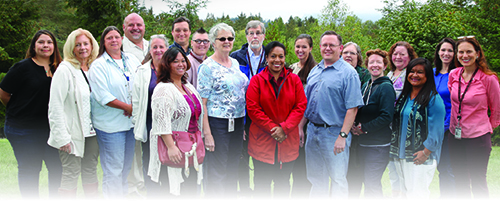 By Kay Feather, MA, LMHC, ATR, EMDR, Sandplay & Art Therapy, Tulalip Family Services
There is much written about mental health stigma, long articles from many perspectives, some about how mental health stigma lives in Native Country.  The common thread for me is the shame I have felt and seen in my life and those around me.  I see it when someone does not want to share their illness with a new friend or family member, fearing that they will be looked down upon.   I see it when a medication might help and there is hesitancy in taking it because that means "I'm mentally ill".
Mental Health Stigma is a very personal issue.  I have struggled with depression for most of my life and have loved ones who are caught in the grip of mental illness.   I realized recently that even though I am a mental health counselor and work daily to help others alleviate the effects it has on their lives, that I had an attitude about mental illness.
Shame is the part of mental health stigma that makes it so painful.  Shame buries us in self-doubt and we tend to suffer in silence, fearing what someone might think of us.  So we don't share or ask for help when we are in need.  Mental health stigma undermines our efforts towards wellness and an ability to heal.
So you see, Mental Health Stigma is a very personal issue.  It is for anyone who suffers with mental illness, or has a family member who does.  Mental health stigma shadows one's ability to understand and have compassion for another's pain and struggle.
When one is diagnosed with cancer, diabetes, or some other illness, friends and family gather round and offer support.  There may be sadness, shock, fear, and also shame, but it does not cripple our ability to reach out.
Mental illness is a broad term for many different diagnosis, several hundred in the Diagnostic Manual of Mental Illnesses.    There are many different behaviors with the different diagnosis, but one thing that is true for all of them; the person is suffering, they are in pain.  It manifests in many different ways, but they are suffering.  And being given a diagnosis is not necessarily a permanent thing, with help it can change.
I urge you to look within and find the compassion you have for your loved one and know that they need your love, your kindness and understanding to live a full life.   Educate yourself on their mental illness, talk with them, and ask how you can help.  And if you suffer from mental illness, allow yourself to love yourself and know that it's not your fault, you didn't do anything wrong.  Sometimes things happen in life and it just doesn't feel fair.   Seek help, educate yourself, and know that you are stronger than your diagnosis.  .
Here are some resources that you may find helpful:
http://www.namisnohomishcounty.org/   National Alliance on Mental Illness This organization offers support group and education for those who suffer with mental illness and those who love and support them.
https://themighty.com/   The Mighty is a website that has articles written by those who are healing from mental illness, disabilities and illness of all sorts.  I have been following this one on Facebook, and have found a wealth of support here.
Here at Tulalip we have two teams to help you:
Adult Mental Health Team  360-716-4400
Child, Youth and Family Team    360-716-4072