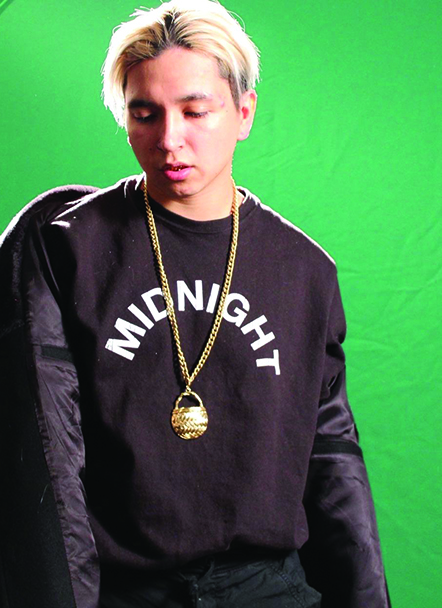 By Kalvin Valdillez, Tulalip News
Cool, calm and collected is the demeanor of Tulalip hip-hop artist, Nathan Kix. Still in his early twenties he has his mind set on the future, looking to be the first Native artist to crossover to music mainstream. Many Indigenous rappers such as Litefoot and Red Cloud have seen success and have spread their voices throughout reservations nationwide. However, their fan base has been limited to the Native American community.
Nathan and his team have created a unique modern sound that emphasizes his clever wordplay. Until recently Nathan was releasing singles on Soundcloud, which revealed glimpses of his musical direction. He released his debut project this past December, on his birthday, in the form of a six-track EP titled Autumn which has received positive reviews across social media. And he is only beginning, stating his future projects will each contain a unique sound as he plans to build a strong catalog during the course of his music career.
With a fan base that continues to grow by the day, I have no doubt in my mind that Kix could be the first Native rapper to break down genre barriers. I personally met Nathan a few years back while we were both working as concierge' for the T Spa at the Tulalip Resort and Casino. As an avid hip-hop enthusiast myself, I would often talk music, recite Jay Z lyrics and even drop the occasional freestyle with Nate during downtime at the spa (when no guests were around, of course). Which is why I was excited to sit down and talk with the young emcee about his new release, culture, and of course the genre of music that captivated us both at a young age: hip-hop.
Let's start off by talking about your background. Has growing up on the reservation affected your writing?
For the most part I've kept my culture modest, up until this point. Solely for the fact I feel I don't want to expose too much too early. I want to appeal to as many people as possible, strictly through human experience, without playing the culture card. I don't want to use that to gain popularity. I want to build my skill level. So, at this point it hasn't [affected the writing] but it does inspire why I want to do this.
What is your writing process?
When I first started, I used to write without a beat, which was a burden when it came time to record because I couldn't stay on beat. But I stuck with it and kept writing. Once I figured out what bars were, it was a field day. With the writing process now, I am very punch line oriented. I studied Lil' Wayne's delivery and wittiness, and took those components and made it my own. When writing today, I will loop the beat and figure out the exact flow first, like how many syllables I can fit into particular verse or line and once I figure that out, I'll pause the beat and keep flowing in my head, until I get it down, and then plop the words in.
Was there a defining moment when you knew this is what you're supposed to do?
I started writing raps around seven or eight, but they were trash and I was one of those people who want to be good at something right away. I realized [at that time] I wasn't good, so I held off until I was about sixteen, and then I gave it another shot.
At the beginning of my sophomore year, there was this one girl who I was trying to, you know, holler at. She actually asked me to have a rap battle on paper. I was like 'oh okay,' you know whatever it takes to keep the conversation going. Ever since then I've enjoyed the process [of writing], so that was the defining moment for me. Whenever I get the chance to talk to her, I still let her know she was the one who got the ball rolling.
What's the story behind the name Nathan Kix?
Roughly around that same time [in high school], I started getting into personal style. The one thing I enjoyed the most about an outfit were the shoes, that's switched up now, but I was known in high school for having all the Jordan's and all the fly shoes. People identified me as the dude who had forty different pairs of shoes. Every day, for at least a month and a half, I wore a different pair. That's basically where the name came from.
How important is originality?
Originality is everything. I can't emphasize that enough. If you want to progress a genre and make your stamp, originality is going to take you there. There are artists out there who cut and paste styles from already established artists and [by doing so] they make it well known that they aren't on their own wave. Originality should be the focal point when becoming an artist.
Who is your biggest musical inspiration?
It's a toss-up between two or three people. I really fell in love with Kanye West's music when he came out with My Beautiful Dark Twisted Fantasy. I liked Kanye [before] but that album really sparked my interest and made me want to become a better artist. Drake always had a huge impact on the way I approach the phycology of writing. And, Jim Morrison for the creativity and the depth he brings to writing music.
If you could collaborate with one artist who would it be? Producer?
A$AP Rocky. For producer, I have to go with 'Ye (Kanye West).
How do you feel about the local hip-hop scene?
I don't feel like there really is one, but we definitely need it. I feel like it would create a lot of creative ventures for people. If you have all these creative minds such as videographers, photographers, and graphic designers coming together, who can contribute to improve the image of an artist, the scene can essentially build everybody up.
Where do you see your art taking you? 
Representing all the First Nations people. Like, the Shoni Schimmel of music. Basically what I am trying to do is bring Natives into the mainstream. Shoni Schimmel dipped her finger in the water; I want to be the person to create the biggest wave out of [the water]. When I do, I want to look back at my people and help them find a way to creatively express themselves, because there are passionate Natives out here and I want to help create a market for them.
What separates you from your competition?
The awareness of how to be different; I like to incorporate the modern sound with my own textures. I have a producer who I work with, Paul Koshak. He produced Autumn, well ninety-eight percent of it. Mason Gobin, who is also a tribal member, produced half of [the song] 100 Thousand.
I think a lot of rappers aren't giving it their all, as far as song content. I feel like that is my sole focus and I am able to deliver that in a very witty way.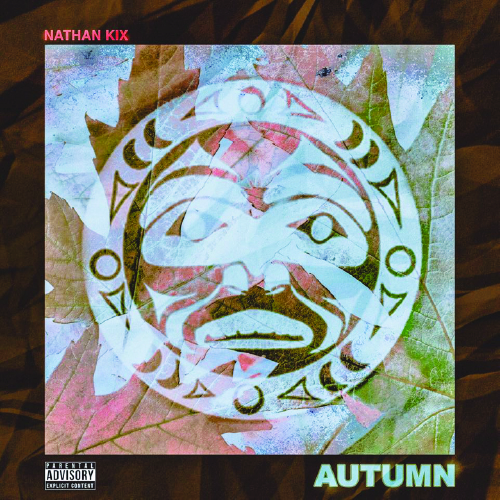 Why did you decide to go with the Moon, in traditional Native artwork, for your album cover?
The moon is representing that something new is about to happen. The moon comes every night and provides you with a new day. So in a way, it is the same concept of Autumn. You see the leaves falling every autumn, signifying new change.
Most people go with a summer vibe with their music because everyone likes to feel good. My favorite season is autumn because the gloominess it has. When the leaves fall, there is a gap of time where it feels like nothing is happening. That's the overall vibe: transition.
I feel like I made a huge change in my life, within this last year, mentally. It felt like I was dropping as many leaves as possible, I still feel like I'm in that phase, but I know they are going to grow back and blossom as beautiful as ever. That's the metaphor behind [the artwork and concept].
Prior to the release of Autumn, you dropped a documentary that showed you in the studio as well as in the community. Shortly after the EP came out, you released a music video for your song Gravity. How important were those videos to your overall presentation?
They were very crucial, especially the documentary because it gave people a taste of what exactly I am about. A lot of people may perceive me as bashful; when in reality I'm just introverted. The documentary allowed me to show what I'm doing and why I'm doing it, without having to spoon-feed it to you.
The [music] video was not a calculated move. We shot it back in the summertime and we didn't actually have anything planned for it. People were responding and saying they really appreciated Autumn so director Luis Perez – a phenomenal photographer/videographer – sent me a text and wanted to release the video. We picked the date and dropped it on Christmas Eve.
The EP has received a lot of love – what has been the best feedback you received?
I enjoy any type of feedback I get, but the best feedback has been from people I didn't even expect to give it a listen. Sometimes when walking around, people will stop me and tell me they've been listening to my songs. When they tell me they like my music in person, that's what I appreciate the most.
You've talked about your collective a lot, the group of creative minds that you work with. How important is it to have your group with you, as you gain more exposure going forward?
I feel like it's necessary to have a team because you're not going to always be the one with the right idea. There are decisions that have to be made, that have nothing to do with the craft itself. Having a team behind you to take things on, such as business ventures, that is something that an artist can benefit from.
Having your own team is basically like having your own label. I feel like I would rather give a percentage [of profits] to the people I know. I think most artists are taking this route because they realized that record labels will rip your soul apart. When it's with people you know, you feel a more genuine connection.
Do you plan on staying on the independent grind or would you sign the right deal?
If they had my agenda in mind, and allowed me to operate at the speed that I'm comfortable working at, I might consider it. Even then, I don't believe I would fully commit to a label. If anything, I would like to do a publishing deal to handle all the business ventures such as marketing.
What is one record label you would consider?
I'm not sure if I would necessarily fit at any of the labels. But I would maybe consider [signing a deal with] G.O.O.D. Music (Kanye's record label) because they have a lot of diversity going on over there. I love OVO (Drake's record label) and what they are doing; they have a certain aesthetic they are keeping. I don't feel like I sound anything like them, so I don't think I would mesh well, in that aspect, same with T.D.E. (Top Dawg Entertainment, record label associated with Kendrick Lamar)
A top to bottom Autumn performance would be lit! Do you plan on performing in the near future?
Yeah, like I mentioned before, the [local hip hop] scene needs to be more prominent. I would like to work with the right promoters to make sure that our shows are the best they can be for us, and for the people as well. I also have a lot more songs than the six-track EP, so we're looking at possible set lists and looking at other local acts as well. There's a lot of talent around here and we want to do multiple shows. There are definitely plans for live performances; we're just ironing out the details.
Who are you currently listening to and who is on your top-three emcee list?
Most of the time what I like to listen to is the polar opposite of what I make. Right now it's a lot of Lil Uzi Vert, this artist named 6lack he made that song PRBLMS, I love that joint. I've also been bumping a lot of Frank Ocean. Syd, from [the music group] The Internet, just dropped a solo project that is amazing. I also go back in time too; I love The Doors.
And for top three, these are not in order and they all have reasons for being on here: Kanye West, Drake, and Travis Scott. I would say they are the most influential to me.
If you could change a common misconception about the hip-hop culture what would it be?
I want people to respect how artistic and influential this genre is. Because, agree with it or not, rap is the new rock and roll.
How about in Native culture?
The stereotypes. Also, that we are unexposed to the world outside of the reservation.
What do you want tribal members to take away from your music?
That there is somebody out here looking to expose our culture to the world.
And my advice for young aspiring Native artists is to go with your gut instinct on what exactly you want to portray yourself as, and make sure that everything you're doing stays true to yourself and is original as well.
Autumn is currently available on iTunes, Apple Music, Spotify and Soundcloud with plans of a physical release in the near future. To view the documentary, the music video for Gravity, and for additional information visit the Nathan Kix Facebook page.