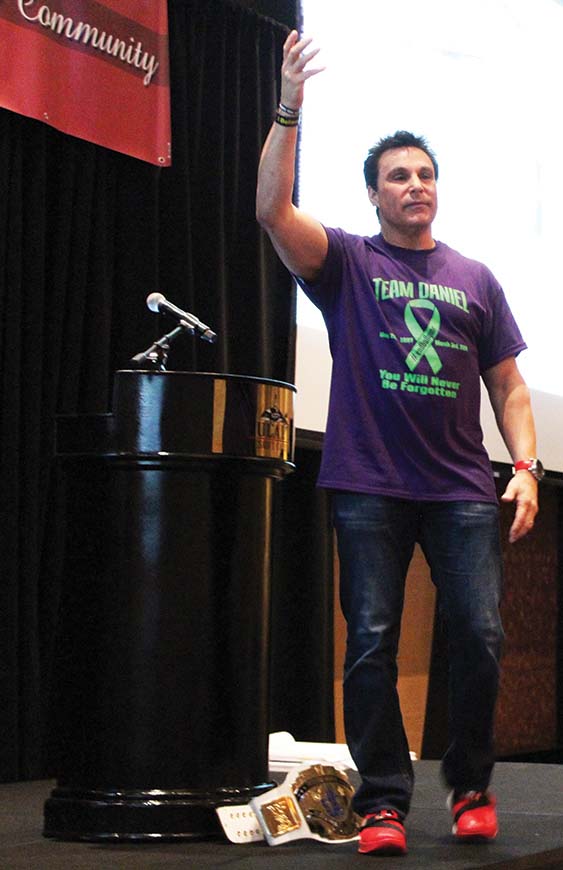 By Kalvin Valdillez, Tulalip News 
Prizewinning posters created by students of the Marysville School District (MSD) were on display in the Orca Ballroom of the Tulalip Resort and Casino. The posters promoted anti-bullying messages such as make bullying extinct, stop cyberbullying, and you don't have to touch someone to hurt them.
The recent Anti-Bullying Community Campaign Event drew large amounts of families from the Tulalip-Marysville community as many were excited to see special guest speaker, former professional wrestler Marc Mero.
Last year MSD School Resource Officers, law officials assigned to the school district, attended an anti-bullying conference in Florida because the cyberbullying epidemic reached the school district and quickly became an issue among many students.
During the conference, the School Resource Officers heard Mero share his inspirational life story, told to assist with bullying prevention and encourage the youth of America to make smarter life decisions. Following Mero's speech, the officers made it their top priority to bring the WWE Champion to Washington State to talk to students in school district about bullying. Marc presented his message at middle and high school assemblies throughout MSD before concluding with the Tulalip Resort and Casino event.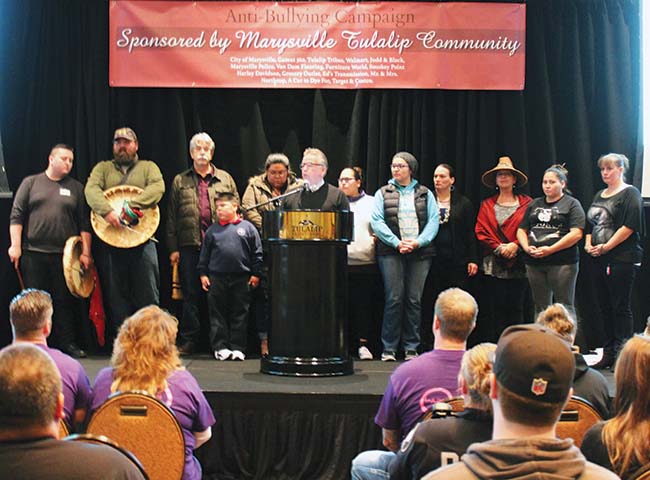 "Show me your friends and I'll show you your future," stated Mero as he urged the youth in attendance to be mindful of the company they keep. Mero, professionally known as Wildman Marc Mero, created a wish list at a young age that contained both his dreams and future dream purchases. Among the various items on the purchase list, stand-outs included a black Cadillac and a house for his mother.
"I was bullied very badly as a kid. My mother worked two jobs to support my siblings and I. We didn't have a lot of money so we got a lot of our clothes from garage sales," he remembers. Marc explained that because his classmates discovered he wore articles of clothing they once owned, they nicknamed him 'bum', likening his used attire to a homeless person. However, young Mero was able to channel those emotions, triggered by his bullies, into sports. Excelling in a variety of sports, he found his true passion in boxing and fought his way to a New York amateur championship match. Due to an accident that resulted in a broken nose, he was unable to fight for the championship title.
Although he had intentions of returning to the boxing ring, he was restricted from fighting for a year per doctor's orders. Marc used that time to rekindle old friendships and quickly spiraled into drug and alcohol addiction. He watched ten years of his life pass by, along with any boxing comeback dreams. It was while flipping through television channels that he first watched, and decided to pursue a career in, professional wrestling.
After months of hard work and determination, Mero began to quickly climb to the top of the wrestling world, facing opponents such as The Rock, Stone Cold Steve Austin and Triple H. He was meeting celebrities, making upwards of millions of dollars and married professional model and female wrestler Sable. Most importantly he was finally able to purchase a brand new house for his mother as well as the car of his dreams, the black Cadillac.
Association with the wrong crowd once again led to Mero's downfall. This time his addiction led to three overdoses, neglected relationships, and a divorce. During his rise to fame Marc would sometimes avoid returning phone calls and letters to his mother and siblings. He would often skip family events such as his brother's baseball games and his sister's high school graduation. Marc revealed that at the height of his professional career, he lost his mother due to lung cancer, his younger brother to a head trauma accident and his younger sister to cancer.
"When it all comes down to it, life is about the choices you make. I missed out on the greatest years of my sister's life, of my brother's life, and for what? To go and get high?" He continued, "I was a bully too. I bullied my family. All they wanted to do was play catch with me or sit next to me. I was so mean to them and I regret it every day. I would tell them to quit bugging me or I would tell them to go away. What I would give to go back in time and throw one ball to my brother or hold my sister tightly while she sat next to me. Make sure the people that you surround yourself with will build you up and not tear you down," he urged.
Marc spoke about the emotional harm bullying causes, stating that suicide is currently the third leading cause of death amongst teenagers in the United States. And the majority of suicide deaths are bully related. Mero invited mother and schoolteacher Amy Briggs on stage to share a story about her son Daniel. At the young age of sixteen, he had been ruthlessly bullied for years from his peers in school. Daniel was often told to 'kill himself', verbiage that is unfortunately seen quite often among high school students nationwide across various social media platforms.
One night Daniel received a text from a classmate asking him to save the world from misery by ending his life. He replied stating the world would not have to worry much longer because he was planning to take his life soon. The classmate responded 'put up or shut up'. The next day Daniel told other classmates of his intentions and was met with similar reactions. And that afternoon, while his parents were at his brother's basketball game, Daniel died from a self-inflicted gunshot wound.
As tears streamed down many faces of event attendees, Amy urged parents who have children that are constantly harassed online or at school, to join forces with other parents to put a stop to bullying. "There truly are some teachers and administrators who don't believe bullying is really a problem. My voice was only heard once or twice but you can't ignore three hundred voices in a board room at the same time," she stated.
Mero explained that sometimes when kids bully other kids, it is because they are victims of bullying themselves. He advises that a one-on-one conversation between a bully and an adult can lead to both the revelation of the issue causing the harassment as well as a solution to the issue.
Before thanking the crowd for their attention to this serious issue, Marc gave a possible explanation as to why some kids attempt suicide. "Maybe their parents are going through a divorce, maybe they had a death in the family, maybe they lost their pet, maybe they have a medical condition [their bullies] know nothing about. And it's that one text, that one message that pushes them over the edge. Behind every text are real people with real feelings," he stressed to the youth.
For more details about the life and career of Wildman Marc Mero, including information about his organization Champion of Choices, please visit www.thinkpoz.org