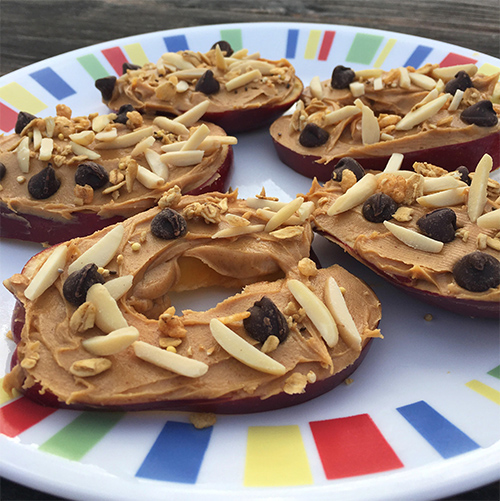 By AnneCherise Jensen
We all know fruits and vegetables are extremely healthy for us, but a lot of us don't get the five servings of fruits and vegetables recommended in a day. Fruits and vegetables contain the vitamins and minerals essential for our bodies to grow and develop properly. It's extremely beneficial to our health if we consume a wide variety of fruits and vegetables on a daily basis. Let's enjoy the benefits of healthy foods as we celebrate Marchs National Nutrition Month.
One way we can incorporate more servings of fruits and vegetables into our diet is getting creative on how we prepare them. With internet available at our fingertips, we have accessibility to a wide variety of recipes, websites, food blogs and cooking channels. Social media has allowed us to learn how to cook almost everything and anything at any given moment. This great resource allows us try new healthy foods in a fun and enticing way.
This week's National Nutrition Month Challenge it to meal plan throughout the week, incorporating five servings of fruits and vegetables in each day. To expand the challenge, try out one new fruit recipe and one new veggie recipe and share your ideas on the Tulalip Facebook page. Trying these fun new ways to prepare our fruits and vegetables can get us excited and motivated about incorporating healthy fuel into our diet. It can also motivate others to start making healthier food choices along the way.  Making these small changes over time will help improve our health now and into the future. Start today by substituting cookies with these Apple Slice cookies that both kids and adults will love!
Apple Slice Cookies 
Red Delicious Apples
Peanut Butter
Almond Butter
Unsweetened Coconut Flakes
Shredded Almonds
Walnuts
Semi-Sweet Chocolate Chips
Directions:  Cut the core from the apple, or cut the core out of each piece after you have sliced the apple.  Slice the apple into ¼ inch slices using a large knife.
If you're worried about the apples turning brown, you can add a squirt of lemon juice to a zip lock baggie, add the apples and toss around for a few minutes. This will keep the apples looking fresh for a longer period of time.
In order for the Peanut Butter to stick, the apples must be dry. Set apples on paper towel, and blotch them until they are dry with another paper towel.
Spread a layer of peanut butter or almond butter on each apple slice.
You can get creative here. Add coconut flakes, walnuts and some mini chocolate chips to the top of the layer of either peanut butter or almond butter.
Enjoy!