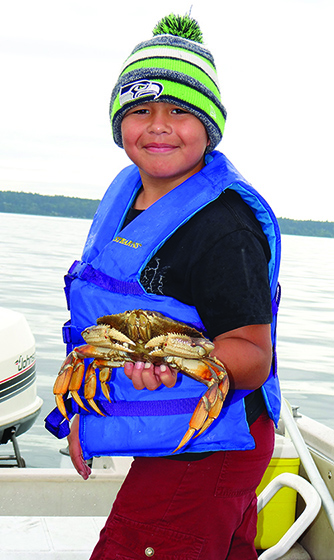 By Micheal Rios, Tulalip News; photos by Micheal Rios & Randy Hudson, Sr.
The word "moose" first entered the English language in 1606. It was taken from the Indigenous tribes of the northeast, speaking an Algonquian language, who were describing what we know today as the majestic moose that most commonly occupy the Alaskan and Canadian wilderness.
Fast forward four-hundred years, to when Tulalip couple Randy "Hoss" Hudson, Sr. and Myra Hudson were choosing the name for their newborn son, the word moose was so fittingly put to use. The legend of young Randy "Moose" Hudson, Jr. was born that day.
Today, at only 11-years-old, Moose has become a source of inspiration to his friends, family, and nearly everyone else who comes to know him. He is a jack-of-all-trades type when it comes to physical activities and sports, eagerly seeks out new knowledge and responsibilities relating to his Native culture, and already understands the importance of being a stand-out student in the classroom. But more than anything else, Moose's attribute that really gets at the heart of his character is his inner strength, a focus that gives him the confidence to be a natural leader while striving for greatness.
Being an active child doesn't even begin to describe him. Moose started playing competitive, organized team sports at only 5-years-old. Early on it was baseball, wrestling and track and field. Like his namesake the moose, he always stood out for being bigger and stronger than his peers. On the wrestling mat, Moose won the Animal Award in 2013 and 2014 to go along with his winning 'coaches and fellow wrestler' award in 2015. As the seasons changed, so did his choice of sports. He has since transitioned to sports that put a greater emphasis on his physical prowess and strong mind, such as football, kickboxing and MMA.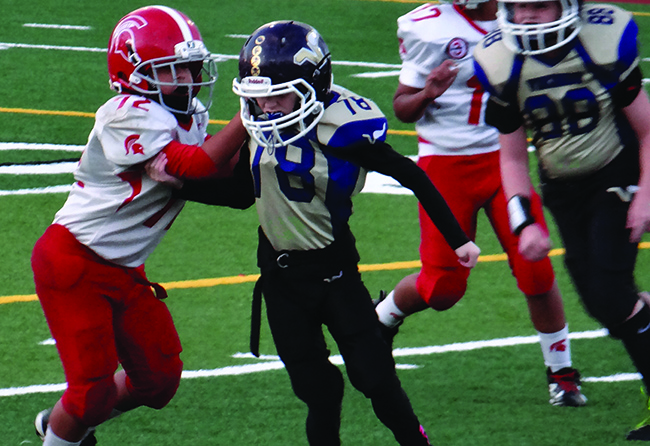 For his skills and accomplishments on the green tundra, Moose has been recognized as a 2016 All-Star, won the 2016 Kam Chancellor award, taken home a Panther Bowl 2016 title, and been awarded 'Sack Master' for his ability to get to the quarterback. All athletes should understand that practice makes perfect; what you do in practice determines the player you'll be come game day. Yet, a lot of athletes don't take practice seriously. Not Moose, he's commonly named 'player at practice' for being a model practice player for his teammates.
Taking his love for athletics and personal discipline one step further, Moose chose to test his talents in the MMA arena. Moose and his father have always had their own special bond while watching UFC and MMA fights on television. Former UFC champion Brock Lesnar has always been his favorite fighter because of his combination of size, strength, and speed. Seeing Lesnar go from wrestling to MMA gave Moose confidence he could do the same.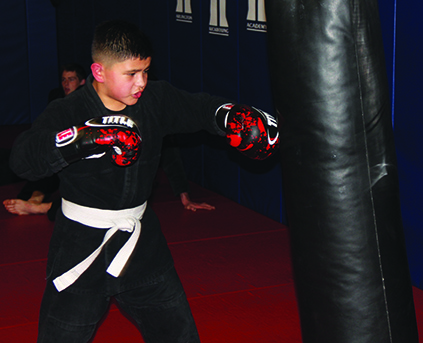 "I like MMA because of the hard work its takes to be good at it and how the competition pushes you to test your limits and go further," beams Moose after an intense training session. "MMA is a lot more fun for me than other sports because everyone is giving their best and there is no slacking off. If you slack off even for a second you can get KO'd or submitted."
Moose is faithful member of AKA MMA & Fitness studio located in Arlington. There Moose trains regularly every Monday, Tuesday, Wednesday, and Friday evening, plus a 2-hour Saturday morning session. Moose's coaches have been very impressed with his commitment to training and practice, as he'll regularly arrive up to an hour early to get in a nice warm-up and then stay an additional 15-30 minutes after to spar.
"I've been Moose's MMA coach for close to two years now. He has such great leadership qualities and inspires the other kids around him to work harder," says Patrick Harris, youth coach at AKA MMA & Fitness. "When he sees kids who aren't pulling their weight or dragging the class down, he not only encourages them to focus and work hard, but also sets the example for them to work harder. Kids want to be like Moose in our classes."
Moose's dedication to sports has brought him an early commitment to diet and nutrition that rivals most adults. He has a good understanding that what you put into your body has all kinds of effects on physical achievement. From numerous conversations with his coaches and trainers, Moose has found nutritional regiments that work for his body type and improves his conditioning.
"It's very important to know what an athlete should and shouldn't eat. I want to be as strong and fast as I can be and the food I eat matters," declares Moose, showing an understanding of proper nutrition far ahead of his years.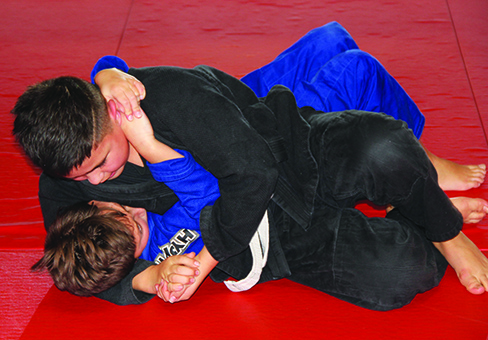 Moose's father says people sometimes express their concern over his son's commitment to sports and personal dedication to being the best he can be. "People come to me and Moose's mom all the time saying they can't believe Moose's work schedule. They see how hard he works on the field, on the mat, and in the ring. We have to explain to them that it's all his choice, he chooses his sports and schedule. He chooses to arrive early at football practice and MMA training. I'm more chauffer than dad," says Randy laughingly. "I can't do anything but look at my son in awe. I see him work so hard to better himself. He understands that being active, taking care of his body, always be open to learning new techniques, and hard work is the way to be successful."
Sports have provided the foundation for molding his strong mindset and seeing his focus turn into one achievement after another. That foundation has been reinforced with spiritual guidance and cultural activities.
Moose's grandfather was Kenny Moses, Sr. whose name blesses one of the most popular gathering places on the Tulalip Reservation. The Kenny Moses Building sits right beside the Smoke House where his mother Myra and family are very involved. Moose has been active with attending Smoke House functions and seeing to tasks and responsibilities he is assigned. When there is down time, Myra occasionally takes her son next door to the Kenny Moses Building to share memorable stories of his grandfather.
At only 11-years-old, Moose is already an avid crabber. Close family friend James Avery has a crabbing boat and extends invitation to the Hudsons, to which Moose is eager to accept. Captain James has explained the laws and rules to crabbing to Moose. Captain James shared how impressed he was that Moose is not afraid to handle crab and do the work, like hand pulling the line up and into the boat.
According to Moose, he hopes to have a boat of his one day so that he can carry on the fishing and crabbing rights that he's inherited from his ancestors.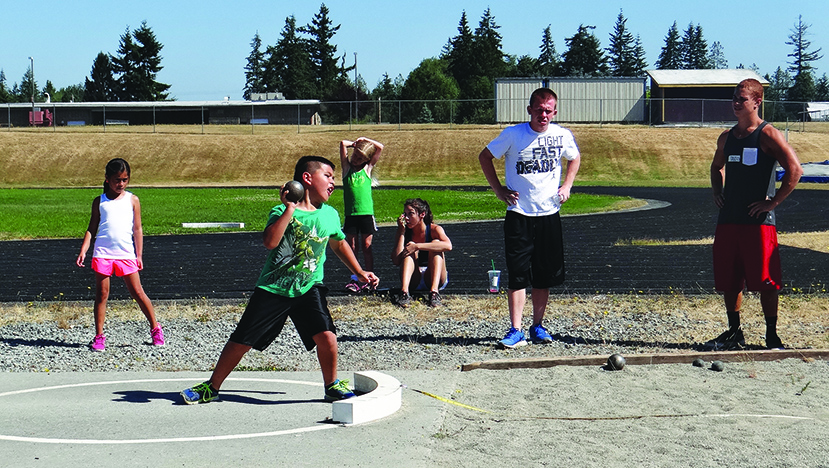 Because of the lack of housing opportunities and an increasing concern in criminal activity, the Hudsons have moved off the reservation to an area they feel provides a safer learning environment for their children. Currently a 5th grader, Moose attends Elger Bay Elementary on Camano Island.
"I like Elger Bay a lot because we are taught more and learn more during the school year than where I was going before," explains Moose when thinking about his change in school districts. "My favorite subjects in school are Math, Science and Reading. Recess is always a fun time because then I can be active with my school friends."
During that famed recess break, Moose can be seen out on the playground where he is positive leader and role model for his peers and the younger students. Known to be a 4Square and Kickball legend, Moose remains a good sport and helps to problem solve with his classmates when conflicts occurs. His upstanding character and that drive to be better than he was yesterday have been noticed by his teachers and school faculty. In fact, Moose has developed a positive relationship with his school principal.
"It is my honor and privilege to tell you about Moose as one of our Elger Bay students.
His teachers and I would describe him as very focused and intent as a student. Even when he has an area or topic where he might be struggling a little bit, he shows very strong perseverance toward understanding," describes Elger Bay Principal, Victor Hanzeli. "Moose always sets a great example for other students and through his generous spirit, provides wonderful student leadership to our school as a whole."
Moose says of all the classes and subjects in school that Music is his least favorite. Something about Music class just doesn't vibe with him and he'd rather be doing just about anything else. Interestingly, Moose recognized this area of himself as being limited and, as he does with sports, he was determined to push pass those limits. So Moose joined the 4th and 5th grade choir.
Music teacher Richelle Tripp describes Moose as one her most focused students who wants to learn much and perform well. As one of her strongest singers, he provided great support to the choir when they performed at the Warm Beach Lights of Christmas last December.
"It means everything to me to see my son working hard to excel in not only the sports and activities he has chosen, but to be a better person, to learn how to be a leader," says Moose's father Randy. "He's constantly seeking knowledge from his coaches and teachers on how to better himself in the sports and the classes he loves. At the same time, Moose is always being respectful, polite and humble, not just to elders but to younger kids, too."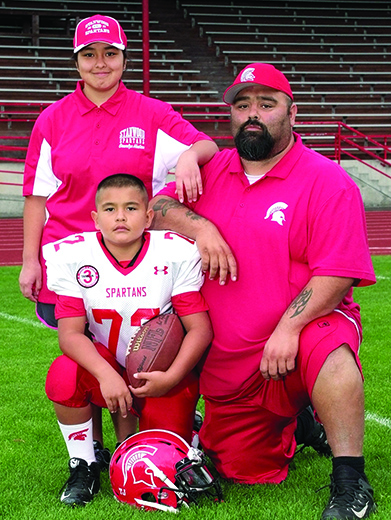 From athletics and exercise to teachings, and learning both culturally and in the classroom, Moose remains focused and driven to excel. It would be a difficult task indeed to find a youth as mature and self-motivated as young Moose.
There is no greater way to describe him than with the lasting words of Principal Hanzeli. "I am really excited to have this chance to share about Moose because he is one of those students who gives me great hope for our future."