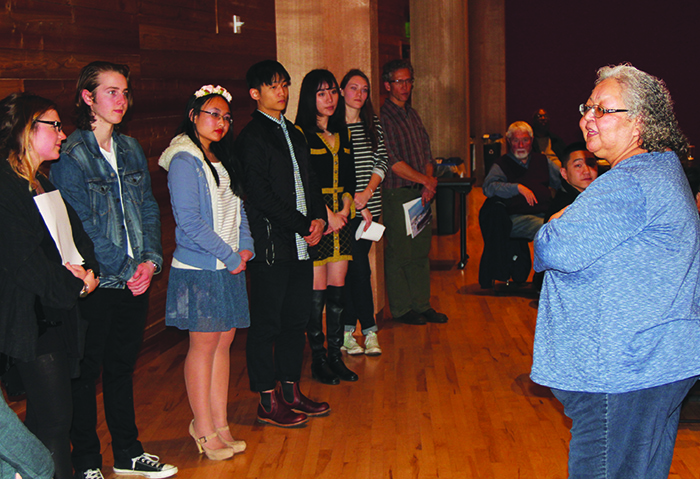 By Micheal Rios, Tulalip News
Tribal sovereignty, the inherent authority of indigenous tribes to govern themselves within the borders of the United States, is an all too understood and often used concept in Native America, yet remains relatively foreign to outside communities. In the Digital Age, characterized by a highly diverse free flow of information on every topic imaginable and an endless supply of avenues for acquiring knowledge, recognition of tribal sovereignty and awareness of treaty rights remain hidden from the mainstream and absent from the United States' public consciousness.
That's not to say there aren't very socially aware individuals and communities who have made it their mission to bring understanding of tribal sovereignty to the mainstream. One such individual is Professor Patrick Christie of University of Washington's heralded Jackson School of International Studies. Professor Christie recently taught an undergraduate class showcasing Tulalip's tribal sovereignty and treaty rights. The class specifically emphasized the Tulalip Tribe's environmental recovery efforts, such as the Qwuloolt Estuary Restoration Project and salmon recovery initiatives.
A unique feature of the International Studies Program is the Task Force capstone course that Professor Christie taught. This Task Force requires students to team together to research a specific policy issue and offer a set of recommendations. Many students cite this course as the highlight of their undergraduate education. For the first time in program history, a Native American tribe was selected as the subject of international study.
"This is the very first international studies Task Force had ever done within the continental United States. The idea is to say 'international study' doesn't just mean Russian foreign policy or Chinese foreign policy, it's whenever the United States government and society interacts with sovereign nations. This idea raises awareness and changes the political landscape as it relates to tribal policy," explains Professor Christie. This simple yet well-expressed notion can completely change attitudes and mindsets as they relate to tribal relations within U.S. borders. Recognizing tribes as independent, sovereign governments as we would a foreign country is where the awareness begins.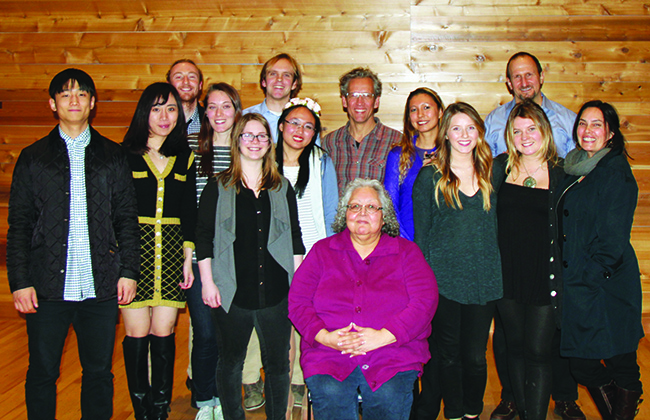 The Task Force was composed of fifteen International Studies undergraduates from various cultures and backgrounds. During their course study and research, these students read a mass amount of literature relating to treaty rights in order to build a foundation for understanding. This literature included the 1855 Treaty of Point Elliot, the Boldt Decision and Rafeedie Decision court cases, and Where the Salmon Run: The Life and Legacy of Billy Frank Jr. Taking their learning a step further, the Task Force students visited the Tulalip Reservation and diligently acquired knowledge and further context from Tulalip government employees Inez Bill, Rediscovery Coordinator for the Hibulb Cultural Center, Todd Zackey, Marine Program Manager, and Francesca Hillery, Public Affairs Manager.
"It was really significant to me hearing Inez Bill talk about their land. Tribal members and their ancestors have lived on the land for far, far longer than we have," shares student Kris Thompson, a member of the International Studies Task Force, on his experience visiting the Hibulb Cultural Center. "People move in and out of Seattle on a monthly basis. The Tulalip people have been here forever, they are here now, and they will stay here. They have a connection to the environment that I don't think any of us can really understand."
Concluding the three-month course focusing on Tulalip treaty rights and environmental recovery efforts was a gathering to celebrate and present the thought provoking work the student Task Force had developed. Among attendees were Tulalip tribal members Inez Bill and Maria Martin, Lushootseed language teacher. Maria provided a traditional prayer to begin the occasion, while Inez shared her eloquent words to end the evening.
"I raise my hands to the students who had the open minds to take the time to do the necessary research and background work. I raise my hands to them for having an open heart to learn who we are as a people during their visits to our tribe and reservation," announced Inez to all those in attendance. "I hope we can continue to bridge communication and share an open understanding of how our world is today. I thank you all for opening your heart and your minds to the needs of our people and seeing who we are."