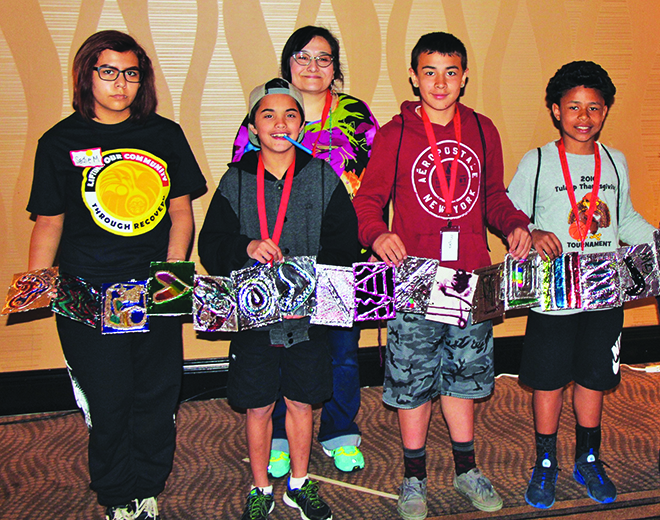 Article by Micheal Rios; photos by Micheal Rios and courtesy of Sarah Sense-Wilson
Promoting the physical, mental, emotional, and spiritual health of today's youth, especially teenagers, is largely a labor of love. It's difficult enough getting them to give their social media accounts a break, put their cellphones away, and actually focus on educational activities, let alone holding their attention long enough to get them to interact in a group setting. Yet, it is in the commitment to our youth, to their well-being and personal growth that brings about positive changes in lifestyle, relationships, and overall wellness.
Enter the Tulalip Tribes 5th Annual Wellness Conference and its dedicated day, May 16, to promoting overall wellness to our community's youth.
"Our youth flourish when provided guidance, tools, resources, and encouragement. They thrive when we set good examples of self-care, and live by example. Our individual and collective actions are always far more meaningful and impactful when we are embracing challenges, and having an open mind for learning and taking the time to nurture healthy relationships," eloquently states Sarah Sense-Wilson, Wellness Conference Coordinator. "I believe our conference really embodies these values and the presenters and workshop leaders exemplify traditional and cultural values we want our children and youth to follow."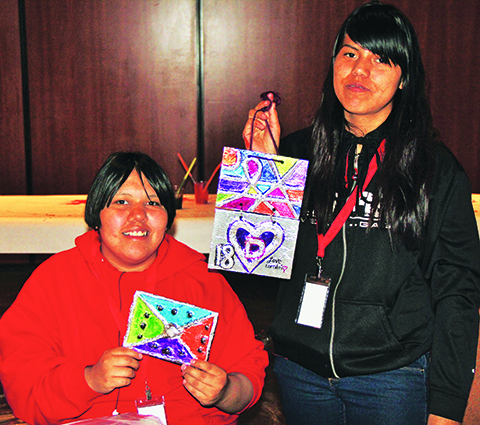 Approximately 90 students from Heritage High School, Marysville-Pilchuck High School, Totem Middle School, and Marysville Middle School were shuttled to the event hosted within the Tulalip Resort Casino's Orca ballroom. The adolescent youth were treated to a large and healthy buffet-style breakfast after filling out their registration cards and putting on a name tag. As they settled in keynote speaker Layha Spoonhunter (Eastern Shoshone, Northern Arapaho, Oglala Lakota) took center stage.
Layha is a youth consultant, motivational speaker, Two Spirit Native citizen, and vocal advocate for Two Spirit people. He provided honest, open and engaging discussion on LGBTQI (a common abbreviation for lesbian, gay, bisexual, transgender, queer and intersexed community), Two Spirit, and Allyship advocacy.
Layha describes Two Spirit as a "person who has both masculine and feminine identities." He says it is a spiritual term that encompasses Native culture, language and history. His expertise and experience as a youth spokesperson and advocate for Native youth empowerment bridges differences and strengthens relationships among groups of community members. Layha offered his story as an example for other young LGBTQI and Two Spirit individuals to express themselves and embrace their identities.
"Build an environment of fairness and openness within your community. Stand up against stereotypes and racism. Stand up against bigotry and discrimination," resounded Layha to his largely youth audience. "Take pride in your identity and use it to make positive change."
Following the keynote address, the youth were given the choice of three interactive and experiential based workshops to attend. The three diverse workshop presenters were specifically chosen for their ability to reach our Native youth in a variety of ways.
Credentialed Native American mental health specialist and award-winning artist LisaNa Red Bear offered her workshop attendees the opportunity to create a mural art project. Participants engaged in three experiential learning art exercises that support a better understanding of complications associated with smoking. The hands-on creative art project was a hit, as the Native youth's artistic abilities shined.
"We see an amazing level of creativity expressed by youth who engage in artistic activities. When they allow themselves to imagine and sit still long enough to allow that creativity to flow through them, the results can be awe-inspiring," reflects LisaNa on the impact of her art mural workshop. "Young people have creativity inside them, innately, and it just depends on whether or not it's nurtured or repressed."
Grammy award-winning artist Star Nayea led a Project R.I.S.E Up workshop. She empowered the youth to create video vision statements that involved creating handheld signage decorated with personalized cultural artwork. Participants then took turns filming their own P.S.A. style videos. Star's unique ability to reach youth and engage them in expressing their ideas, thoughts and feelings led to some amazing video production both individually and collectively. The youth offered messages of hope, vision and inspiration for believing in yourself and living a drug free life.
"Kids just want to know that we, as adults and teachers, are legit. They want to know that we are there for all the right reasons, that we care about them, and that they can thrive from the knowledge and experience we offer," says Star. "It's so important for their voices to be heard and for their faces to be seen as they speak the words. It's one thing to have thoughts and a whole other thing to rise up and share those thoughts, to inspire. In making the P.S.A. videos they help to inspire one another and their community."
The third workshop option was called In the Spirit of the Story. The tradition of storytelling is a way of passing down, teaching vital lessons, and of course entertainment with a purpose. Gene Tagaban (Tlingit) is an incredibly skillful, knowledgeable and talented storyteller who led this workshop. Using story as a medium for empowerment and self-expression, Gene connected with participants in a deep and meaningful way which transcends all generational differences. The power of storytelling was illuminated through his interactive workshop as a tool for teaching, healing and growing.
"Offering our youth a range of different interactive workshops was intentional and purposeful. We are always wanting to reach our youth for supporting their interests and appeal to their generational issues," explains Sarah on the importance of workshop variety when working with youth. "Community wellness requires positive action, not passive existence. Some have to work harder because we are up against more barriers, walls, and obstacles. Nonetheless, we have a responsibility to ourselves, our youth, and our community to strive to do better and be better."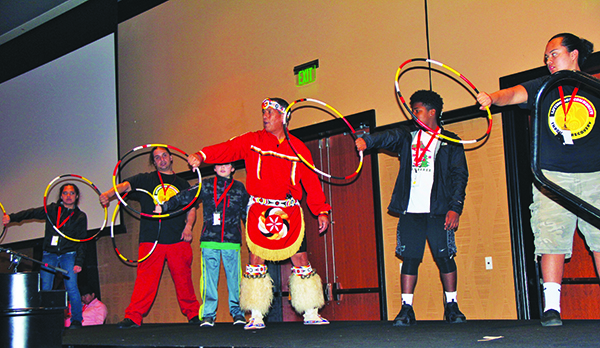 Concluding the youth wellness day was a very special Native Hoop Dance
performance by Tulalip tribal member Terry Goedell. Several youth were brave enough to join Terry on stage and receive a tutorial on hoop dancing basics.
There's a popular saying in Native communities, "be careful in the decisions we make today as they will impact the 7th generation – our grandchildren's grandchildren, grandchildren." Respect for this wisdom continues to guide events like the annual Wellness Conference, where a commitment to preparing Native youth for a brighter future is on full display.