By Micheal Rios, Tulalip News
During the hottest weekend of the year, the mid-80 degree days of May 27 and 28, six inspiring athletes from Tulalip were having their athletic prowess put to the test at Football University's two-day camp. Hosted at Eastside Catholic School, located in Sammamish, the intense football skills camp delivered by the heralded Football University provided an intense, no-nonsense offseason training experience for 200+ student-athletes.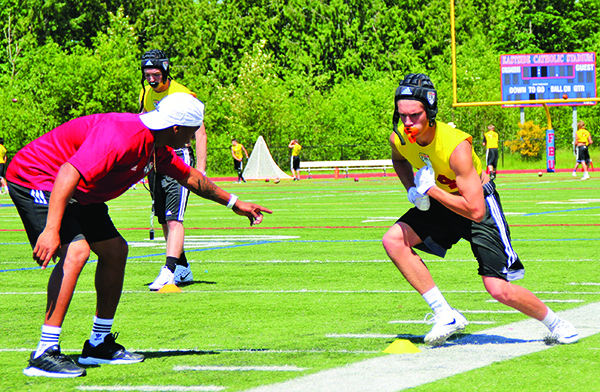 Among that pack of talented athletes were Tulalip's own Shoshone Hollen, Noah Fryberg, Arnold Reeves, Quinton Yon-Wagner, and brothers Jeremiah and Jacob Diaz. All eager and ready to become better players, Football University was their primary destination for the best coaching from a staff of NFL-experienced coaches.
Since 2007, Football University has seen 40,000 student-athletes improve on the field and in the film room, learning position-specific techniques and fundamentals from the best and brightest. Promising prospects from grades 6-12 learn how to be better football players at a FBU camp, unlocking their potentials and eventually playing at the highest levels in high school, college, and the NFL.
"We believe every football player, at least once in their football lifetimes, should be coached by someone with NFL-level experience," says Eric Medeiros, Pacific Northwest Scout for FBU. "Every single one of our FBU coaches possess a true passion for teaching elite technique to the younger generation. The fundamentals all FBU athletes learn are the same being practiced at all 32 NFL minicamps and in the film rooms of all 32 NFL teams, the same techniques on display every Sunday in the fall."
Football University is built on the truth that technique plus talent beats talent alone. A truth the Tulalip youth learned by experience, as they were led by coaches and scouts in a variety of drills and trainings on the scorching hot gridiron. The camp tested their mental and physical football ability on the field and in the film room with an intense curriculum of technique training and film study.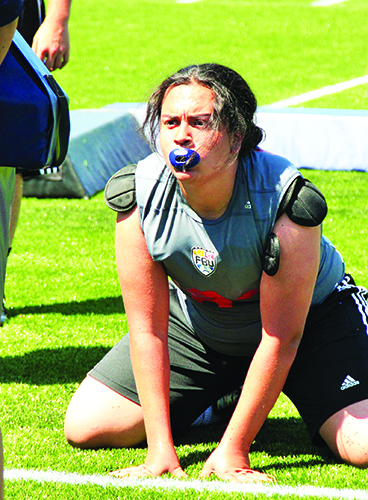 It is a proven belief that the competitive difference-maker at high levels of football is technique. Every weekend in the fall, positional battles are won on the field with superior technique.
For their impressive showing at the camp, Noah, Shoshone, Quinton, and one of the Diaz brothers were recipients of a very exclusive FBU Top Gun Showcase invite.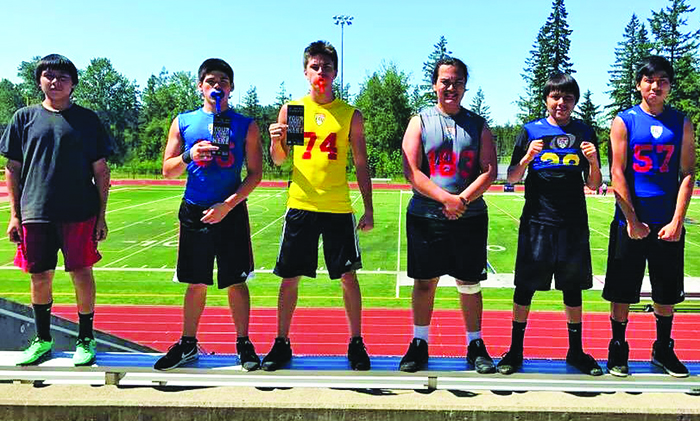 "It was a privilege being by their side at this FBU Combine Camp. I see these young men every day here at the Teen Center working hard in the weight room, practicing drills outside on the field, and just pushing themselves every day to improve themselves," says Lonnie Enick, Youth Services Activities Specialist. "I'm glad they got this one-of-a-kind experience because they benefited big time. I'm so proud of them all!"