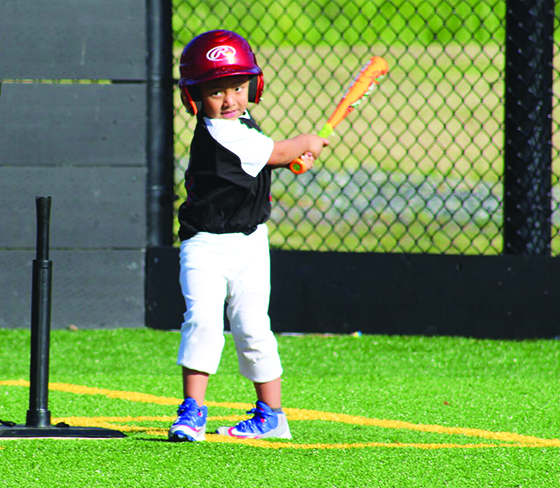 By Kalvin Valdillez, Tulalip News. Photos by Kalvin Valdillez and courtesy of Josh Fryberg
"I remember playing in a championship baseball game on this field. We were playing against Lummi and the game went into extra innings. We end up winning by one. When you're young, I was about thirteen or fourteen, that feeling is awesome. Baseball was strong back then," recalled Josh Fryberg about the importance of baseball to the community. Josh serves as Vice President and Softball Coach for the newly established Tulalip Little League program. "We want to continue to bring our youth and our community together in the best way possible. If it's through sports, that's what it is. Now that this [Little League program] is going, it's going to create a strong baseball, softball and t-ball program for the future generations of Tulalip."
The Tulalip Little League recently finished their first season, which was filled with smiles and cheers from the Tulalip community during both home and away games. Parents, grandparents, aunts and uncles were treated to a beautiful spring as they enjoyed watching the young players learn about the fundamentals of baseball.
With over sixty kids in participation this year, the Little League is off to a great start and will only continue to grow. Five teams proudly wore the trendy Tulalip uniforms this season and in commemoration of a great season, the kids were able to keep their uniforms. The teams consist of two t-ball teams, a girls' softball rookie team, a boys' hardball rookie team and a Farm AA boys' hardball team. The League plans to offer new teams next season, including a Challenger team for children with special needs.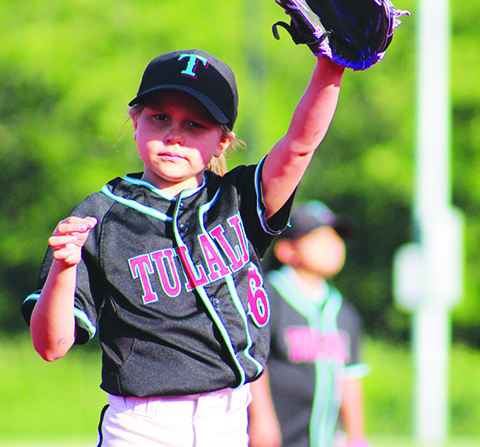 "What we've done is historical. It hasn't been done in the whole state of Washington. There's maybe two other Native American little leagues [in the country]," explained Tulalip Little League President, Marlin Fryberg Jr.
Marlin was contacted by Toby Briggs, then President of the Marysville Little League, and asked if there was any interest in bringing a little league to Tulalip. Marlin capitalized on the opportunity to bring Little League to Tulalip to benefit the community, as the program has been highly desired by parents, coaches and tribal leaders for a long period of time.
"The mentors I had growing up always dreamed of a little league. They've always wanted that for our kids," said Marlin. "Don ["Penoke"] Hatch, Hank Williams, those folks coached little league back in their day and they were told they had to separate the Native American kids, they couldn't have them on one team. So they had four teams with Native kids on each team. Hank had a team, Penoke had a team and the late Bob Moses had a team. Now here we are today. These kids are going to look back in twenty to thirty years and say, woah we were the first ones ever to play in the Tulalip Little League."
The Little League is sponsored by Play It Again Sports in Marysville, The Tulalip Police Department, The Tulalip Tribes and Marlin, who was the initial sponsor, donating his savings to the program. The Tulalip Little League Board consists of Marlin and Josh along with Malorie Simpson, Mytyl Hernandez, Dale Sanchey, Ray Sheldon Jr. and Shawn Sanchey.
"Little league is creating lifetime relationships for the kids," exclaimed Shawn, who is also a coach for the softball team. "After every game, my girls are always asking their parents 'can we go to her [teammate's] house? Can we go to her house?' It's pretty awesome. When we play uptown teams, they know them too, 'I know her she goes to my school'. It's just so awesome to see the relationships they're creating just from playing softball or baseball. It'll stick with them forever."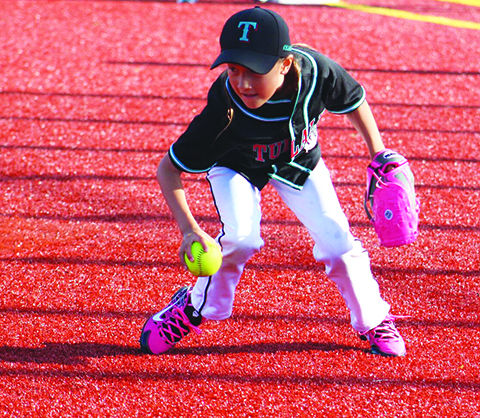 Due to the program's success, other tribal nations are now looking into how to begin little leagues within their districts. Lummi reached out to Tulalip in hopes for guidance during the strenuous process as well as a request for a tribal match in the near future. The Little League coaches and board members are all volunteers who share the same goal of bringing joy and excitement to the community through America's favorite past time.
"We love to work with the youth of the community and benefit our youth as much as possible. To be a part of coaching these girls, seeing them from their first practice up until their last game, is amazing. We're so proud of them because they came a long way," states Josh.
Beginning next season, any youth who wishes to play softball, t-ball or baseball and lives within the Tulalip boundaries will be able to suit up for Tulalip and throw on the popular T embroidered cap.  Children between the ages of four and six can participate in t-ball, ages seven and eight can play for the softball and hardball rookie teams, and boys between the ages of eight and nine are able to compete on the Farm AA team.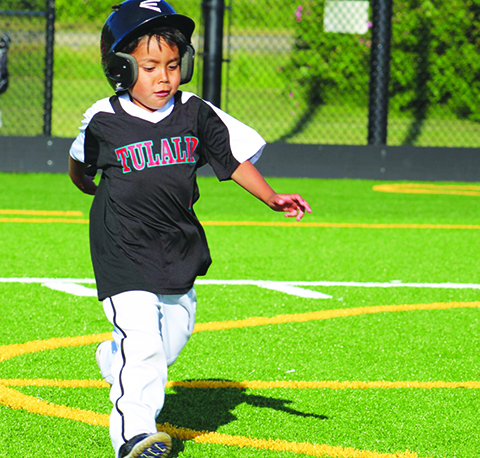 "We've sparked something now," states Marlin. "For example, on my team, of the eight and nine year olds, there are only three boys who normally went to town to play ball – out of twelve. That's nine new kids introduced to baseball from our rez. So it's brand new to a lot of them and they love it.
"I got to watch my dad play here when I was a kid. This whole parking lot was jammed packed, cars were parked up the hill. That's how important baseball was to our people back then," Marlin continued. "Growing up watching that, I became a baseball player. I played on the local teams in town, but not only that, baseball helped me stay out of trouble. It helped me stay focused on positive stuff and that's why we're doing this for our kids."