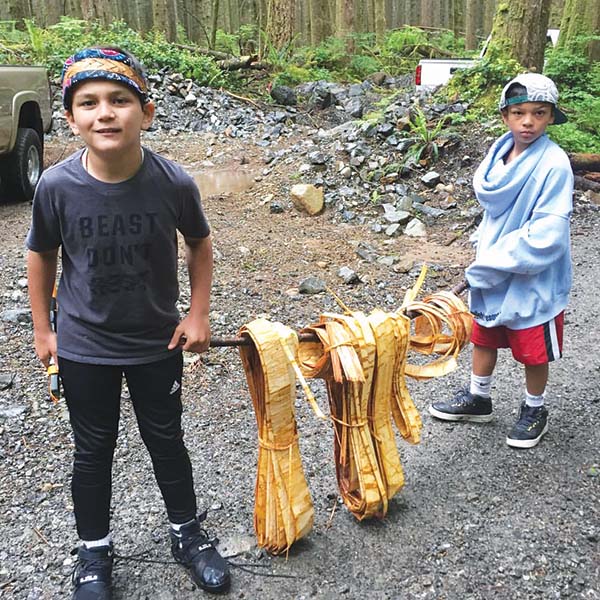 By Micheal Rios, Tulalip News. Photos courtesy of Ross Fenton & Natosha Gobin
Over the weekend of June 10, the Tulalip Tribes membership was once again presented with the opportunity to participate in the cultural upbringings of their ancestors; specifically by journeying into their ancestral woodlands and using traditional methods to pull, gather, and harvest cedar.
Led by Forestry staff from Tulalip's Natural Resources Department (NRD), participating tribal members ventured into the 10,000-acre Reiter Foothills State Forest located in Snohomish County 30-miles east of Everett, between Gold Bar and Index.
The annual cedar harvest showcases a partnership between several agencies working as a team to coordinate this culturally significant opportunity. The Tulalip Natural Resource's Timber, Fish, and Wildlife Program generally arranges a cedar harvesting site for the upcoming season by utilizing existing relationships with off-reservation landowners and the Washington State Department of Natural Resources.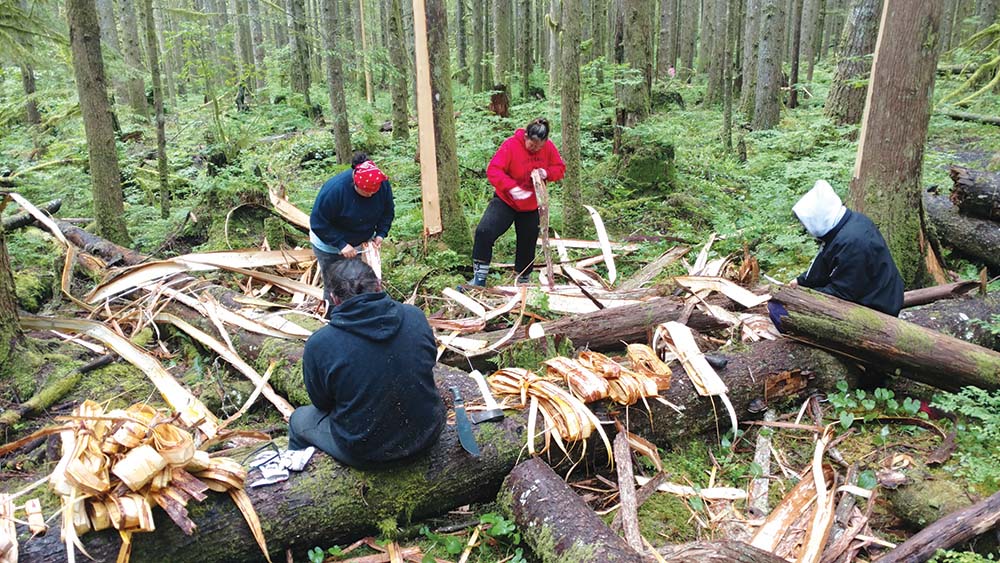 "The relationships Tulalip Natural and Cultural Resources has nurtured over the years with outside agencies for cultural cedar bark gathering continues to go exceptionally well. For tribal members who base their household incomes on products they make from cedar bark, it's crucial to maintain these positive relations," explains Ross Fenton, Forestry Technician II. "This year, it was requested that only 1/3 of the cedar tree diameter be pulled in order to allow them to remain alive; this is how it was done traditionally in the past. The tribal members understand this, and respected the request."
"There were many Tulalip tribal participants this year of all ages, it is great watching experienced bark pullers teach the future generations," continues Ross, who was one of the Tulalip Forestry staff members on-site over the weekend. "Some tribal members traveled from as far as Hawaii to reunite with their Tulalip family to pull cedar bark. It's a cultural activity membership truly yearns for."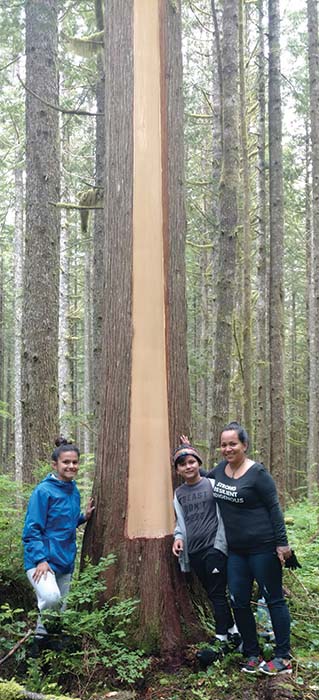 Ancestors of Western Washington tribes relied on cedar bark as a resource for making items for everyday use. Today, tribal members continue harvesting and teaching the handicraft to the next generation by making traditional items such as baskets, hats, regalia and tools.
Master weavers, elders, and youth alike all echo the very same cedar harvesting technique employed by their ancestors. With a small ax and carving knife, they skillfully remove strips of bark from designated cedar trees. They then shave off a small section of the rough bark, revealing a smooth tan inner layer. After harvest, the cedar strips are typically laid out to dry for a year before being made into baskets and hats or used in regalia.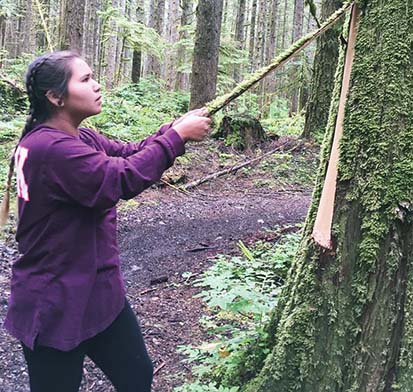 Many Tulalip youth participated in the two-day cedar harvesting event, gathering strips for elders and learning techniques of separating the smooth inner bark from the rough outer bark. For some, this was their first trip to gather cedar.
Lushootseed teacher Natosha Gobin was one of the cultural leaders who made it a priority to pass on the teachings of cedar harvesting. She guided five first-time cedar gatherers whose energetic spirts and eagerness to learn made for a memorable experience. Kylee Sohappy, Martelle Richwine, Kane Hots, Oceana Alday, and Xerxes Myles-Gilford were among those first-time gatherers receiving instructional guidance while offering their support to stock pile cedar for future projects.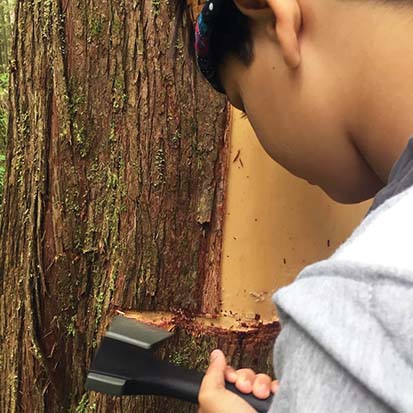 "Any opportunity for our community as a whole to learn our culture is important," says Natosha. "Each time we have a cedar gathering opener, community members who wish to learn how to gather are encouraged to participate. Our Lushootseed department uses the cedar to make roses for funerals and for weaving projects taught in classes and at Language camp. We had asked if any volunteers wanted to join us this year and these youth stepped up to help us out. It is up to us to reach out to our youth and encourage them to learn these types of teachings for the survival of our culture."