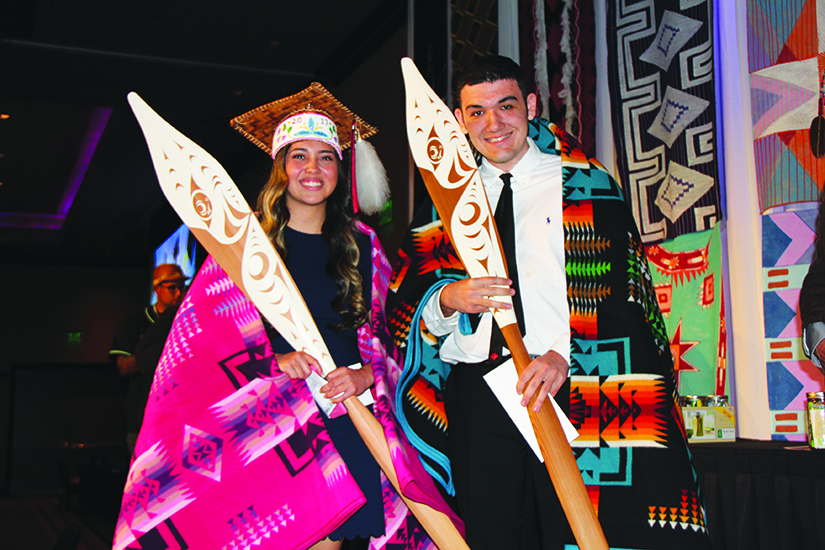 By Micheal Rios, Tulalip News 
On Friday, June 16, the Tulalip Resort's Orca Ballroom was home to the Graduation Banquet held for the Tulalip tribal member graduating class of 2017. In all there were seventy-four high school graduates and sixty higher education graduates who, accompanied by their friends and families, convened for an evening to commemorate the rite of passage. There was entertainment, a catered buffet-style dinner, and plenty of motivational speeches from their peers and elders reminding the graduates this is just the first step on the path to success.
The Marysville Getchell High School band provided good music and lively tunes for the first hour of the celebration, while Board of Director Mel Sheldon controlled the mic as emcee.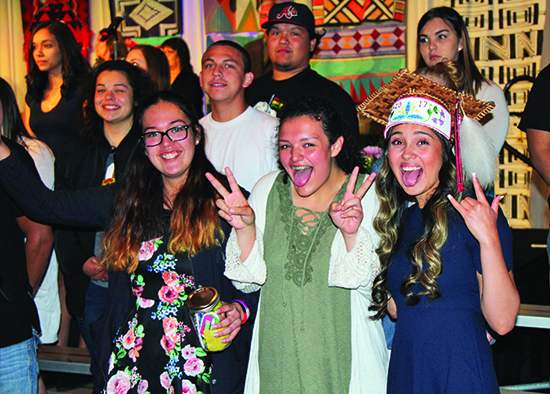 "It is a privilege and an honor to be here with you all tonight on this special night where we come together and celebrate the academic achievement of our young ones," stated Mel in his opening speech. "We are so proud of each and every one of our graduates for their commitment to education. We thank the parents, grandparents, extended family, and all the school faculty who were always there for the students and made it possible for them to be here today."
Graduating seniors Keely Bogin-McGhie and Lukas Reyes, Jr. both took stage and offered encouraging words to fellow graduates. They each told a favorite high school experience, thanked their families for always supporting them, and shared their excitement for great things yet to come in their bright futures.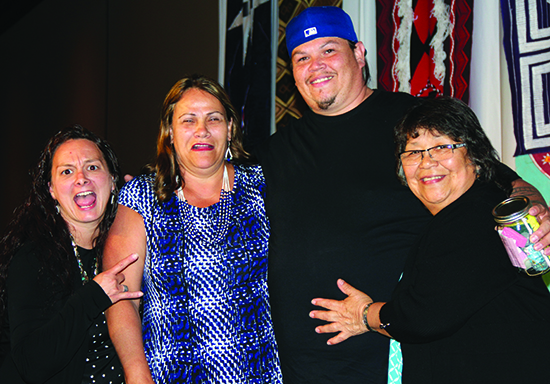 Educator, poet, higher education administrator, and voice for his generation, Christian Paige provided a truly memorable keynote speech that left many in the crowd feeling inspired. He is a first generation college graduate who has committed himself to empowering others to reach for goals larger than themselves.
"The individuals in this space are making room on their shoulders for the next generation. It is powerful to know that you are setting the example and paving the way for the people to come after you, for they will know where it is to go by witnessing what you have achieved," said HOPE initiative founder Christian Page. "We come from cultures with a long, rich lineage of beauty and strength based upon overcoming adversity. The generations before us weren't given access to traditional literacy, so they had to tell stories in order to keep our traditions and histories alive.
"It is so important to understand where you come from, the history of your ancestors, and the legacy you want to leave. Think of your life as a story and yourself as the main character. As the main character it is up to you to take the narrative of the trajectory and make it into what you believe it should be. This may sound difficult but really it's not. Changing your world starts with the three-feet around you. If you are constantly changing yourself and constantly speaking life into the individuals around you, then it will be a short time before you actually get to see changes in your world. That is the power you have as the main character in your story."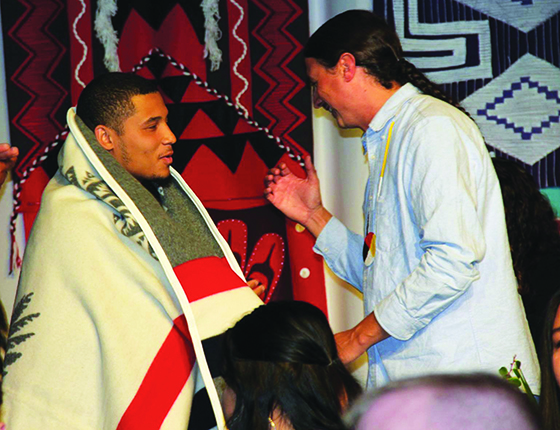 Following the keynote speech a special recognition ceremony was held to honor the Tulalip Tribes senior boy and girl student of the year.
Myrna Redleaf, a graduate of Tulalip Heritage High School, received the female student of the year honors. Myrna was very active during her high school years; participating in many student activities while being an ASB officer and playing varsity basketball and volleyball. Her teachers said she was "an exceptional individual and student in every way and it was a privilege to know her. She'll be successful in any career field she chooses. Her ability to multi-task while maintaining priorities is exemplary, as evidence by her balancing a 3.9 GPA while being a two-sport athlete." Myrna plans on attending Everett Community College in the fall to get her Associated Degree before moving on to a University.
"I'm so honored to be selected as a student of the year!" said Myrna as she acknowledged the crowd of community members. "Thank you to my community, my family, and all the teachers and staff who helped me make it here."
Carter Wagner, a graduate of Lakewood High School, received the male student of the year honors. Carter was on the honor roll for his junior and senior years, was a member of his school's drama program, and is an avid snowboarder. His teachers say "we wish we had more students like him. He's a very thoughtful and intelligent young man who participated in class discussions and always did well on his tests." Carter has received an academic scholarship to attend Pacific Lutheran University in the fall where he plans to get a degree in Business Administration.
"A huge thank you to the Tulalip Tribes and the community for giving me this award and allowing me to move on to attend University," remarked Carter. "I'd also like to thank my awesome family who has loved and supported me every step of the way."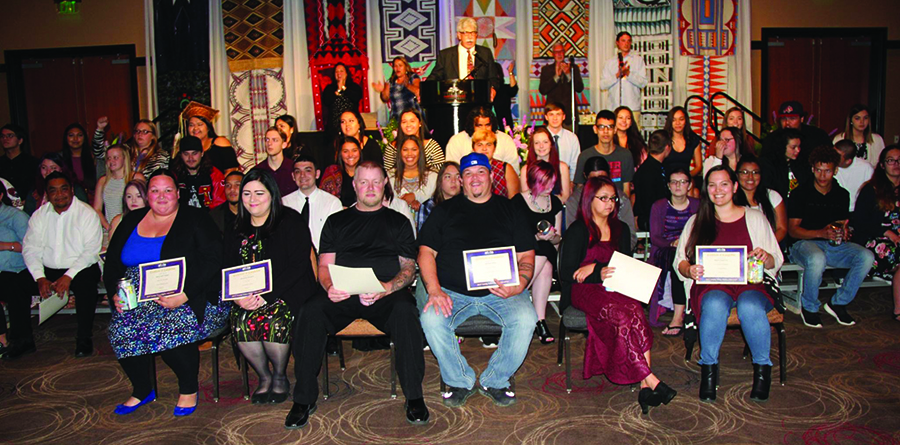 Congratulations to all those Tulalip Tribal students who put in the hard work and dedication to earn their graduate status. Chasing a dream requires your efforts and passion. The hard work isn't over now that you have graduated, it's only the beginning as you now prepare for the new challenges waiting in the next chapter of life. Good luck and congratulations!