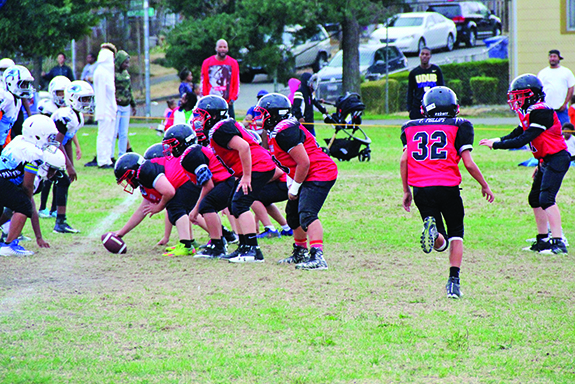 By Micheal Rios, Tulalip News 
It's been nearly fourteen years since Tulalip had a youth tackle football program. During that time frame any young athlete with a desire to showcase skills on the gridiron has had to play under the Marysville or Everett banner, but not anymore. Only a matter of weeks ago Tulalip received the necessary funding and resources to put together its own youth tackle football program. With the careful guidance of Lonnie Enick and Josh Fryberg at the helm, the JR Hawks football team has officially taken flight.
"I was coaching youth football here in Snohomish County back in 2002 with the Marysville Red Raiders. When I became an employee of Youth Services I knew a football program would really help the youth here on the Rez," says Lonnie Enick about his longtime desire to bring youth football back to Tulalip. "Josh and I have been trying for the past four years to get it going. We wanted to have a team with all tribal members, and once we got the field built I knew it was only a matter of time before we had a team."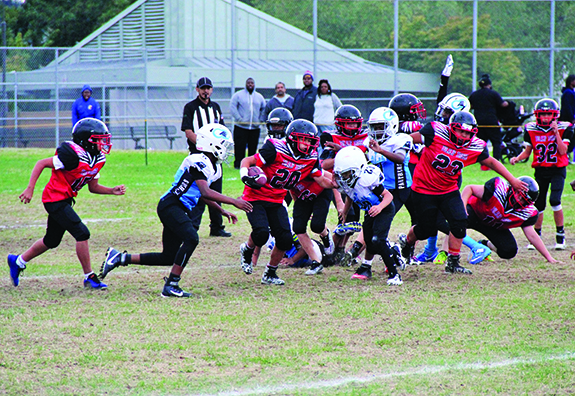 Like the Field of Dreams mantra says, 'If you build it, they will come'. With a brand new football field installed at the Youth Center, all the staff needed was to spread the word about the return of youth tackle football. There was no shortage of eager, young tribal members turning out for a series of practices held in early summer. When it was all said and done the latest iteration of the JR Hawks football team consists of 27 players, 25 of them being Tulalip and two other Native (Alaskan and Klamath). Ages range from 9 to 12-years-old.
Worth noting is two girls are on the team. Tieriana McLean aka 'Peanut' and Jayne Jones aka 'Icebox', as their teammates call them, are proving females can thrive in the contact driven sport as well.
"Tieriana and Jayne earned their spots on the team, just like the boys did," explains Lonnie. "The boys took to them well, and in fact they found out pretty quick that these two can hold their own. They're both aggressive and fast learners. In practice when either of them makes a big play it really gets the boys fired up and ready to play."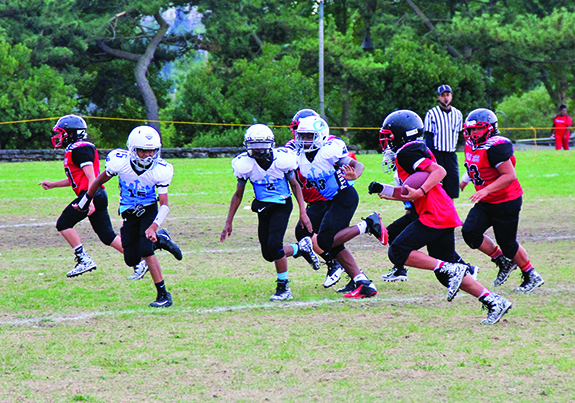 The head coach is Jeff Rice, longtime President of the Marysville Red Raiders Youth Association. Coach Rice is a big asset to the team not only because he knows a lot about the program, but because he's very familiar with the traditions and culture of the Tulalip Tribes. His assistant coaches are Willy Wolftail, Izzy Wolftail and Deyamonte Diaz. Each of them are tribal members, former high school football standouts, and well-known personalities within the Tulalip community. Together they form a coaching staff that is knowledgeable and committed to the next generation of athletes.
After a series of scrimmages with local teams, the JR Hawks hit the road and journeyed to Judkins Park in Seattle for their first taste of real game action. Their opponent was the JR CD Panthers who ranked number one the last three years in Seattle's youth premier league.
Prior to kick-off, Lonnie shared his thoughts seeing the JR Hawks prepare to take the field for their first official game. "This has been such a long-time dream for me to run a football program like this for our youth. The smiles and joy it brings as I look around at all our players and their parents who came out to watch, it makes all the work well worth it. I love that sports brings the families and community together in a good way."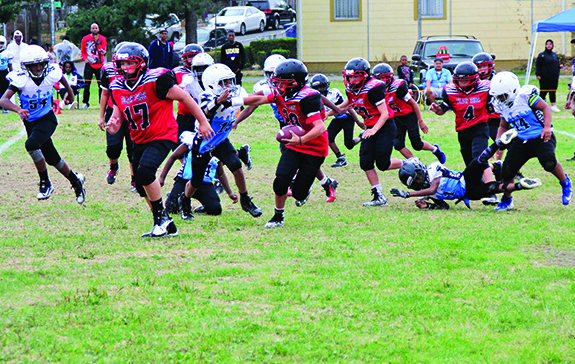 Although the game ended up being lopsided in the JR Panthers favor, it was a good learning experience for the JR Hawks and provided the coaching staff with a list of things to work on going forward. The team plays another away game at Mount Tahoma High School in Tacoma on September 16 before playing a home game on September 23 versus the JR Puyallup Warriors.
"It feels great to see a Tulalip Tribes youth football team again," says Josh Fryberg. "I remember wearing that Tulalip Tribes football jersey when I was a kid. The youth will learn so much about discipline, work ethic, and teamwork from playing football, things that will help them mature into responsible adults. We are proud of all of the players for striving to be successful on and off the field. We look forward to creating great relationship with all organizations for youth football as we support unity and teamwork.
"I really want to thank the volunteer coaches from back in the day; Delmer Jones, Steve Henry, Dana Posey, Jay Napeahi, Jon Moses and Eddy Pablo Sr. for building a foundation for us to build upon today. Thank you for everything that our current coaching staff and parent volunteers do for the youth, you all are truly difference makers. We are looking forward to a great season and many more future generations of Tulalip Tribes youth football to come. Special thank you to Play It Again Sports located in Marysville for all their support. As a community member, if you want to purchase any team spirit wear it is available there and part of your purchase will go towards supporting the football team. Let's continue to bring our Tribes and community together in a good way."