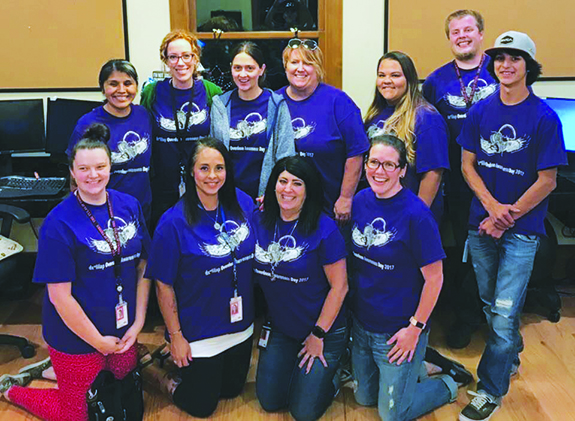 By Kalvin Valdillez, Tulalip News 
The newly established Tulalip Community Health Department assists Tulalip citizens through difficult life phases such as substance abuse, disabilities, mental health issues and even death. The department collaborates with local hospitals as well as behavioral and medical facilities to provide education, care and resources to Tulalip community members. The department also promotes healthy lifestyle choices as well as drug and alcohol awareness to Tulalip by hosting community outreach events.
"The idea behind Community Health is following in the steps of a public health concept but making it more accessible and agreeable with the tribal community," states Tulalip Community Health Director, Jenna Bowman. "We're here to collaborate and ensure that our entire community receives their services from the beginning of their life into the next one."
Community Health moved into their own space this summer. Previously located at the Karen I. Fryberg Health Clinic, the department moved down the street to a freshly renovated building, which was once a smoke shop as well as the old administrative building. The Tulalip Community Health Department is comprised of several programs including the Community Health Representative, Hospital Liaison, Community Health Nurse, Public Health, Prevention Education and the Tulalip Health System Transportation programs.
"Our Lushootseed name is ηαʔɬ σʔιβəš, which means 'good journey'," Jenna explains. "We are here to ensure that our members have a good journey and provide all those resources to them; from the Hospital Liaison Program, where we have an advocate at the hospital coordinating care so they're able to transition home safely; to the Community Health Representatives, specialists who are advocates for the client in and about the community, ensuring overall health care needs with advocacy and education to help them live a better life.
"We have a Public Health Program, which as you know, public health affects everything we do from safe streets, safe neighborhoods to everything that would affect the community and impede their life," she continues. "We also have a Community Health Nursing Program, which helps by going into the homes [of community members who are in need] for education, advocacy and a nursing perspective. The concept behind it is to go into the homes to take care of their health care needs verses having them come out for help. We have also been integrating the Tulalip Health System Transportation Program that coordinates care and transportation for medical appointments, behavioral health appointments and beda?chelh appointments."
The opioid crisis is affecting communities nationwide. Snohomish County has been hit hard over recent years and sees nearly seven hundred deaths by overdose each year. On International Overdose Awareness Day, Tulalip Community Health hosted an overdose awareness event for the Tulalip community.
"The overdose awareness event has touched a lot of our lives," says Jenna. "Being Tulalip and having it affect you personally, you want to do something to prevent it from happening, but also spread awareness and education – the signs of withdrawal and overdose symptoms; and anything you can, to be available to the community. I think everything that happened at that event was healing, educational and informing for the community and that's what we're here for. I've been here my whole life and never seen such an amazing program. I think it will affect every aspect of people's lives from young parents to elderly. I think that this is a key piece to integral health and making the community healthy again."
To receive assistance from the Tulalip Community Health Department, one must be registered to receive care from the Karen I. Fryberg Health Clinic, a member of a federally recognized tribe and a current resident of Snohomish County. For further information, please contact the Tulalip Community Health Department at (360) 716-5622 or visit them at their new building at 7615 Totem Beach Road Tulalip WA, 98271.