By Kalvin Valdillez, Tulalip News 
Local filmmakers, cinephiles, culturalists and food fanatics gathered at the Hibulb Cultural Center on Saturday September 23, to attend the Center's annual Film Festival. Every year the festival has a new theme and filmmakers are encouraged to submit a project correlating to the theme, however, all projects are welcome. The Cultural Center chose First Foods: Feeding our Spirits as the theme for this year's festival.
Celebrating its fifth year, the festival featured a showing of several Indigenous films, a presentation by the Rediscovery Program and a story presented in Lushootseed by Natosha Gobin. Awards were presented to filmmakers in attendance as well as lifetime achievement awards to Swinomish elder Larry Campbell Sr. and Longhouse Media Director and Seminole/Choctaw tribal member Tracy Rector for their work in cultural sharing and filmmaking.
The Rediscovery Program shared the history of traditional Tulalip ancestral foods and a food tasting which included hawthorn horsetail peppermint tea, basil stinging nettle pesto, deer and elk meat, as well as mixed berries comprised of salal berries and mountain huckleberries. The Rediscovery Program also showcased a traditional bentwood box used for cooking. Inside the box were a variety of traditional foods, including mussels, oysters, clams, salmon, elk meat, berries and herbs; as well as cooking necessities such as cedar-woven food storage baskets, cooking rocks and utensils.
"It's truly a blessing to be able to be one with our environment," expresses Rediscovery Program Coordinator, Inez Bill. "We need to share that with our young people so they know that the lifeways of our people is very important to who we are. We need to see that continues to our grandchildren's grandchildren. What's important to know and remember is that our ancestors were one with their environment; and being one with the environment, they had a key identity with the resources. These natural resources provided for all of the needs for our people; it provided shelter, tools, transportation to go from one area to another. This relationship with the natural environment also meant that they respected the environment, they had teachings and values that they lived by. They had a spiritual connection that they followed daily.
"The spiritual connection, the teachings and the values were in all the lifeways of our people," she continues. "Whether it was hunting, fishing or gathering it was done in a proper manner – with the rituals, making the baskets, carvings and all of the different teachings that took place. We had people that were so keen to the native plants that they were able to provide the medicine that was needed to help our people live. There were no hospitals; there was no fast food outside the reservation like there are now. Our people were a lot healthier than they are today. As our people adapted to the changing world, our bodies were not accustomed to these drastic changes and it's not always in the best interest for our health. We need to do the best we can to continue to keep some of these foods, not for ourselves, but for the future generations. Because we know that when we eat our native foods we're not only nourishing our bodies, we're nourishing our spirits."
Following the presentation by the Rediscovery Program, festival attendees were treated to a viewing of eight films.
"We have categories in animation, documentaries long and short, feature films long and short, anti-bullying and experimental films," explains Hibulb Cultural Center Education Curator and Film Festival Organizer, Lena Jones. "We have youth categories for animation, documentaries, feature films, anti-bullying, and experimental also. We have a section specific to Tulalip members in all those categories as well."
Navajo Filmmaker Kody Dayish submitted three films for this year's event. In his film The Beginning, a Navajo elder explains the heritage and traditions of the Navajo people to his grandson through traditional song. Kody also tackled serious issues such as bullying in schools and suicide during his three-minute film, Spared. For his third submission, Goodbye, a Navajo elder returns to her childhood home and is hit with a wave of nostalgia as she reminisces of young love in a music video-style film featuring music by Navajo band, Our Last Chants.
The Hibulb Cultural Center Film Festival also screened the short animation film, σčəδαδξʷ. The film's name is in the traditional Lushootseed language, meaning salmon. The animation explains the importance of salmon to Coastal Natives while depicting the salmon's lifecycle. The main character is the late Billy Frank Jr. and is told entirely in his voice, as the cartoon was built from one of his speeches.
"When I first saw [σčəδαδξʷ] I was at home reviewing all the films and I just cried," states Swinomish tribal member and Hibulb Cultural Center Film Festival Judge, Robin Carneen. "Billy Frank Jr. was such a hero in our Northwest area because he was such a fighter for the rights of the people – treaty rights, our right to fish. He was on the ground to the day that he passed. That is such a powerful film. And to mix it as an animated film, it's going to reach even younger generations. I grew up watching cartoons, not a lot of educational purpose to them except maybe for entertainment value and not necessarily always a good message. Later as an adult and watching animation, you think 'wow all that was going into my brain?' You see how much of an influence animation, films and TV are. To see Billy Frank again – he's immortalized. His message is immortalized now, for all of us and all the generations yet to come so that we don't quit fighting. This film is going to be our inspiration to make sure that fight keeps happening for generations to come."
Tulalip tribal member, David Spencer Sr., presented his film, Waiting for Blackberries, which displayed clay Stick Indians chanting a traditional song to help ripen blackberries during the upcoming spring season. David was inspired to create the film when recalling advice from his grandmother to respect the berries, stating, "if you don't show the berries respect, they will whip you with their thorny vines."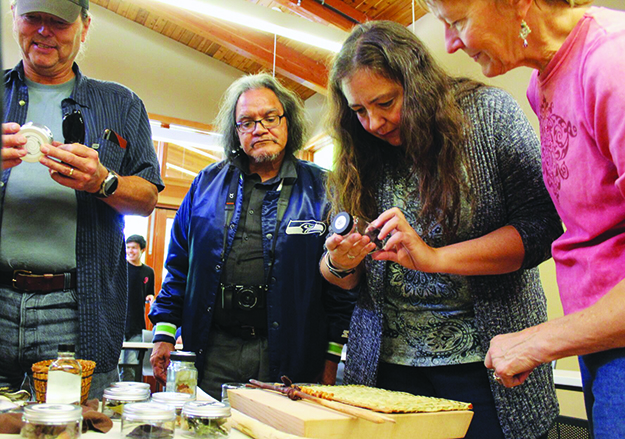 The main screening, Maiden of Deception Pass: Guardian of her Samish People, was held in the Hibulb longhouse. The twenty-minute documentary highlighted the traditional story of Ko-kwal-alwoot, a young Samish woman who married a sea spirit in order to save her people from famine; and the erection of her story pole at Deception Pass in 1983. Filmmakers of the documentary include Jason Ticknor, Lou Karsen and Tracy Rector. Two international films, Hani's Barbershop and Closer, were also shown to close out the festival.
"What I like about the Native films is that it's really important that we're preserving and documenting our culture," says Robin. "When I see the language show up in the films, I get so excited to see and hear the language. That's what I like about the films that are coming in from our area. The films are all so different but they're all so important. The mix of people that we have, including the many generations, I think that all of the storytelling is great. Especially with all the modern technology, to mix the two together because it's going to reach everybody on some level."
The fifth Annual Hibulb Cultural Center Film Festival was a success as movie buffs from the Pacific Northwest, including Canada and Oregon, traveled to Tulalip for an afternoon of culture and movies. The event continues to generate interest as several young tribal members attended. Lena hopes to inspire indigenous youth to pick up a camera and start shooting.
"I encourage young people to become involved in filmmaking," she states. "Films can impact people. We have such a strong, beautiful culture; and we have a belief that young people can reflect our ancestral values in film work because of their experience living in the culture. Plus, filmmaking is enjoyable!"
For additional information about the Annual Hibulb Cultural Center Film Festival please contact the museum at (360) 716-2600.