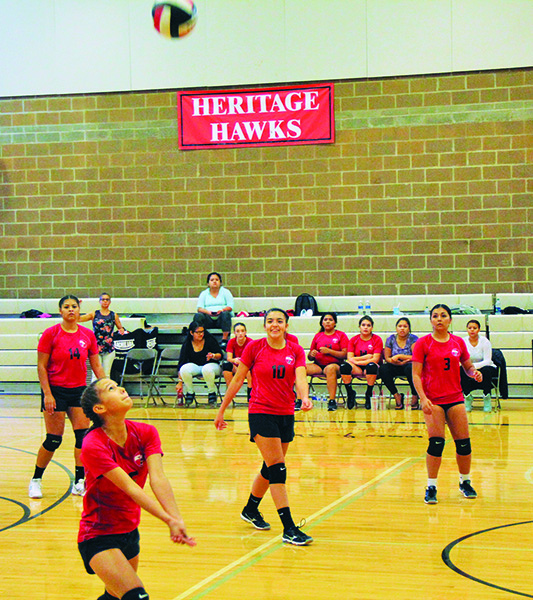 By Micheal Rios, Tulalip News
The (0-3) Tulalip Heritage Lady Hawk volleyball team has had a rough start to the season, with several first time players still adjusting to the high school game. With each additional rep, practice, and game the girls grow more familiar with each other's strengths and weaknesses, while team chemistry continues to develop.
Assistant Coaches Katia Brown and Aliya Jones, both Heritage graduates, have been working diligently with their players to build a strong foundation with a back to the basics approach.
"We've been focusing on communicating better, passing to the setter and getting our serves over the net," says Aliya.
"As a team, we've been watching videos on passing technique and then critiquing ourselves based on those videos," adds Katia. "The videos have helped us develop better footwork that leads to better passing."
Everything the Lady Hawks have been working on was on full display in a home matchup with Cedar Park Christian on September 21. The communication, passing, and getting the ball over the net was all much improved. Heritage won the 1st game 25-15, 2nd game 25-9, and finished strong in the 3rd game 25-17 to earn their first W on the young season.
Just days later the Lady Hawks hosted the Skykomish Rockets on September 26. The momentum from their first victory continued into this game. Aces were aplenty as nearly every Lady Hawk took their turn serving up points. After winning the 1st game 25-13, the Lady Hawks dominated the 2nd game 25-6.
Going into the 3rd game, Coach Tina Brown seized the opportunity to substitute all the back-ups into the game. Having a completely new line-up in provided much needed experience and in-game reps. This Lady Hawk line-up didn't disappoint either. They passed well and served up Aces, too. At one point they went up 15-1 before clinching the deciding game 25-16, taking the match 3 games to 0.
After back-to-back victories, upping their overall record to (2-3), the coaching staff is delighted to see practice paying off with better communication and a much improved service game.
"We've been working so much on serving and passing in practice and it really showed in our last two matches," says Katia.
The Lady Hawks look to get more Ws and stay in the playoff hunt with 1/3 of the season now played. The next home game is Thursday, October 5 vs. Grace Academy.