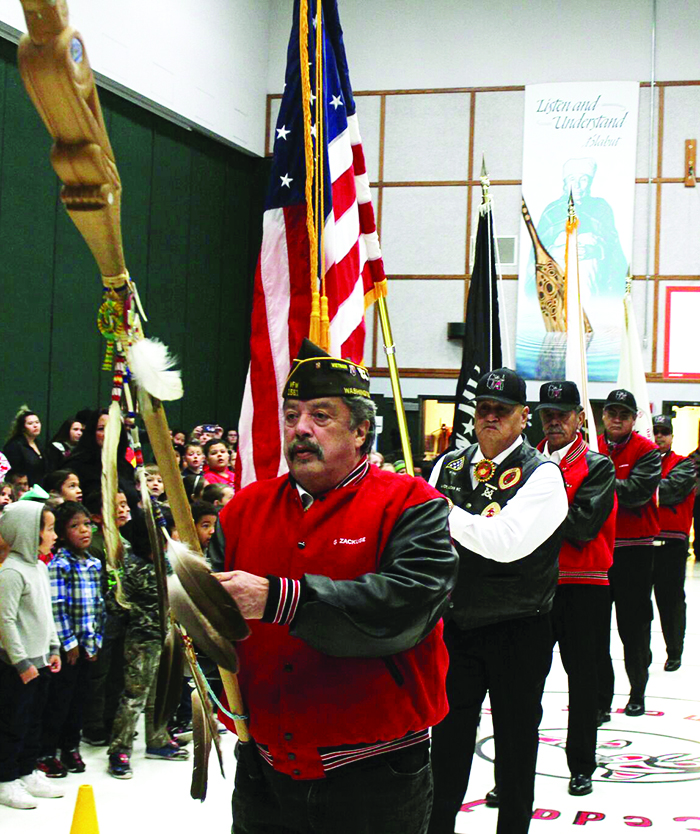 By Kalvin Valdillez, Tulalip News 
Throughout the weekend of November 11, citizens of Tulalip and its surrounding areas commemorated Veterans Day with several ceremonies in the community.  The gatherings allowed community members the chance to thank the veterans for their service in the United States Military as well as pay tribute to those who bravely fought for this nation's freedom and are no longer with us.
On the morning of Thursday November 8, Tulalip Honor Guards journeyed to Totem Middle School for an assembly honoring veterans. The assembly included speeches from teachers and students as well as a spirited, patriotic-inspired performance by the Totem Middle School Band. Following the middle school assembly, the Honor Guards traveled to Quil Ceda Elementary for another assembly, which featured personal thank-yous from the young students. The Honor Guards were presented with a carved canoe paddle medallion necklaces as fifth graders spoke about the history of Veterans Day.
"Hi my name is Lupita and I am going to tell you a few things about Veterans Day," stated a fifth grade Quil Ceda Tulalip Elementary student. "Veterans Day is a United States public holiday. Veterans Day is on November 11. The reason it's on November 11 is because World War I ended on the eleventh day of the eleventh month on the eleventh hour. We celebrate Veterans Day to recognize the people who served for our country."
On Saturday November 11, Tulalip and Marysville community members gathered in the longhouse of the Hibulb Cultural Center to honor and pay tribute to the brave men and women who fought for our freedom. Veterans shared their experience in the Military during roll call as well as recognized the fallen soldiers and Veterans who have passed.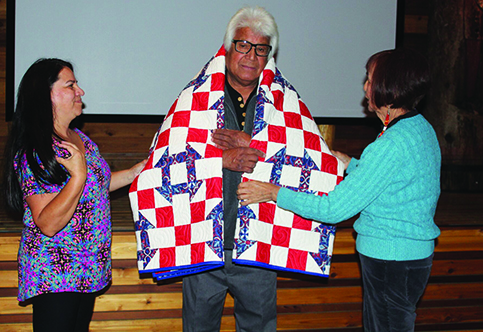 Seven Tulalip tribal members spent their summer crafting quilts to gift to the vets during the ceremony. The veterans were both surprised and graciously appreciative for the quilts. The Veterans Day event included a series of classes geared to veterans and their families – a lecture series with John Campbell, a glass art culture series with Robert Mitchell and a veterans healing forum with Rev. Bill Topash.
A huge thank you to the brave veterans who fought for our county and those who are currently serving in the military.