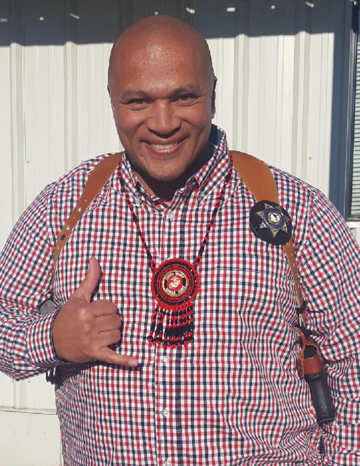 TULALIP, Wash. – December 4, 2017 — Patrol Commander Sherman Pruitt was sworn-in by the Tulalip Board of Directors to lead the Tulalip Police Department. Interim Chief Pruitt is stepping in for former Tulalip Chief of Police Carlos Echevarria who resigned, effective 12/4/17, citing personal reasons.
Chief Echevarria served the Tulalip Police Department since 2001; he was interim Chief of Police for 11 months and in May 2014, he became the first Tulalip citizen to serve as Chief of Police post-retrocession (a process wherein the Tulalip Tribes took back jurisdiction of tribal lands in 2001). He said, "My focus for the Police Department has been to work in collaboration with other Tribal departments for the safety, health, welfare, education and outreach to the community. TPD's mission is to reduce the number of our children exposed to violence and provide law enforcement support services to assist victims of crime."
Chief Echevarria's watchwords, 'Trust, Pride, Dedication' remain emblazoned across every Tulalip Police vehicle, a reminder that policing at Tulalip is truly about serving the people.
Chairwoman Marie Zackuse said the former chief left big shoes to fill, "Carlos served our community for 15 years and did an excellent job. We are proud of the fact that he was our Chief of Police and it was with great sadness that the Board of Directors accepted his resignation. His parents and grandparents taught him in a good way and he brought a lot of compassion to his job. He will be missed, my best to him and his growing family."
Interim Chief Pruitt will serve the department while the Tulalip Board of Directors search for the right person to step in and lead the future of the Tulalip Police Department.
Interim Chief Pruitt is a 21-year veteran of the military; he served 12 years in the United States Marine Corp and an additional 9 years in the Reserve Air Force. He was deployed five times, serving in Somalia, Rwanda and Iraq. In his 13 years as a Tulalip Police Officer, Interim Chief Pruitt has worked as a Patrol Officer, Detective, Patrol Sergeant, Detective Sergeant, Patrol Commander and now Interim Chief. In addition to his duties with the Tulalip Police Department, Interim Chief is cross-commissioned with the FBI and U.S. Marshalls as part of the Safe Trails Task Force, which fights against major crimes in Native America. He is a father of five and is happily married to his wife of 20 years.
"I will make sure we continue to serve with pride and respect," said Interim Chief Pruitt. "We will continue to build trust with the community, along with mentoring our youth and making a difference in their lives. The Tulalip Tribes is thriving and we want to continue to get even better."