By Micheal Rios, Tulalip News 
The art gallery located at South Seattle College is currently home to a one-of-a-kind art exhibit showcasing an opportunity for learning, sharing, and cultural teachings. Drawing the attention of both Native and non-Native art enthusiasts, the exhibit titled Revealing Today's Northwest Coastal Peoples: Native Cultural Gatherings offers works representing traditional and modern design takes of over thirteen tribal styles and mediums.
Native art exhibits have become common place in the greater Seattle area in recent years thanks to a new level of appreciation and respect to the indigenous communities who have connections to the Coast Salish lands going back long before the terms 'United States' and 'Washington' ever existed.
When done the right way, art exhibits and galleries featuring Native culture help to celebrate indigenous resiliency. Such exhibits provide an experience that casts light on the often romanticized themes overshadowing a modern people. Revealing Today's Northwest Coastal Peoples is such an exhibit.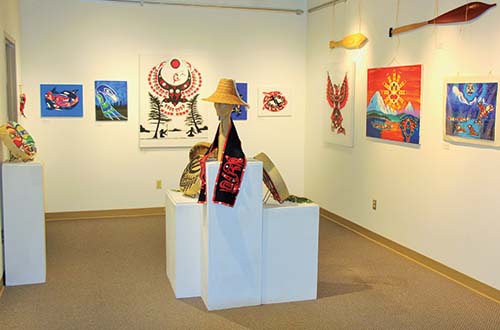 "This exhibit came together with intentional inclusiveness, inter-generational representation, and a balance of men and women to offer a sharing opportunity for many Coast Salish and Coastal tribal artists in one exhibition space," reflected exhibit curator and Indigenouz PlaceMakerz Director, Kim Camara. "This process contributed to an interweaving of similarities and differences to create something new. With a tie-in of today's cultural practices and artistic expression, the blending of age, style, and mediums came together in a circle of beautifully empowered pieces!"
As invitations were extended to established Native artists, like Al Charles and Micah McCarty, feedback was given and recommendations made about inclusion of younger artists they work with and mentor. This led to three up and coming artists being included, one of which was Tulalip tribal member Ty Juvinel.
"It's great to have my work represented in this exhibit," expressed Ty. "As a native artist, I use a lot of cultural and ancestral inspiration, but to say I did it all on my own would be misleading. I am here because of my mentors like Joe Gobin, James Madison, Al Charles, Frank Madison Jr, Steven Madison, Mike Gobin, and many more. I listen to them; they guided me, and showed me how to get where I want to be.
"Anyone can achieve their goals if people would surround themselves with mentors. Mentors know the ins and outs, they know the short cuts. So when I'm asked how it feels to have my art represented anywhere, I have to be humble because I'm representing Tulalip, my mentors, and my family everywhere I go."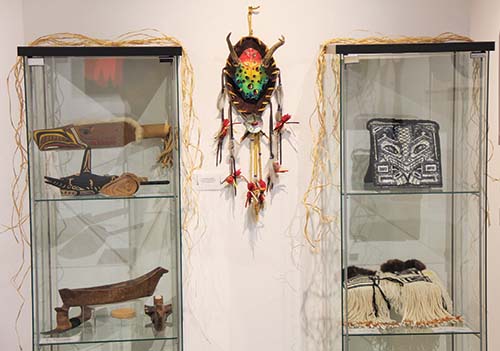 On Thursday, November 30, an artist recognition event took place at South Seattle College for all the tribal artists to gather and celebrate the exhibit's offering. A group of college students were in attendance to learn and ask questions during an artist panel presentation. Following the panel, there was dedicated time for artist demonstrations before an honoring ceremony brought the event to a close.
Some of the artists roamed the exhibit offering responses to any questions visitors or students may have had about their showcased art.
"Coast Salish art and many other forms of tribal art is passed down through our blood. Our art represents nature, and as tribal members we have a deep rooted connection to nature," responded Ty when asked about his art form being passed down for generations. "Like my mentor Joe Gobin, he can read the water when he's fishing. I've heard stories where he can just look out over the water and see where the schools of salmon are. For me, a lot of my designs I find them in the wood, so really I just find the design and borrow them from nature."
From carvings, paintings, and regalia making, to print work and contemporary pieces inspired by poetry, Revealing Today's Northwest Coastal Peoples shows how Native artists combine the traditional with the modern across a spectrum of mediums. The exhibit is open to public audience Monday-Thursday from 9:00a.m. to 3:00p.m. and will be on display until January 26, 2018.
"With college campuses like South Seattle College being places of learning and education, it is vital to outreach to younger people about our Native cultures, ways of life, languages, and expressions," stated curator Kim Camara about the exhibit's impact for creating change. "Without the opportunity to experience Native ways of life and elements representing these ways, understanding and relationships to build collaborations and our future will remain as is – under-represented and under-served. We will remain invisible. An exhibit as this one ebbs away, in stunningly powerful ways, the invisibility of our Northwest Coastal peoples!"