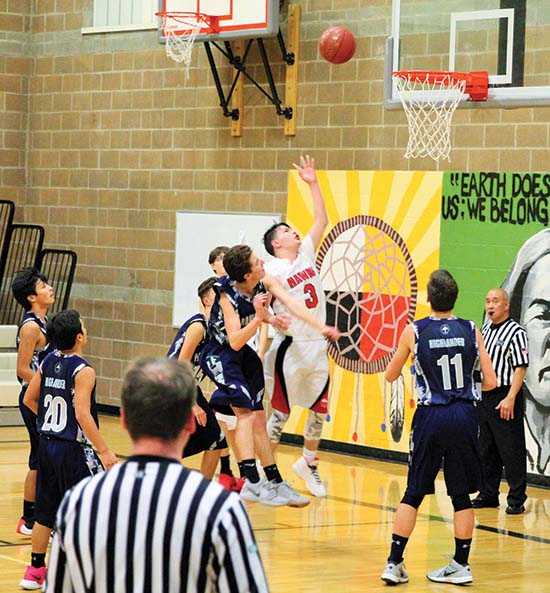 By Micheal Rios, Tulalip News 
Seven games played, seven games won. The Tulalip Heritage Hawks basketball team (7-0) opened their season with three straight wins versus class 2B schools, then entered league play where they have been crushing it on both ends of the floor.
Their last four opponents have all been within the NW 1B league and the Hawks came away with convincing victories in each game. They defeated Providence Classical Christian 70-32, Orcas Christian 62-46, Lummi Nation 60-43, and Lopez 78-34. That's a whopping margin of victory by 29 points per game during that span.
Coach Cyrus "Bubba" Fryberg points to two key factors for the Hawks success on the hardwood. First, is defensive hustle; with a team full of athletic wings who can switch at several positions, the Hawks are putting much more emphasis on man-to-man defense instead of zoning up. This defensive intensity makes it difficult for opponents to get into a groove. Secondly, the Hawks consistently play all-around team ball on the offensive end; the ball movement is solid with players routinely making the extra pass to an open teammate. This has led to several Hawks averaging double-digit points.
On the calendar for early next month is a home showdown with also unbeaten Cedar Park Christian (6-0) on Friday, January 5. The matchup will be a barometer for both teams to see who has the advantage for taking home the NW1B crown.