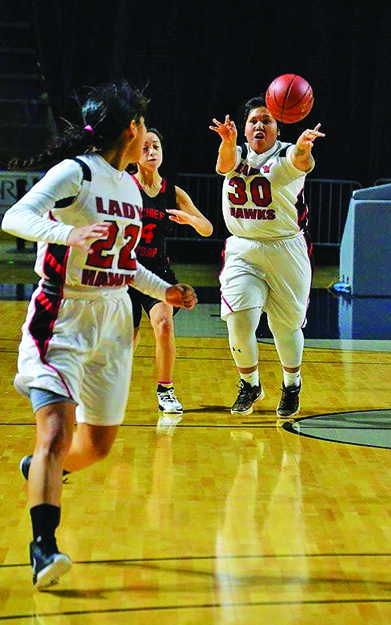 By Micheal Rios, Tulalip News 
The 3-game losing skid to begin the season has been all but forgotten for the Tulalip Heritage Lady Hawks, who are currently in the midst of an impressive 10-game winning streak. During the streak, the Heritage squad has been employing a lethal two-pronged attack led by senior forward Deandra Grant owning the painted area and senior guard Keryn Parks attacking from the perimeter.
As the season has progressed, so have the shooting touches of guards Georgie Randall and Deachae Jones. With the role players accepting larger roles and knocking down clutch shots when Deandra and Keryn are double-teamed, the Lady Hawks have been dominant.
That dominance was on full display on January 5 when Heritage obliterated Cedar Park Christian, 68-9. The girls followed up with a 57-28 hammering of Shoreline Christian on January 9. Then archrival Lummi Nation came to town on Tuesday, January 16.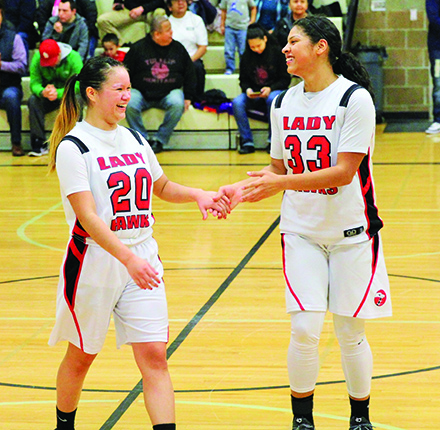 Lummi always plays Tulalip tough, and for a Lady Hawks team blowing out opponents left and right, a competitive game was much needed. In the 1st half, Lummi's outside shooting took advantage of the Heritage zone defense and kept the game close. Leading by only 6 points at halftime, 32-26, the girls now had an opportune time to shift their game into the next gear.
In the 2nd half, Tulalip moved the ball exceptionally well and got lots of open looks from their key players. Deandra and Keryn did their work inside, while Georgie and Deachae knocked down big shots from long-distance. The team defense locked in on the Lummi shooters and did a much better job of contesting their jumpers. Heritage's engaged play led to a 22-7 run spanning the final two quarters, allowing them to pull away for a 69-49 victory.
Keryn led all scorers with 21 points, Deandra added 20 points, and Georgie chipped in 18 points.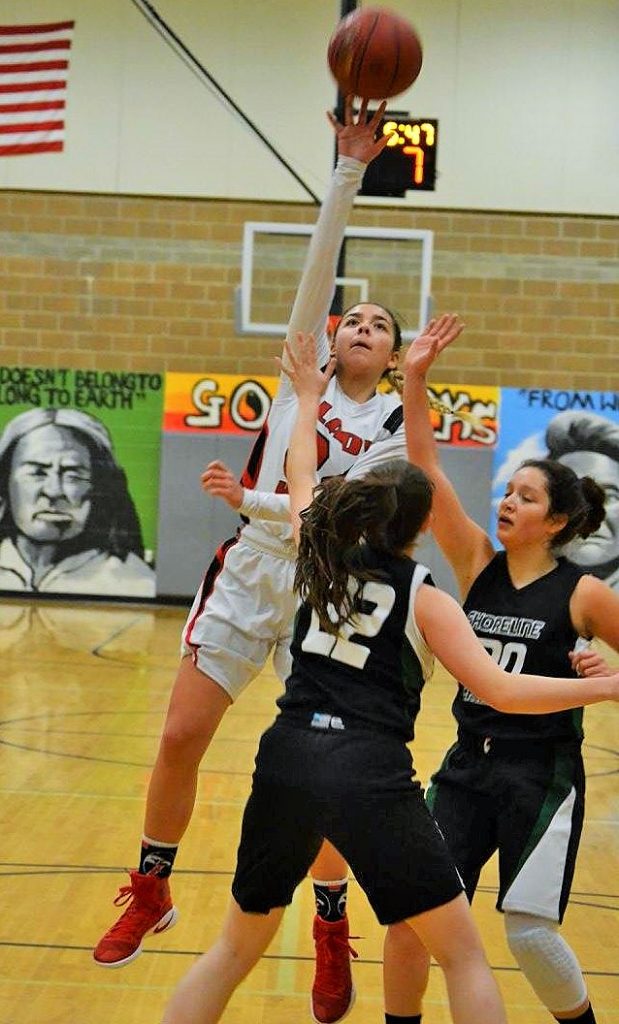 "At halftime, we talked about how Lummi was double teaming me and Keryn whenever we had the ball," explained Deandra, who finished with a game-high 21 rebounds. "In the 2nd half, once we figured out how to play through those double teams by passing it around the perimeter, they couldn't stop us. We picked up our pace and got more intense, too, which is how we want to play."
"It's always a rivalry with Lummi," added Keryn. "They have some really good players who make us compete harder, which pushes me to do better. It's been awesome seeing other girls raise their play, too. Georgie scoring 18 points was clutch for us. She's a sharp shooter and the more we can get good looks for her, the better."
The 20-point win over Lummi is just another in a series of blowouts the Lady Hawks have been notching during their 10-game winning streak. They will play one more home game on Tuesday, January 23, versus Grace Academy that will double as Senior Night.