Attorney General Bob Ferguson pledges lawsuit if plan includes Washington state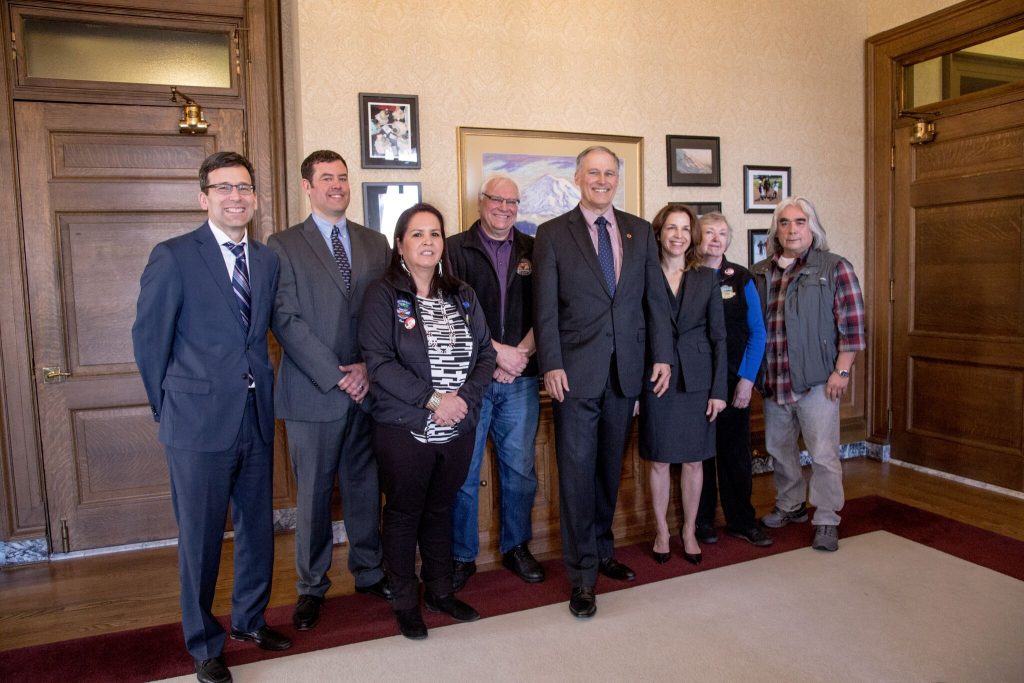 Source: Resource Media Seattle
OLYMPIA—Today, coastal and statewide elected officials, tribal and fishing industry representatives, and conservation advocates spoke in united opposition to a new federal proposal that would open Washington's coast to oil and gas drilling for the first time in 50 years. On Jan. 4 of this year, the Trump administration released its 2019-2024 draft plan which would open up 90 percent of the nation's coastline—including Washington's—to oil and gas drilling.
Attorney General Bob Ferguson sent a letter today to Interior Secretary Ryan Zinke, opposing President Donald Trump's proposal to allow oil and gas drilling off Washington's coast and asking that Washington be exempted. If Washington is not removed from the plan, Ferguson warned Zinke he will file a lawsuit.
The Governor, the Attorney General, representatives from the Quinault Indian Nation, the Makah Tribe, the president of the Washington Dungeness Crab Fishermen's Association, the mayor of Ocean Shores and the Commissioner of Public Lands spoke about Washington's commitment to protecting a fishing, tourism and recreation economy worth millions of dollars from the threat of pollution and oil spills. They pointed to the long-term impacts from the Exxon Valdez and Deepwater Horizon disasters on fisheries and businesses. NOAA data from 2015 states that they respond to 100 oil spills in U.S. waters every year. In December, however, the Trump administration announced it will roll back federal safety rules created following the Deepwater Horizon disaster.
Jay Inslee, Governor:
"This plan threatens the health, safety and economic prosperity of our beautiful coastal communities. That's why we are committed to doing everything in our power to make sure that Washington's waters remain protected from offshore drilling."
In his letter, Attorney General Bob Ferguson writes:
"On January 9, 2018, Secretary Zinke announced that he had granted an exemption to Florida, sparing that state from the risks and burdens of drilling and exploration off its shores. Every reason identified by the Secretary in announcing his decision also applies to Washington. Were the Department to grant one state an exemption without an identified process and established criteria, it would contravene the regulatory framework and processes that states rely on for fair and lawful treatment. Thus, I ask that Washington receive the same exemption as Florida, and that no drilling or exploration be considered or take place off our coast.
"If, on the other hand, the Department of Interior seeks to put Washington's coastal communities at risk, my office will initiate litigation against the Department to protect our coast." Contact: brionna.aho@atg.wa.gov, (360) 753-2727
Gina James, Quinault Indian Nation Business Councilmember: "The Quinault Indian Nation vehemently opposes offshore drilling off the Washington Coast. The QIN signatories of 'The Treaty of Olympia' were guaranteed the right to 'take fish' at all 'usual and accustomed grounds and stations.' The impact from a potential oil spill infringes on this right and will not only harm the Quinault and local economies, but the beautiful coastal environments, the aquatic sea life, and our ability to harvest our traditional foods." Contact:  gjames@quinault.org, 360-590-0821
Larry Thevik, President, WA Dungeness Crab Fishermen's Association: "One major oil spill can be devastating: contaminating coastlines, killing fish and wildlife, destroying livelihoods and disrupting communities. This is a risk we do not want to take, we do not need to take, and we must not take." Contact:  thevik_rouse@yahoo.com, 360-581-3910
Chad Bowechop, manager, Makah Tribe Office of Marine Affairs:  "The Makah Tribe works to ensure the sustainability of tribal resources in perpetuity to maintain our cultural identity. Since the sustainability of these resources is wholly dependent on a healthy ecosystem, the Makah have a sovereign interest and authority to address any human activity or environmental phenomena that may directly or indirectly affect the Pacific Northwest ecosystems." Contact: chad.bowechop@makah.com, 360- 640-0295
Crystal Dingler, Mayor of Ocean Shores:  "Our Washington coast, and the entire coast of our country, is a beautiful and productive but, fragile environment that needs our voice to be loud and clear: No offshore gas and oil exploration or drilling."
Ocean Shores was the first city in Washington to pass a resolution against the Trump proposal. Contact:  cdingler@osgov.com, 360-581-5386
Johannes Ariens, Loge Camps, Westport, and Surfrider Foundation: "As a surfer, business owner and employer on the Washington coast the idea of offshore drilling this close to home is terrifying. My peers and I have thriving businesses that employ thousands of people, we are suppliers of some of the world's greatest seafood, hosts to travelers who come from around the globe to enjoy our world-class recreational opportunities, and we depend on a clean and thriving coast to survive. A spill such as that in the Gulf would decimate us all and have economic impacts that reach far beyond our coastline." Contact:  chair@seattle.surfrider.org, 206-799-3298 
Hilary Franz, Commissioner of Public Lands:  "Washington State did not ask for offshore drilling and we do not want offshore drilling. Offshore oil and gas drilling is dirty and dangerous and will further endanger our state's aquatic resources that are already struggling with ocean acidification and warming waters." Contact:  Carlo Davis, carlo.davis@dnr.wa.gov, 360-999-9165
Washington coastal communities power an economy dependent on the ocean. Tourism, recreation and fishing jobs are all dependent on a healthy coast:
In 2014, commercial (non-tribal) fisheries landed a total of 129 million pounds into Washington's coastal ports with an ex-vessel value of $93 million.
Annual recreational fishing effort on Washington's coast averaged 47,000 trips on charter vessels and another 98,000 trips on private vessels between 2003 and 2014. In 2014, trip-related expenditures for coastal recreational fishing generated over $30 million in coastal spending, supported 325 jobs in coastal counties, and contributed $17 million in labor income.
Shellfish aquaculture in Pacific and Grays Harbor counties provides an estimated 572 direct jobs, supports 847 total jobs, and generates $50 million in total labor income in the coastal region alone.
Washington residents took an estimated 4.1 million trips to Washington's Pacific Coast in 2014, with nearly 60 percent indicating their primary purpose was for recreation. These trips generated an estimated $481 million in expenditures.
Recreational razor clamming generates between 275,000 and 460,000 digger trips each season and provides between $25 million and $40 million in tourist-related income to coastal communities in Washington.
BOEM's Washington state public meeting has been postponed until further notice after their venue in Tacoma, the Landmark Convention Center, cancelled the room rental for Feb. 5. BOEM is accepting public comments on the 2019-2024 drilling proposal online through March 9. After the comments are received and environmental reviews conducted, the Proposed Program will be released, triggering another comment period. The Final Proposed Program is expected by 2019. The current plan includes six lease sales off California and one off Oregon and Washington.
The livestream of the press conference can be viewed via TVW: https://www.tvw.org/watch/?eventID=2018021102 (this link will be archived)