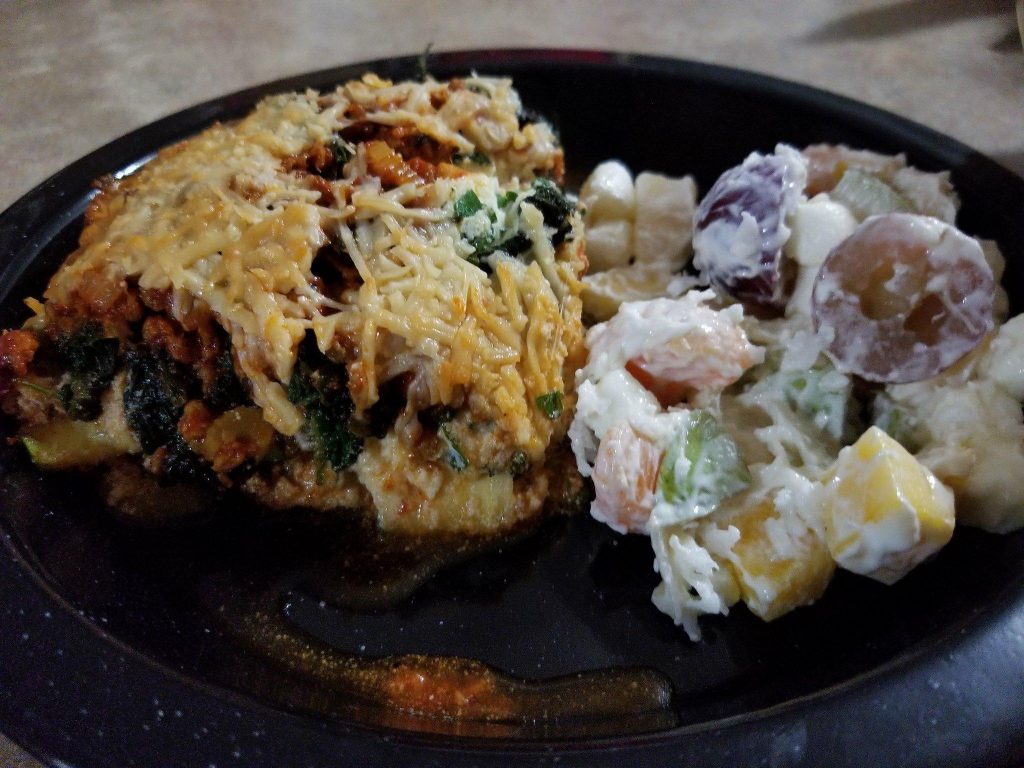 By Niki Cleary, Tulalip News
On a recent hike my sweetie and I noticed a bright spot of color peeking out from behind the scrubby gray remnants of last year's underbrush. Nettles, one of the first foods of spring, were perfect for picking. We also noticed a gigantic sign that indicated no harvesting local plants. But now we knew these tasty treats were growing, so we made plans for the next day.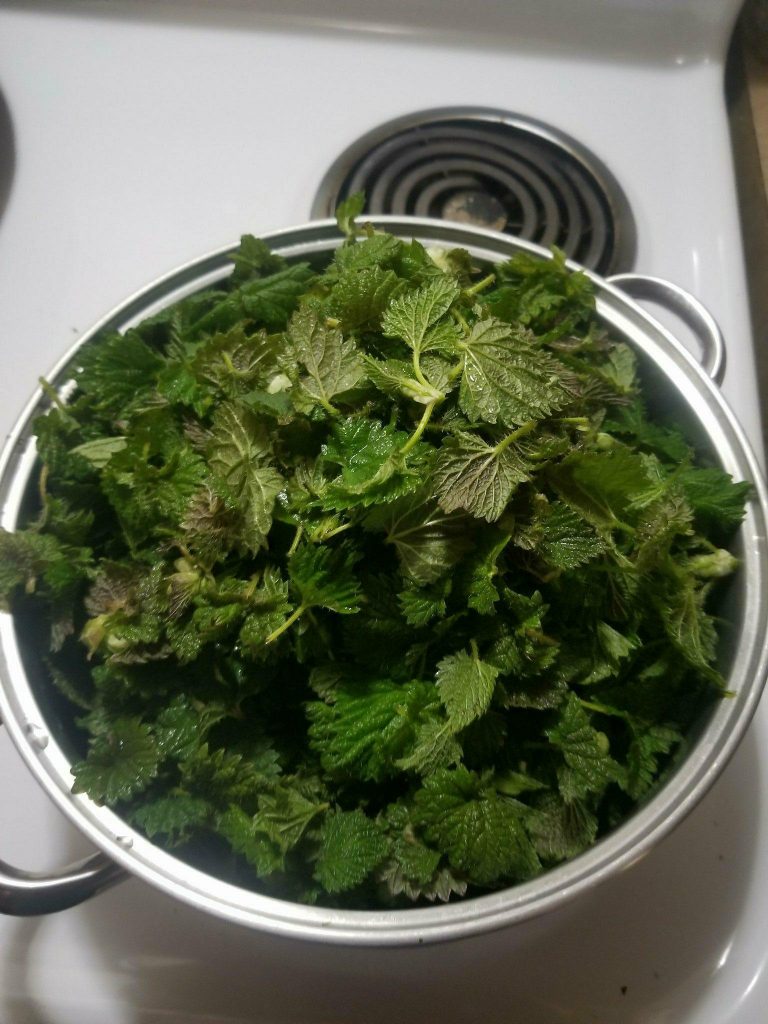 The freezing morning made them a little hard to spot, but we quickly found a patch of nettles. A short half hour of harvesting netted us two grocery bags of the tasty greens. After finishing our hike, we settled down for a cup of fresh nettle tea and got to work on dinner, a spinoff of lasagna minus the noodles and tomatoes and featuring our freshly picked nettles.
You may be thinking, no noodles? No tomatoes? That's not lasagna. Nailed it! However, it is a tasty and low carb lasagna-like dish. Instead of a traditional tomato sauce, roasted red peppers provided the base for a meaty red sauce and the lasagna noodles were swapped with thin slices of zucchini. If you can't find nettles, or aren't interested in risking stings, you can substitute spinach.
If you've ever shopped for groceries or cooked with me, you know I believe we vote with our dollars, so when I shop I prioritize local, seasonal, organic and grass fed. If I have to choose, I'll buy grass fed and organic meat over organic produce. Every year the Environmental Working Group (EWG) produces the dirty dozen and clean 15 lists, which can also help you decide what to buy organic vs. conventionally grown. The dirty dozen are the most pesticide contaminated fruits and vegetables, the clean 15 are the least contaminated, you can find them on the EWG's website, www.ewg.org.
Spring nettle lasagna
Ingredients:
wilted nettles – two grocery bags, fresh
6-8 medium zucchinis – salted and drained
Meat sauce
Olive oil
1 large onion, diced
1 cup diced celery
4 cloves of garlic
1 pound of grass fed (preferably organic), ground beef
12 oz package mushrooms, chopped
2, 16oz jars of roasted red peppers, blended until smooth
½ cup fresh basil
1 tsp dried oregano
2 tsp lemon juice
Salt/pepper to taste
Parsley cheese mixture
½ cup chopped Parsley
2 eggs
2 cups Ricotta
1 cup Parmesan
Topping
2 cup Parmesan
2 cups grated Mozzarella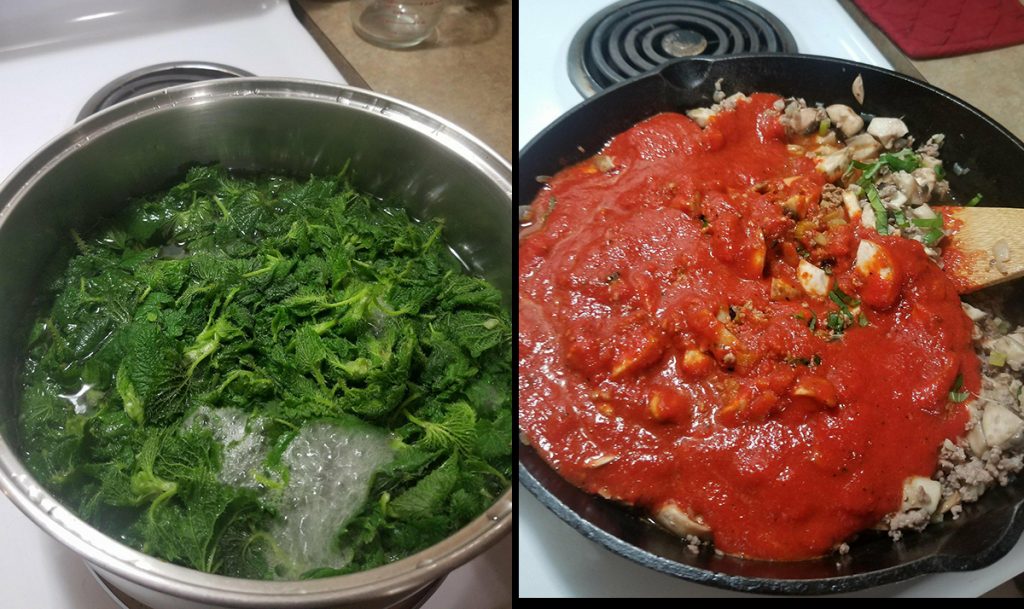 Preheat oven to 350, and oil a 9 x 13" baking dish. Prepare Nettles and Zucchini, roasted red peppers and cheese mixture. Prep your nettles by removing the leaves and discarding the stems. Rinse thoroughly to remove dirt or contaminants. Place in a large pot of water, boil until wilted, drain and set aside. Slice zucchini into ¾ inch slices, salt to draw out the moisture and let drain in a colander. Blend roasted red peppers until smooth, using no more than 4 tsp of the reserved liquid (use water if additional liquid is needed) and set aside. Combine parsley, ricotta, and eggs in a small bowl, set aside.
Meat sauce: Coat bottom of pan with olive oil, bring to medium heat. Sauté onions and celery over medium heat until onions are translucent. Add garlic, ground beef and mushrooms. Cook until meat is brown and crumbly. Add blended roasted red pepper, basil, oregano and lemon juice. Salt and pepper to taste. Reduce to low heat and simmer for 15-30 minutes to reduce and thicken sauce.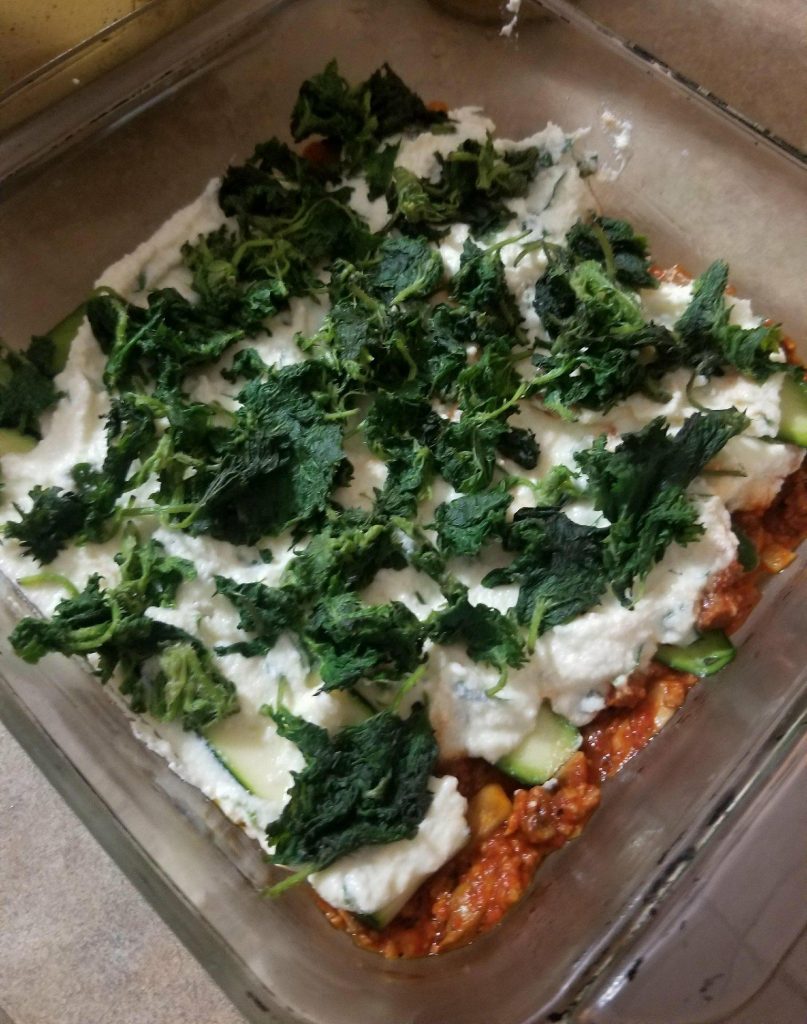 Assemble: In a 9 x 13" baking dish, spoon enough of the meat sauce to cover the bottom of the dish. Layer zucchini slices to cover the dish, then 1/3 of remaining meat sauce, 1/3 of the parsley cheese mixture, and 1/3 of the nettles. Repeat until the ingredients have been used up. Top with parmesan and mozzarella. Bake for about an hour, or until dish is bubbling and cheese is browned. Let cool slightly before slicing.