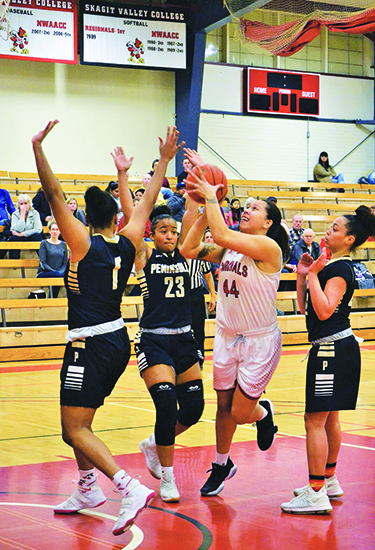 By Micheal Rios, Tulalip News 
Nearly 60 tribal members, varying from children to elders, attended the collegiate women's basketball game between Skagit Valley and Peninsula held in Mt. Vernon on Wednesday, February 21. Dubbed "Tulalip Night", the game doubled as an evening to showcase the talents of second-year college standout and Tulalip tribal member, Adiya Jones.
A week before, the Skagit Valley women's basketball team took part in Heritage High School's morning assembly. There they talked with local students about their college experience and offered words of advice to anyone looking to achieve at the next level, whether it be community college or a university. Being a graduate of Heritage, Adiya's success both in the classroom and on the basketball court as a college student make her a positive figure in the community.
"Adiya has grown so much in the classroom and on the court. She is a tremendous young lady and a great basketball player," beamed Steve Epperson, Skagit's Athletic Director and Women's Basketball Coach. "She's working towards achieving a degree in Human Services so she can go back and help the tribal youth."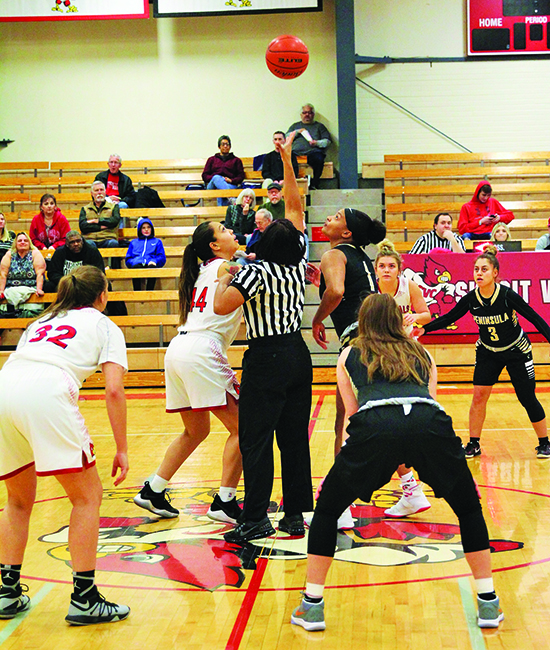 Adiya shared her heartfelt message to the tribal youth by saying, "My message to all Native American youth is to never give up because there will come a time when you feel like you
don't belong. Thankfully, I have always been pushed by my family, Coach, and teachers because they want me to be successful. It can only help to have the right support system around you. If you persevere through high school and prepare yourself for the next level, then you will succeed no matter what."
Getting back to Skagit's Tulalip Night, the evening kicked off with young Image Enick performing a welcome song to the delight of all those in attendance. Then Tulalip elder, Dale Jones, honored coach Steve Epperson with a Native designed jacket for all his good work towards supporting Adiya on and off the basketball court.
"I was very surprised and am truly honored by the presentation Dale gave to me," Coach Epperson said later. "The jacket is now hanging in my office as a one of my precious momentous from the past 41-years of coaching. It's very special."

As the crowd settled in to the game, they were treated to free food, beverages and snacks to enjoy while being entertained by a competitive basketball game.
In her second year playing for Skagit Valley College, Adiya has stepped up and taken the reigns as the team's unquestioned leader. She is the primary playmaker on offense while also anchoring the team's defense. Her full skill set was on display in this game. A high scoring affair, Adiya led her team with 20 points, each bucket receiving a cheer from her Tulalip fans. She also came up big on defense with several highlight blocks and a couple timely steals.
Following the game Adiya reflected on what the night meant for her, "It felt really good to look out into the crowd and see so many fans from home! That is what I love about my community, they have always supported me in one way or another."