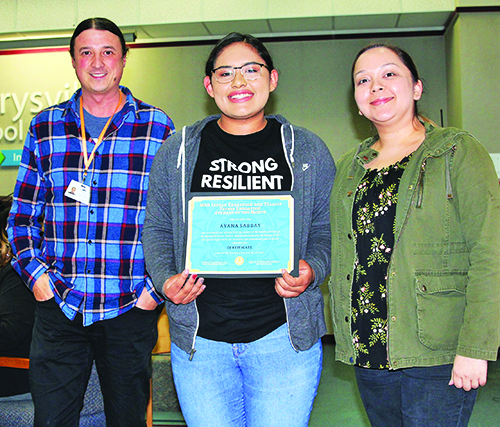 By Micheal Rios, Tulalip News 
"This is one special way that our community has come together, as Marysville School District has partnered with the Tulalip Tribes to announce the Native American students of the month," explained Deborah Parker, Director of Equity, Diversity and Indian Education, during the regular school board meeting on Monday, March 19.
By creating the Student of the Month Program, MSD Indian Education and the Tulalip Tribes Education Department celebrate individual achievement by sustaining a culture of learning that values academic success and achievement through education. The program is designed so that any Native American student in the Marysville School District, of any age or grade level, can receive the award. However, students who are nominated should prove they value their education by exhibiting academic responsibility. They are also expected to demonstrate excellent behavior in and out of the classroom, which includes being respectful to both teachers and peers.
For their commitment to excellence in the classroom and academic achievement, 10th grader Ayana Sabbas (Nuu-chah-nulth and Shoshone) of Marysville-Pilchuck High School and 4th grader Jacob Skarwecki (Algaaciq from Alaska) of Cascade Elementary were announced as Native American students of the month for March.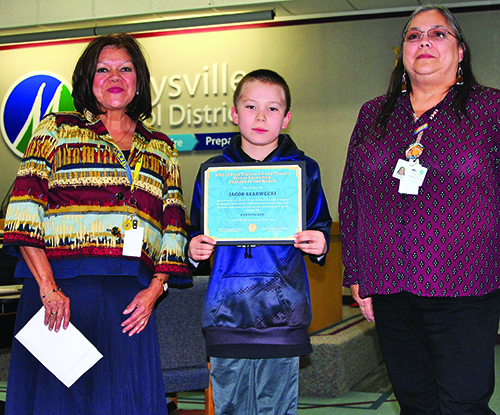 "Jacob is selected for his enthusiasm, his effort, his integrity, and for being a responsible citizen," described his Cascade Elementary Principal, Teresa Iyall. "Above all, Jacob shows exemplary behavior, and I am very, very proud that he is our first elementary Native American student of the month. He represents his family, his tribe, Marysville Indian Education, Cascade Elementary, and the Marysville School District in an exemplary manner."
"Ayana was selected as student of the month for her leadership, being a responsible citizen, and her incredible determination in both her academics and extracurricular activities," said her MSD Native Liaison, Matt Remle. "She has excelled in her academics, demonstrated by her 3.83 G.P.A. and outstanding attendance. She plays varsity volleyball, participates in MPHS Native Girls Group, and remains active in her culture by being a jingle dress powwow dancer. It's been an absolute pleasure working with her."
Going forward, a selection committee will review all student nominations based on their academics and school engagement. Each month two Native students (one boy, one girl) will be recognized as students of the month.
"It feels amazing!" admitted Ayana about receiving student of the month. "It's so refreshing to get recognized for my achievements in school because I've worked so hard to be in this position. My dream is to go to the University of Washington and become a bio-engineer. I really love numbers and want to use that passion to change the world for the better."