By Kalvin Valdillez, Tulalip News 
"Childhood sexual abuse is a topic a lot of people don't want to talk about," says Tulalip Child Advocacy Center Manager, Jade Carela. "A lot of people think if they don't hear about it or think about it, it's not happening. But the reality is, it's happening. It's happening on our reservation. It's happening a lot. The silence is what keeps it going, not talking about it and not getting proper education about it." 
Tulalip Family Advocacy, consisting of the Child Advocacy Center, beda?chelh, Legacy of Healing, Family Haven and the Tulalip Safe House, is bringing support, awareness and education to the community during the entire month of April to help prevent childhood abuse and sexual assault. Throughout the country, communities are either observing April as National Child Abuse Prevention Month or National Sexual Assault Awareness Month. Family Advocacy, however, decided to dedicate the month to raising awareness to both causes by hosting several events to help survivors of sexual crimes heal, as well as inform local citizens about how to prevent childhood sexual assault from occurring and also how to respond and report when somebody opens up to you about sexual abuse.  
The first event of Family Advocacy's month of awareness was the two-hour Darkness to Light training held at the Tulalip Administration building on April 10. Darkness to Light is a national non-profit organization that empowers adults to take action and prevent childhood sexual abuse. The organization created the Stewards of Children training, which features a video presentation that teaches participants the '5 Steps to Protecting Our Children' – learn the facts, minimize opportunity, talk about it, recognize the signs and react responsibly. 
The video presentation, told through the voices of adults who were victims of childhood sexual assault, revealed some very shocking statistics. One in every 10 kids are sexually abused by the age of eighteen; 90% of childhood victims know their abuser – 30% are abused by family, 60% are by friends of family and trusted adults and 40% are committed by older children. And when and if reported to police, 66% of all sexual assault cases involved youth and 35% of those accounts happened to children ages eleven and younger. Children who are survivors of sexual crimes experience a lifetime of trauma which can often lead to anxiety, depression, alcoholism, drug abuse, defiance, teen pregnancy, promiscuity, eating disorders, self-inflicted harm and suicide. It is important to note that those statistics are based on incidents reported and many childhood sexual abuse incidents go unreported out of fear, shame and lack of support. 
"The Darkness to Light trainings equips community members with the knowledge of how to put measures in place to help prevent childhood sexual abuse and how to recognize the signs of childhood sexual abuse," explains Sydney Gilbert, Tulalip Child Advocacy Center Forensic Interview Specialist. "You hear from a lot of survivors in this video, showing that it is possible to move forward if people have the support they need."
During the video, the survivors recounted their attacks – who their abuser was, when the horrible act(s) occurred and how it altered their lives and interactions with others forever. More importantly, the victims detailed their life experiences after their assault, their struggles and how they worked through their trauma, showing other survivors that they can work towards healing and lead healthy and productive lives once addressing the incident. The video also covered the importance of helping your child establish personal boundaries with others, monitoring internet usage and listening for clues the child may be dropping, as kids tend to feel situations out before completely confiding in an adult. After the video, participants take part in an open discussion and are presented with a certificate for completing the Stewards of Children training. 
"This is one of the first classes I've been to that's based on prevention," states Tulalip tribal member, Toni Sheldon. "We're done reacting, we need to be proactive. These are our kids, our future. We need to stop this cycle."  
"I want this community to become more informed," expressed Jade. "Typically, when we're talking about childhood sexual abuse, we expect the child to disclose, to tell an adult. We expect the child to know when something bad is happening to them and that's not right. We as the adults need to start taking the initiative. It needs to be put on us to take care of these children and start recognizing the signs. When we're in public and notice someone is touching a child, not necessarily completely inappropriate, but you can tell that the child is uncomfortable with it; and not always expecting your children to hug family members because kids sense things differently than adults do and there might be a reason for that. And when a child is disclosing, a lot people aren't properly educated on how to respond to that and sometimes it can make the child not want to disclose at all. So most of the time, children never do tell their story, they never tell what happened to them.
"These trainings are important because they teach us, as adults, to take back that accountability," she continues. "It teaches us how to start recognizing different things within the community and the people we're around. It teaches us how to stand up and say something. I want the victims to know that there are safe people in our community to talk to about abuse that has happened. There are people who will believe them and walk that path with them so they're not alone."
Family Advocacy is hosting a free movie night and discussion on Friday April 13 at the Mission Highlands Community Center from 5:00 p.m. to 8:00 p.m. where they will be screening the movie Wind River.  Another Darkness to Light training will be held on Wednesday April 25, from 5:00 p.m. to 7:00 p.m. at the Tulalip Administration building. National Child Abuse Prevention and Sexual Assault Awareness Month will wrap up with Helping Our Sisters Heal, a traditional-inspired gathering for the women of the community who are survivors of violence and sexual assault. This will be held Saturday, April 28, 11:00 a.m. to 2:00 p.m. at the Old Dining Hall. 
 For further information, please contact Sydney Gilbert at (360) 716-4097 and to report child sexual abuse please contact the proper authorities by referring to the list of community resources provided by the Tulalip Child Advocacy Center.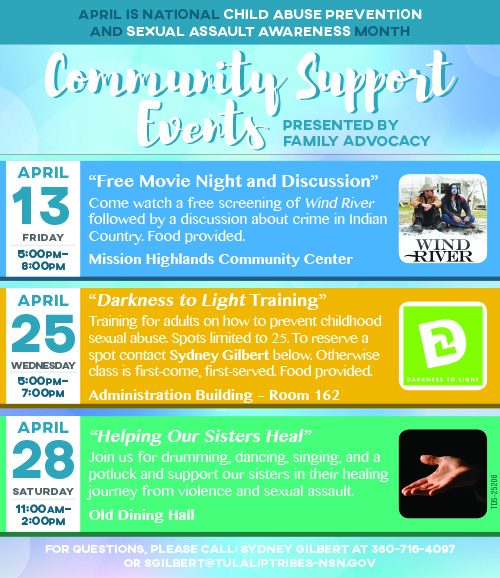 __________________________________________________________
Community Resources for Responding to Child Sexual Abuse Tulalip and Snohomish County
Call the report abuse
Contact the CPS Program at 1-866-End-Harm or any Law Enforcement Agency at 911. You are not required to provided proof. Anyone who makes a good faith report based on reasonable grounds is immune from prosecution. If the abuse occurred within the past 72 hours, a medical evaluation by a Sexual Assault Nurse Examiner is available by going to the Emergency Department of your County Medical Center or going to the nearest child advocacy center. 
HELPLINES
DVS assault hotline 425-252-2873
24-hour mental health crisis care line 800-584-3578
Darkness to Light helpline 1-866-FOR-LIGHT

   

(1-866-367-5444)
ADDITIONAL RESOURCES
Legal Help
Tulalip Office of Civil Legal Aid 360-716-4773
NW Justice Project 425-252-8515
Victim Advocacy
Tulalip Child Advocacy Center 360-716-5437
Legacy of Healing 360-716-4100
RESOURCES FOR HEALING
Treatment Providers
Tulalip Family Services 360-716-4400
Tulalip Youth and Family Wellness 360-716-4224
Catholic Community Services 360-651-2366
Support groups for survivors and for parents and families of children who have been abused
Providence Assault and Abuse Services 425-297-5782
WEBSITES FOR MORE INFORMATION ON CHILD SEXUAL ABUSE AND/OR TRAUMA
Child Advocacy Centers in Snohomish County
Feel free to call the center with any questions about where to find resources related to child sexual abuse. Contact the nearest CAC to set up an interview of abuse is reported: 
Tulalip Child Advocacy Center  360-716-5437  2321 Marine Dr., Tulalip, WA 98271
Dawson's Place 425-789-3000   1509 California St   Everett, WA 98201  Dawsonplace.org