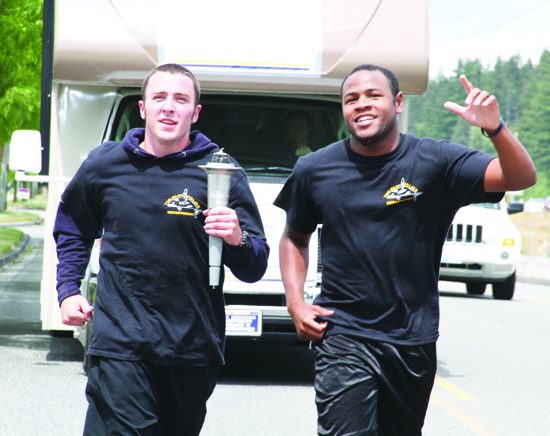 By Kalvin Valdillez, Tulalip News
On the afternoon of May 31, the Tulalip Police Department (TPD) joined other Washington State police departments in the Annual Law Enforcement Torch Run. Police departments from across the Nation participate in the yearly run in an effort to raise funds for the Special Olympics USA Games. Law enforcement officials carry the Flame of Hope to their respective state's Special Olympics Spring Games to help kick off the competition. 
Washington's Spring Games took place at Pacific Lutheran University in Tacoma during the first weekend of June. Several police departments that joined in runs across the state met at the University. TPD participated with a group that began at the Washington State-British Columbia border, joining the team in Stanwood and also running through Quil Ceda Village, Tulalip and Marysville. 
"It was awesome to participate," says TPD Officer and Torch Runner, David Taylor. "To see the other departments link up together and do something positive for the community is great. Not a lot of people know about the Torch Run, so being able to be a part of it and raise funds and awareness was pretty cool, it meant a lot that they asked us to do it. We ran about twelve miles."
The 2018 Special Olympics USA Games takes place in Seattle this year at the UW Husky Stadium from July 1-6. Over 4,000 athletes will participate in variety of sports including track, basketball, bowling, golf, gymnastics and softball. For donation information and further details, please visit www.SpecialOlympics.org