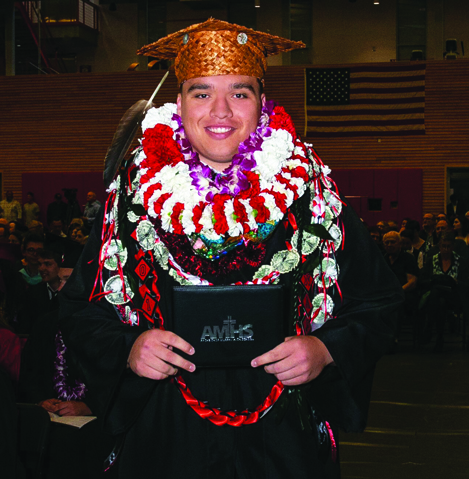 By Kalvin Valdillez, Tulalip News; Football photos courtesy of Geoff Vleck, USA Football
"When football season ended, I didn't think I was going to play anywhere because no colleges were really talking to me," recalls Tulalip tribal member Martin Napeahi Jr. "It was tough, some of my teammates were getting scholarships and I was working just as hard as them, if not harder. But I stayed focused and kept working. And then Central [Washington University] called and gave me an offer. I went and visited and it's a really nice campus. They have a good community especially within their football program, everyone's very welcoming."
Martin set a goal at a young age. A goal that he would work tirelessly toward throughout his entire high school career. Six years ago, while he was in the seventh grade, Martin attended an Archbishop Murphy High School football game. Although Archbishop lost that game by a major deficit, Martin left that game knowing he wanted to attend their high school and be a part of their football program. The decision to attend the private Catholic college-prep school was based around attaining his goal of playing college football.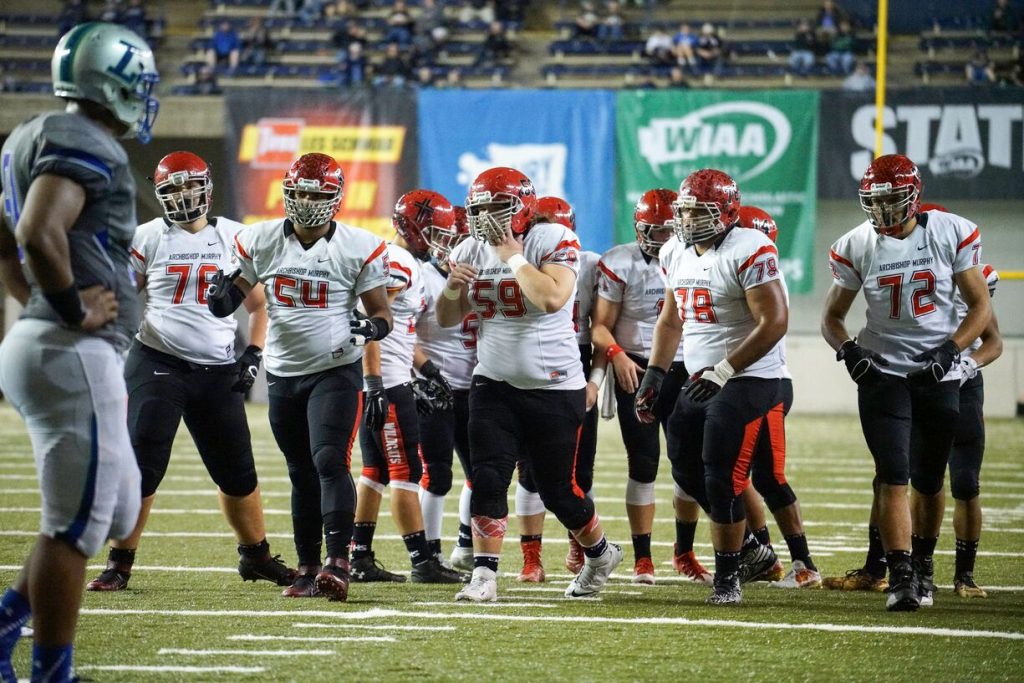 "The football program at Archbishop is ran similar to a college program, it's very intense," says Martin Napeahi Sr., Archbishop Murphy Football Coach and Martin Jr.'s father. "The amount of work these guys put in is tremendous. It's practically football seven days a week from August to December."
"I became interested in Archbishop Murphy when I was in middle school, I had some family there," says Martin Jr. "My freshman year we made it to the first round of playoffs and got smoked. We placed third at state my sophomore year, junior year we won state and my senior year we placed third again."
Martin's first season initially sparked the fire that fueled his work ethic. After failing to secure a starting position as a freshman, he was determined to work even harder during the offseason to ensure his spot as starting center during the next season. Ever since, he's applied that same energy and received a variety of accolades, proving that hard work does indeed pay off. 
"It wasn't easy, especially my junior year," he states. "Looking back at all of that now, it's kind of funny because I know that myself and the other kids who weren't from the Mill Creek-Everett area – none of us were recruited."
During the 2016-2017 high school football season, the Archbishop Murphy Wildcats made national headlines and were even mentioned on ESPN. The news, however, was unfortunate to Martin and his teammates who trained hard all season only to see a number of opponents forfeit their games against them. The concern was for safety reasons as other teams noted that Archbishop's players had a size advantage over their players. This sparked a bit of controversy as several private schools were accused of recruiting students for sports rather than academics. 
"Even with all the forfeits and the people saying we were recruited, I loved it. It was fun," Martin expresses. "The schooling was great, it got me to where I am. If I went to any other school, I don't know what kind of opportunities I would've been presented football-wise and school-wise. Football's been a blessing because it got me to college. That was always my goal, to play college football."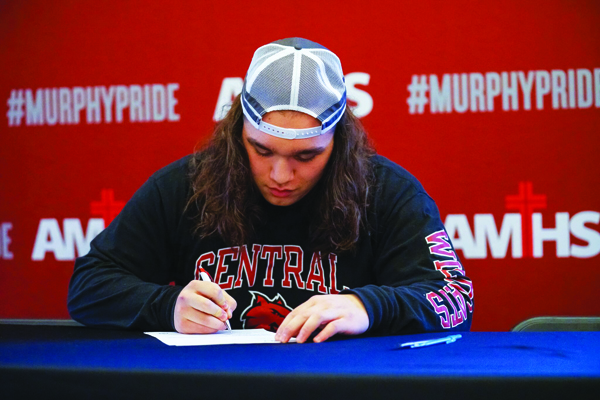 On National Signing Day 2018, Martin Jr. officially accomplished his goal. He signed on to play with the Central Washington University football program. From an Archbishop Wildcat to a CWU Wildcat, Martin is ready and eager to begin his new journey.
"It's two hours away from home, so not too far, yet not too close either. It's going to be nice being on my own, trying to figure the world out by myself. After college, if I were to go to the NFL or CFL, that would obviously be awesome but I'm going to major in exercise science and minor in nutrition so I can stay in the athletic field to become an athletic trainer or sports nutritionist."
After committing to CWU, Martin finished his high school career by competing in track and field, throwing both the discuss and shotput. He is currently the record holder for both events at Archbishop Murphy and placed fourth this year at state. 
"I think he wanted to do better at state, he was a little upset," says Martin's grandmother Annette Napeahi. "But that is still a great accomplishment. We're just so proud of him for working hard to achieve his goals. He's going to college for football, that's not easy. People aren't just handed sports scholarships, you have to work for it and he definitely worked hard for his. It's been so awesome to watch him and I can't wait to see what's next."
On the evening of Friday June 8, Martin received his high school diploma.  
"Graduation was cool," he says. "I was wearing a cedar cap and everyone thought it was cool. And because of my Hawaiian side, I had a ton of leis that covered up my entire face. My auntie Betty was in the process of making one of the leis for me and she passed away. Her daughter finished it for me and I was able to wear it on graduation day, it was really special. It was cool to see everyone's reaction to my culture because that's important to me. Not everyone has the same culture that I've been blessed with, so I'm glad I got to share a part of who I am." 
"I feel an overwhelming sense of pride," says Martin Sr. "Especially knowing what we've been through. From his early life, he was five and a half weeks premature and the doctors didn't know if he was going to develop properly. And here we are today. He does great in school and is a pretty low-key kid, doesn't go out and do a bunch of crazy stuff. Its bittersweet, coaching him all these years and being on the sideline as his number one fan. As a coach, I'm super proud. As his dad, all you can ask for is that your kids are successful and do more or better than you when you were at that age. I think we did a pretty good job."
Before beginning his first year at Central, Martin's summertime plans include hanging out with family and friends as well as playing Fortnite. But most importantly, Jr. plans to keep up with his early morning weight room regimen, training for the game he loves. Martin also offered solid advice to the younger students of the community who wish to follow a similar path to his.
"You just have to keep working at it. It's going to be hard and discouraging at times, especially with football, the practices and coaches constantly in your face, but keep at it. Have a goal in mind and set out to achieve it, work your tail off and keep building on that goal. And when people try to shoot you down, block them out and keep working toward your goal."