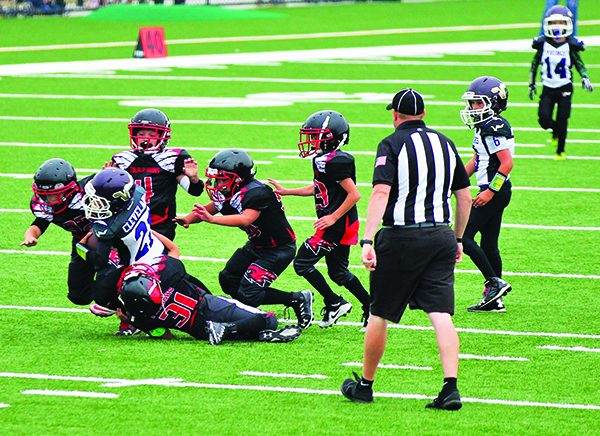 By Micheal Rios, Tulalip News
Last year, for the first time in nearly fourteen years, Tulalip began an initiative to have its own youth tackle football program. Under the careful guidance of Youth Services employees Lonnie Enick and Josh Fryberg, the Junior Hawks program kicked off with a single team of 9-12 year olds who played during the 2017 season. That lone team was the spark that ignited a flame, attracting many more aspiring Tulalip football players for the 2018 season.
Now in its second season, the Junior Hawks youth football program has grown from having just the single team to having five teams, each separated by age level; Peewees, 89ers, Juniors, Bantams, and Seniors. Each team is comprised of mostly Tulalip tribal members. These youth, who before were only able to play football under the banners of Marysville or Everett, now proudly sport stylish uniforms that read Tulalip Hawks.
Tulalip sought and received acceptance into the North Sound Junior Football League, legitimizing the program as a whole and establishing themselves as the official feeder program for the reservation's Heritage High School. 
"We have a lot of very dedicated players, coaches, parents and volunteers who are ready for football season to start," noted Junior Hawks president, Bantam team coach, and Tulalip tribal member James Madison. "It takes a lot of hard work for it all to come together, but we're ready and we're excited."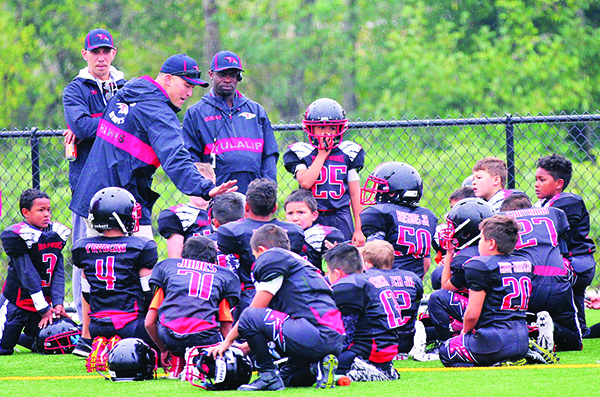 This season's campaign kicked-off on Saturday, August 25, with four of the Junior Hawks teams playing home games at the youth center versus Lake Stevens teams.  
The 89er division got things started with a 9:00am game. Quarterbacked by tribal member J.J. Gray and coached by his father O'Mar Gray, the Junior Hawks executed their game plan flawlessly by dictating tempo on both sides of the ball. Offensively, J.J. looked like a young Mike Vick running quarterback options and routinely juking multiple defenders as he left the pocket for long runs. Meanwhile, the defense was giving up nothing on the ground or through the air. Several Junior Hawks players, like Bryson Fryberg and Derek Wilson, were able to overpower their Lake Stevens counterparts and come up with multiple quarterback sacks. 
At halftime the Jr. Hawks were up 21-0, giving the home crowd much to cheer about. They would tack on another touchdown for good measure in the second half on their way to a well-earned 27-0 victory.
"For this being our first game, I thought it went great," reflected Coach Gray after the season opening win. "For them to play in front of their families and friends, here in Tulalip, was a big energy booster for the team. All of the kids stepped up and you could see each player was hungry for a win."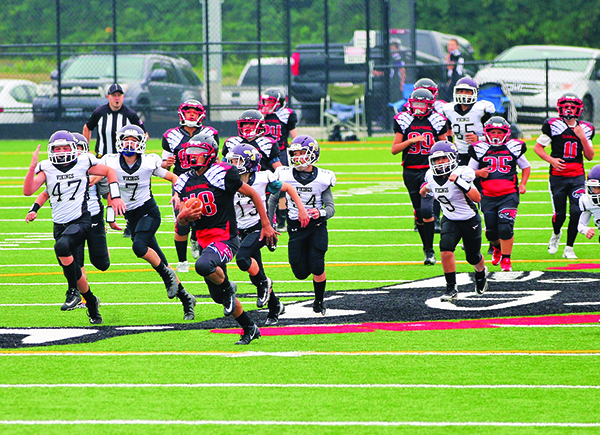 Following the 89er game, the Junior Hawk Bantam squad took to the field. Prepared by long-time coach James Madison and led by a crop of highly talented 12-year-olds, this team walked on the field with high expectations.
They set the tone early unleashing a variety of offensive formations that Lake Stevens was unprepared to defend. Players Gaylan Gray, Gio Vega-Hillaire, and Jayden Madison all scored touchdowns early as their team took a commanding 26-0 lead. Their defense would force several 4th-down stops and the offense never let off the gas, eventually winning with a lopsided score of 57-14.
"Our offense came easy because our O-line did a great job blocking for us and opening up running lanes," said do-it-all player and tribal member Gaylan Gray. He accounted for five Jr. Hawk touchdowns on the day. "My favorite play was catching a pass and going for a 50+ yard touchdown."
"Both our defensive and offensive lines did good," added lead running back Gio Vega-Hillaire, who chipped in four touchdowns himself. "It was a lot of fun winning the way we did at home."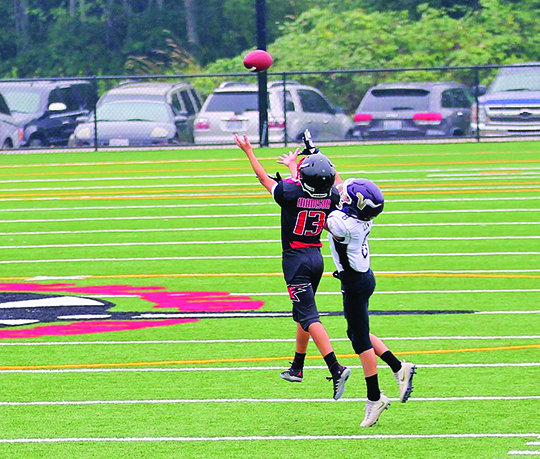 The dominant victories by both the 89ers and Bantam teams give the Junior Hawks program high hopes for the season and expect to see a champion crowned at the end of the season. All in all, the program consists of five teams, over 125 athletes, and thirty volunteers. 
"Our kids are out here representing Tulalip the best way they can," said Coach Madison. "They all know each other, most are family, and they get out on the field and just play hard. We know, as a program, we're brand new but we're determined to show every week that we're Tulalip and we're proud of it. These kids have set a goal from day one to win a championship, and we expect to do just that."
To follow the Junior Hawks progress over the season visit www.northsoundjrfootball.org