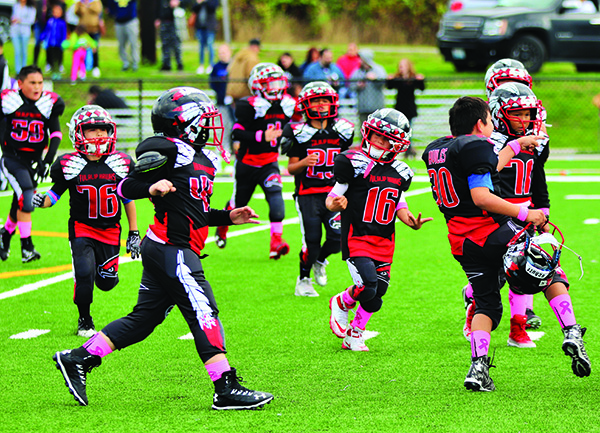 By Micheal Rios, Tulalip News 
We're midway through the North Sound Junior Football season, and two Tulalip Junior Hawks teams are garnering state-wide attention. The latest update to the Western Washington Junior Football power rankings have the fourth-grade level 89ers (4-1) ranked 8th in state, while the seventh-grade level Bantams (5-0) are all the way up to 4th. 
Both teams excellent play on the field and growing hype, as far as championship expectations go, has led to extra attention from opposing coaching staffs. It's often the case lately that coaching staffs of soon-to-be opponents are coming out to video record the Junior Hawks' games in order to scout formations and particular players. It's respect of the highest honor really; youth football teams playing so well that extra time and attention is being given to them like a high school or college program. 
On Saturday, October 6, the Tulalip 89ers hosted Oak Harbor in a week six matchup. Coming into this game, the 89ers defense has been tremendous. In fact, they've only allowed one team to score all season. That level of defensive play would continue and overwhelm Oak Harbor.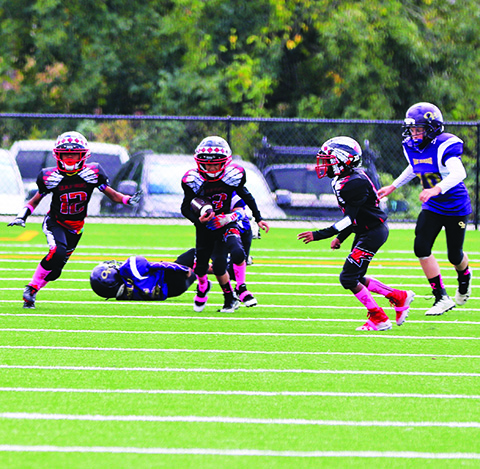 The 89er defense was relentless, putting a lock on Oak Harbor's offense in every way. Meanwhile the 89er offense was focused on using their ground game to move the ball up and down the field. In the red zone, running back Jesse Voss ran in a touchdown to give his team their first lead at 6-0. Later in the game, once again in the red zone, quarterback J.J. Gray scrambled for a touchdown of his own to push their lead to 13-0.
The defensive would hold it down from there. Once again holding their opponent to zero points, the Junior Hawks' record moved to (5-1) with the 13-0 victory. Bryson Fryberg, one the leaders on defense, had several QB pressures and several key tackles during the game. Bryson shared it felt good to hold Oak Harbor scoreless, but that his favorite moments were the hard tackles he dealt out. 
Following the victory Coach Omar Gray said, "Our kids stepped up big against a quality opponent. Offensively and defensively our players are really focusing on playing as a team and that allows us to play great football."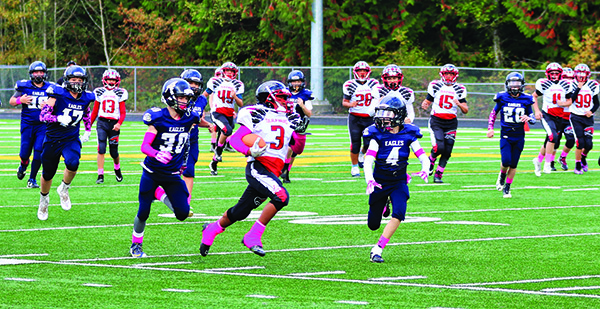 Later that Saturday, the undefeated Junior Hawks Bantam squad took the field in a matchup with Arlington at Arlington High School. The Bantams are led by a high-octane offense that averages nearly 45 points per game, while their opponents only average a single touchdown.
"The most important thing for us as a coaching staff is to make sure our boys play for each other and as a family," shared Coach James Madison prior to kick-off. "We've had several key players go down with injury, but it's up to our players to step up and show the quality of our depth."
Tulalip took it to Arlington early and often. At halftime they led 26-0 and piled on several more offensive highlights in route to a 34-0 victory. Wide receiver Jayden Madison led the Junior Hawks with three touchdowns. After the win he said, "I thought it would be a closer game, but our passing attack was just too good. My favorite play was when Gaylan threw me a perfect pass in the corner of the end zone and I caught it over two defenders."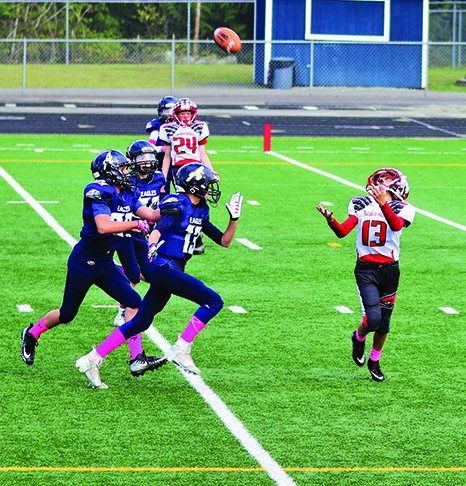 With two more regular season games before playoffs start, both the Junior Hawks Bantam and 89ers teams are playing great football and keeping their eyes on the prize: a Junior Football League Championship.