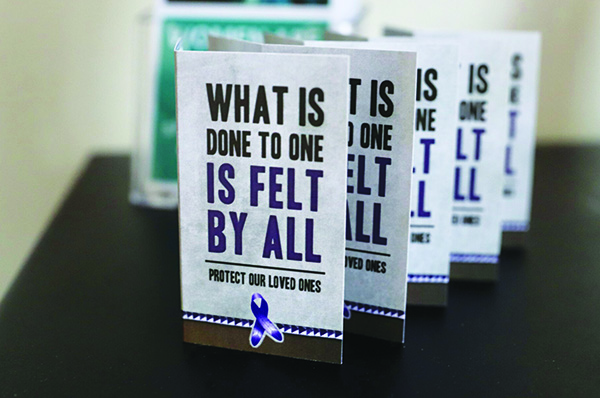 By Kalvin Valdillez, Tulalip News 
Located on the corner of the Marine Drive and Water Works Road intersection is a small purple building next to the Tulalip Bay Fire Department. Inside the building is the workspace for a team of dedicated ladies who share the same goal of assisting the women, children and yes sometimes men as well, of Tulalip who are in or fleeing a domestic violence relationship, being stalked, or have experienced sexual assault. Since October is Domestic Violence Awareness Month, the ladies at the Legacy of Healing opened the doors of the purple building on the afternoon of October 18, to inform the community about what domestic violence is and what services they have to offer.
"We're doing an open house so that people from the community can come in and see the building, so it's not so intimating if they come in for services," says Legacy of Healing Lead Advocate, Tiffany McLaughlin. "What we do is advocacy for victims and survivors of domestic violence, sexual assault, stalking, sex trafficking. We do legal aid and we have a therapist so we provide emotional support. And we can accompany them wherever they need to go to file papers, we'll go to court with them and I can help with protection orders."
According to the National Coalition Against Domestic Violence, nearly twenty people are physically abused by their partner per minute in the United States, totaling to more than 10 million victims each year. One in five women and one in seventy-one men have been sexually assaulted during their lifetime. And 5.1 million men and 19.3 million women have experience stalking, mainly by a former partner. Unfortunately, many people do not even realize they are in an abusive relationship because things haven't escalated to a violent, physical level.
"A lot of people still have it in their minds that domestic violence is only physical," says Legacy of Healing and Safe House Manager, Leora Jones. "They don't think about the power in control, the verbal or mental abuse, and I know that because I was that person. When I first started working here I thought domestic violence was just physical; the verbal and mental abuse never even crossed my mind. Still to this day, a lot of people don't even know that they're in a domestic violence relationship. So the biggest thing our program has been working on is education and letting people know that you have support and we're here to help you." 
"It doesn't have to be an arrestable offense to be DV," adds Tiffany. "Calling you names every day, being in control of all of your finances or giving you the keys to the car only at certain times like to pick up groceries, things like that. There doesn't have to be physical proof for it to be abuse. If you find yourself changing your routine or avoiding doing something that you like because it makes your partner upset, like going to the gym, those could be red flags. And they might not show those signs at the beginning of the relationship, during the 'honeymoon' phase, they wait until you are emotionally attached and thinking, 'they wouldn't do this to me if they loved me'."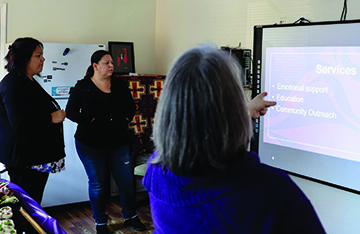 As the afternoon progressed, the Legacy of Healing received plenty of foot traffic as community members dropped by to check out the open house. Guests were treated to a full tour of the building which includes a computer lab as well as a playroom for the kids. While attendees enjoyed a variety of snacks in the Legacy of Healing kitchen, they also purchased $3 raffle tickets for a chance to win a number of great prizes. 
"Money raised from the raffle goes to support the women and children at the Safe House to provide them with personal care, personal hygiene items as well as gas gift cards and diapers," explains Legacy of Healing Crime Victims Outreach and Training Coordinator, Dawn Augustus. "We'll hold the raffle until the end of October and will hold the drawing on November 1. This year we are showcasing local artists Cy Fryberg, Marcia Horne, Kelly Moses, Patrick Ives and artists throughout the area who have generously donated their artwork for us."
The Legacy of Healing works with the Tulalip Tribal Court system and receive referrals for survivors and victims of sexual assault and domestic violence. Legacy reaches out to let the victims know what services are available to them. They also take on self-referral cases to help community members who may be escaping a dangerous relationship.
If that's the case, the women and children may benefit from staying at the Tulalip Safe House which houses between seventeen to twenty people at a time. The Safe House, as well as the Legacy of Healing, are safety zones, meaning that anyone whose been charged with domestic violence or sexual assault cannot enter the boundaries of that area. While at the Safe House, the survivors work with Safe House Coordinator Elizabeth Plowman, to work through their traumatic experience and prepare for the next chapter in their life.
"When you're leaving a DV relationship you're not leaving with access to the bank account or a car," says Leora. "A lot of the women who come in don't have prior job experience, they've been the stay at home mom. They work with Elizabeth and are able to get on TANF. Even clients who are no longer in the Safe House, still have access to that case management and advocacy from Elizabeth."
A number of departments showed up in support of Legacy's open house, including the Tulalip Bay Fire Department, Tulalip Community Health Department, Karen I. Fryberg Health Clinic and the Tulalip Police Department. 
"I stopped by to see the resources they have," states TPD Officer, Haison Doung. "The more resources we have, we can use while on duty and this is another great addition. The Legacy of Healing, the Safe House and the Child Advocacy Center do so much good for the community. To be able to show support is important because they give the victims all of these resources and that is important for healing."
The Legacy of Healing has played an active role in this year's Tulalip Unity Month and hosted a presentation, informing the youth about domestic violence. The department will continue making appearances throughout the community for the remainder of the month, helping spread awareness and education about domestic violence, stalking, sexual assault and trafficking.
"I hope that people take away that we're friendly because domestic violence and sexual assault is not something that people want to openly talk about," says Tiffany. "I hope that they can come in and feel comfortable and see that we're not scary or judgmental, we're just women who want to hold their hand and walk with them through this journey. Because most of us on our staff have been in a domestic violence relationship or are also survivors of sexual assault, we get it and we just want to be there for them."
To help support the women and children of the Safe House, be sure to purchase a raffle ticket before the month ends. And for additional details, please contact the Legacy of Healing at (360) 716-4100.