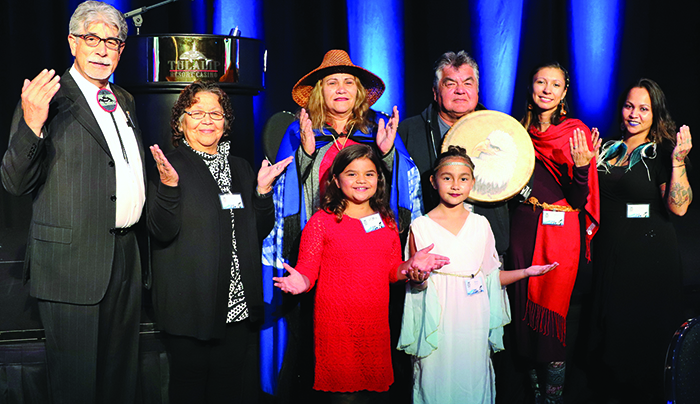 By Micheal Rios, Tulalip News 
On the evening of October 27, the Tulalip Tribes recognized and gave thanks to the 488 Washington non-profits and community groups who made a significant difference over the past year at the 11th annual Raising Hands celebration event. Held in the Tulalip Resort Casino's Orca Ballroom, the stylish space was filled to max capacity as representatives of these high-impacting organizations came together to create an atmosphere of gratitude and shared values for making our community better.
"In the Tulalip Tribes tradition, we raise our hands to show appreciation to the numerous organizations that work so hard to contribute services to our community," stated Chairwoman Marie Zackuse. "It is truly remarkable how many of our citizens, non-profits, and community organizations are involved in efforts to improve health care, education, natural resources and the well-being of our communities. The Tulalip Tribes holds this event every year to let these individuals, organizations, and surrounding communities know that we value their good works."
This year's Raising Hands recognized the prior year in community achievement stimulated by a record $7.9 million in Tulalip support to more than 480 charitable organizations. Since 1992, the Tulalip Tribes charitable giving program has donated over $92.1 million in critical support to the community and, indirectly, to their own membership by supporting regional efforts to improve education, health and human services, cultural preservation, public services, the environment, and the economy.
But the Raising Hands event isn't all about dollars and cents. At the annual celebration, our community's change makers are given a chance to celebrate each other, to share their plans for the future, and to learn how others are striving to make a difference in our communities. This is an invaluable benefit for organizations who can sometimes struggle to get their message broadcast to the larger community. 
This year, six recipient non-profits received special recognition for all that they do. Habitat for Humanity of Snohomish County, Leah's Dream Foundation, Long Live the Kings, NorthWest Therapeutic Riding Center, Progressive Animal Welfare Society (PAWS), and Seattle's Youth Symphony Orchestra (Musical Pathways Project) were highlighted for their good work serving the community. 
Additionally, there are traditional songs, speeches from tribal leaders, and videos that underscore the good work that is being done. Lushootseed language teacher, Maria Martin, opened the event with a compelling prayer. She was followed by the next generation of Tulalip culture bearers, 10-year-old KT Jean Hots and 8-year-old Allyea Lu Hernandez, performing Martha "səswix̌ab" LaMont's Berry Picking Song. The exchange of cultural knowledge and understanding that took place at this year's event was truly a sight to behold. 
"When you see people having these amazing, positive conversations that is when we see we are making a difference. Giving people the opportunity to work together is worth its weight in gold," asserted Marilyn Sheldon, manager of Tulalip Tribes Charitable Fund. "We try to show respect and honor these charities that give so much of themselves for this community. We want them to feel like the red carpet got laid out, and that it's just for them.
"Each year, as soon as the event is over, we ask ourselves how we can help make the next one better," continued Marilyn. "Some days, I feel so blessed that this is my job. We are so fortunate to be able to work with these amazing organizations in Snohomish and King Counties, and throughout Washington State that do so much good in our communities."
The Indian Gaming Regulatory Act (IGRA) of 1988 allows tribes to conduct certain types of gaming if they enter into a gaming compact with the state. Tulalip's tribal-state gaming compact, like most, includes a provision to donate a percentage of gaming earnings to organizations impacted by gaming, as well as other charitable organizations. From this provision the Tulalip Tribes Charitable Fund was created.
Charitable Contributions Fund provides the opportunity for a sustainable and healthy community for all. The Tulalip Tribes strives to work together with the community to give benefits back to others to help build a stronger neighborhood. That's why, in Tulalip, it is tradition to 'raise our hands' to applaud and give thanks to the numerous organization in our region that strive to create a better world through positive action. 
Non-profits and community groups may apply for quarterly awards through the Tulalip Cares program. For more information, visit the Tulalip Tribes Charitable Funds website at www.TulalipCares.org