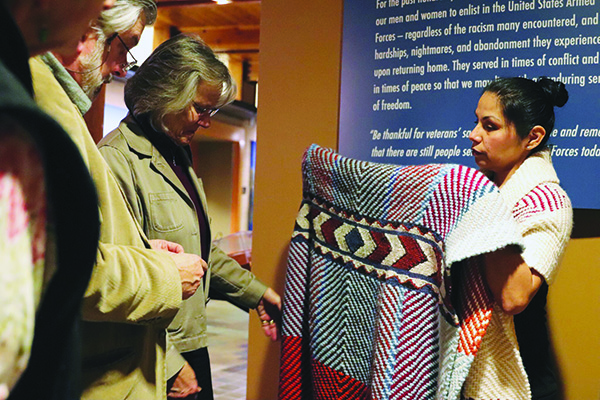 By Kalvin Valdillez, Tulalip News 
Generation after generation, the Coast Salish tradition of wool weaving was historically passed down from mother to daughter, since the beginning of time all the way until the years of assimilation. The art of creating clothing, regalia and blankets from wool was nearly lost until it saw a sudden resurgence in the early 2000's. Of course, the tradition wasn't completely lost, after the boarding school years a number of families continued to practice weaving. Both oral history as well as several artifacts served as reference points when bringing back traditional wool weaving. 
Master Weavers Betty Pasco (Suquamish), Danielle Morsette (Suquamish), Dr. Susan Pavel and Frieda George (Sto:lo Nation) are among the few names who deserve the most credit for the revival. These ladies took it upon themselves to host a number of classes on local reservations to teach tribal members the tradition that seemed to be fading from existence due to the advancement of technology.  
The revitalization allowed Coast Salish people to reconnect with the tools and textiles our ancestors created, as well as reflect on the significance certain woven items possess within tribal communities. Now all of the students from the wool weaving resurgence are passing their knowledge down to the next generation as more and more tribal members want to learn how to traditionally weave blankets and regalia, as well as the history of wool weaving.
On the night of November 2, Tulalip and surrounding communities gathered at the Hibulb Cultural Center (HCC) for an exclusive first look at the museum's new exhibit, Interwoven History: Coast Salish Wool. As the guests entered the museum's longhouse they were welcomed by HCC Senior Curator, Tessa Campbell. 
"This exhibit demonstrates the resilience of our people, our culture and how the teachings have been passed down," explained Tessa. "Coast Salish wool weaving started to disappear around the early 1900's with the introduction of the boarding schools. Around 1905 you started seeing the sale of goods by tribal members such as vegetables because they were learning how to grow crops. But basketry and woven blankets were being sold around this time also. Around 1920, tons of socks were being knitted, which seemed to replace wool weaving. And in the 30's, the Tulalip Home Improvement Club was started by a group of Tulalip women and this one woman started teaching Coast Salish wool weaving. It seemed to disappear up until around 2000-2005 when Tulalip people start weaving again and it seems they learned from Susan Pavel and Danielle Morrissett. Those two weavers were the forces that brought back Coast Salish weaving in Tulalip."
Master Weaver Frieda George traveled all the way from Chilliwack B.C. with her family and was honored as the evening's guest speaker. Frieda recalled first learning how to weave as a child, when she would visit with her grandmother. She also stated that she is a fourth generation weaver and has carried the tradition for her entire life, sharing her techniques with Coast Salish people for decades. Frieda's daughter, Roxanne, then took the floor to share a story about how her great-great-grandmother used to cleverly place branches along pathways in the Canadian mountains where mountain goats were known to pass through. After a few days, she would return to the mountains and collect all of the fur from the branches to use for weaving traditional blankets. 
Museum attendees were free to explore the new exhibit in an open-house style setting. Upon entering the exhibit, your eyes immediately meet a beautiful wool woven shawl that was gifted to Tulalip Board of Director Mel Sheldon. You're then taken on an interactive adventure that is fun for the entire family. The exhibit features a number of hands-on activities for the youth including a puppet show, a touch-screen weaving game as well as a sensory station. On display were a number of pieces created by Tulalip tribal members including a spindle whorl by Tulalip carver Mike Gobin and several regalia pieces woven by a number of Tulalip artists. 
"We reached out to the community to see who was an active weaver and if they wanted to loan any pieces," says Tessa. "We had twelve pieces donated by weavers Virginia Jones, Carolyn Moses, Sarah Andres, Joy Lacy, Tessa Campbell, Andrew Gobin and Taylor Henry."
"I did two pieces for this exhibit, a speaker sash with a matching headband," explains Taylor Henry. "I've been weaving since 2014 and have been beading since 2004. Once I mastered beading, I wanted to expand my knowledge and put my hands in other textiles. I did these pieces on my own, it was my second project that I made on the loom my auntie Marci gave me. I wanted to stick with traditional colors, I did the natural white and brown, I didn't want to go too contemporary. 
"It's an honor to be asked to have something displayed in the museum," he continues. "It's important because it teaches us our identity and where we come from, who we are. We may work with commercial wool now, but we still use that traditional technique and style of weaving and that's something that connects us to our ancestors."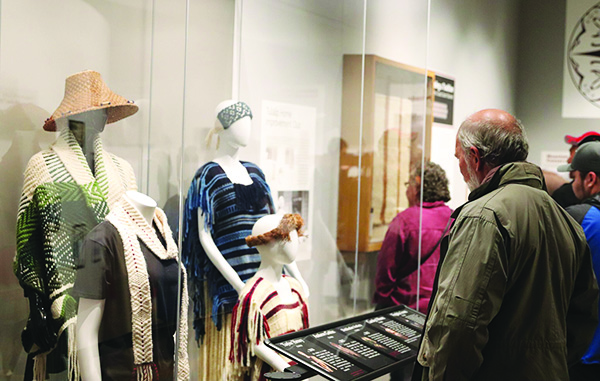 Traditionally, the Coast Salish people utilized fur from mountain goats as well as from wooly dogs when weaving. Wooly dogs were a breed that the Northwest tribes held in high regard because of their fur, so much so that tribes kept the dogs on nearby islands away from village dogs to prevent crossbreeding. In his expedition log, Captain George Vancouver stated that the wooly dogs resembled pomeranians but larger. The dogs were sheared every summer and their wool was used to prepare for the upcoming cold seasons. After the arrival of blanket manufacturers like the Hudson Bay Company and the importation of sheep, tribes no longer had to use wooly dog fur as sheep fur was more water resistant and blankets became easily accessible. Tribes eventually brought the wooly dogs back to their villages and because of crossbreeding, the breed went extinct in the early 1900's.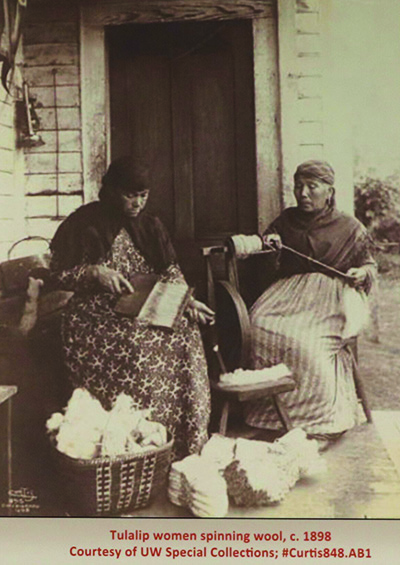 Shortly after the opening of the museum, HCC sent a traditional blanket to the University of Victoria so they could determine what type of fabric was used to create the blanket. The university recently contacted the cultural center with the results and to great surprise, the blanket was comprised of both mountain goat and wooly dog fur.
"I think the focal point of the exhibit is the fact that we have a wooly dog blanket which is very rare and very few museums throughout the whole world have them," Tessa exclaims. "We're so fortunate to have something from the 1820's that helps preserve our culture and helps us tell the history of this important part of Coast Salish weaving." 
Master Weaver Tillie Jones held a live demonstration during the exhibit's first night. On large looms, she displayed two of the projects that she's currently working on and explained the many intricacies and the importance of weaving. 
"We have a twill pattern, twine pattern and tabby pattern," she says. "I really like to mix them, it reminds me of the blankets I grew up seeing, the significant ones the chiefs would wear and the status that comes with those different pieces. We also have different dyes. We use huckleberries and different natural materials whether it's nettles, walnuts, madrona bark, you can use commercial dyes as well. Twining really teaches patience. You have to be present when your weaving, if you let your mind wander, you can make a mistake. It's important because you're putting yourself into your work, whether you're a carver or a weaver, you're bringing that work to life, you're breathing life into your piece."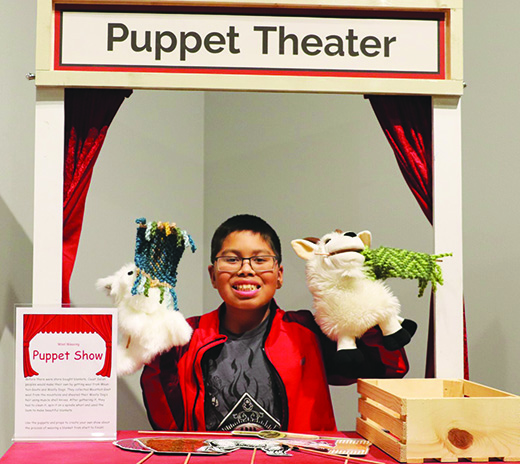 Tillie is currently hosting a six-week course at the museum, teaching the community the art of wool weaving. The class immediately filled up upon its announcement but she encourages you to call HCC and request to be put on a waitlist for the next course and to visit the Interwoven History exhibit in the meantime.
"Whether we're teaching or creating our weavings, we're keeping it alive for the generations to come," says Tillie. "We're showing that this is the regalia that we used to wear, that we still wear and that this is who we are as Coast Salish people. That's how we're recognized, by our regalia. When we travel people recognize where we come from, who we are and what our roles are in life."
Interwoven History: Coast Salish Wool is on display until the end of 2019, be sure to visit soon. And for more information, please visit www.HibulbCulturalCenter.org