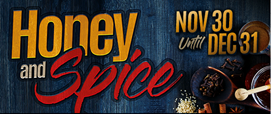 Honey and Spice and Everything Nice This Holiday Season

Tulalip Resort Casino Chefs Are Serving Exotic Sweetness Nov. 30-Dec. 31

Tulalip, Washington — Move over, Pumpkin! Honey and Spice are shaking things up this holiday season at Tulalip Resort Casino. The Resort's culinary teams have procured several exotic kinds of honey and spice flavors to showcase in their holiday specials. From seafood to sweets, Executive Chef Perry Mascitti challenged his chefs to examine the complexities of how different kinds of honey and spices can take a dining experience to a new height when done right.

The Honey and Spice promotion will run from November 30 through December 31.

Savory Honey and Spice dishes at the Resort include: Tula Bene Pastaria + Chophouse's Lavender Honey, Blue, and Bergamot appetizer served with Purple Haze Lavender Honey "caviar," gorgonzola dolce cheese and a pot of earl gray tea; Blackfish Wild Salmon Grill and Bar's Honey & Spice Alder Roasted Sockeye Salmon laced with anise, cumin, orange and Skagit Wild Flower Honey; Cedars Café's Grilled Lamb Chops glazed with honey, horseradish, mustard and mint; Journeys East's signature Deep Fried Lamb Rib coated with a wildflower honey and fresh garlic sauce; and The Draft Sports Bar and Grill's Honey and Rosemary Spiced Parmesan Chicken Bites served with an Oregon Wildflower Honey and Rosemary Butter.

For a little Honey and Spice on the go, guests can enjoy Espresso/Carvery's Asian Chicken Salad with sesame-roasted chicken breast, cabbage slaw and Mountain Wild Flower Honey Blossom vinaigrette.

Pastry Chef Nikol Nakamura's Sweet Kitchen Honey and Spice featured desserts include a Spiced Apple Tarte Tatin with honey caramel on puff pastry paired with spiced house holiday blend of vanilla ice cream and blackberries at Blackfish Wild Salmon Grill or a Baked Pecan Tart at Cedars Café. The tart filling includes toasted pecans, honey and house-made spice blend, topped with spiced whipped cream and orange. And, nothing says pizza pie like the Ginger and Honey Chocolate Pie served hot right from Blazing Paddles' pizza oven. This extraordinary creation is prepared with their house-made fresh dough, ginger-infused honey, hazelnuts, chocolate chips, fresh peaches and orange zest to top it all off.

For more information about the Honey and Spice promotion or Tulalip Resort Casino, visit here.