By Kalvin Valdillez, Tulalip News 
For over two centuries, many law enforcement agencies often relied on a special breed of detectives to help enforce the law and protect their communities. These specialists possess a certain skillset, using their heightened sense of smell to help with search and rescue missions, crime scene investigations and special taskforce assignments involving drugs or homicide. These officers go through extensive training, sharpening their skills and learning a number of commands as well as how to conduct themselves while on duty. With an affinity for serving, protecting and always catching their perpetrator, these officers share many similarities with their fellow police men and women – with a few minor exceptions of course, including the fact that these officers have fur, four legs and a tail. 
It's easy to see how the term 'man's best friend' came to be. Looking back on the history of K-9 officers, it's no shocker that dogs have assisted on many major cases throughout the course of time, helping shut down major crime operations and drug distributions as well as tracking runaway youth, fugitives and missing people. K-9 officers are simply motivated to do a good job and are an important asset and an excellent addition to any police department. 
On Sunday November 18, the Tulalip Police Department (TPD) welcomed a new officer to the team by the name of Tipper, a nineteen-month old black lab. The following day, a three-year old border collie named Kait also joined the unit. After several weeks of training, the young lady pups are now officially TPD K-9 Officers and are focused solely on ridding the Tulalip community of illegal drugs.
"This nation is dealing with an opioid epidemic," says TPD Deputy Chief Sherman Pruitt. "It's one of the big issues going on right now on this reservation, as well as all reservations throughout the United States. Bringing on two K-9 officers is beneficial for our police department as well as the reservation to combat that epidemic. They are trained to identify certain drugs, as you know marijuana is legal in the state of Washington, so they're mainly trained with heroin, meth as well as cocaine. We're exposed to a lot of drugs out here including fentanyl which is ten times stronger than heroin. Having these K-9 units will help combat that."
Kait's partner, TPD Officer Tre Pruitt, recently explained the long but worthwhile process of becoming a certified handler of a K-9 officer. He expressed that he always wanted to have a K-9 partner and immediately applied when the opportunity came. Five fellow TPD Officers also applied. They wrote essays, took a series tests and interviewed for a chance to become certified handlers by attending a six-week long K-9 training at the Washington State Department of Corrections Narcotic Dog Academy in Shelton, Washington. After a competitive application process, Officer Pruitt and Officer Jacob Wilcox were selected and traveled to Shelton to meet their new partners. 
"She's very friendly and calm," Officer Pruitt beams as his partner obediently sits by his side. "Most of the dispatchers call her a therapy dog, everyone loves her. She pays a little more attention to detail than most other dogs and is very particular with her work. Once she's tasked with finding something, she's dead set on finding it."
All of a sudden Kait sat up at attention and her ears perked up. Seconds later, the door at the opposite end of the police department opened.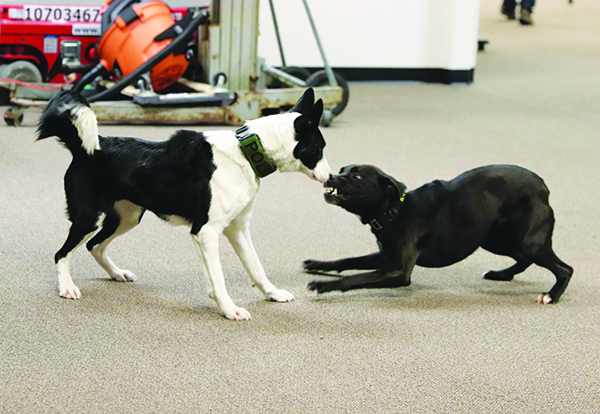 "Who's that, girl?" Officer Pruitt asked his excited partner. "Is that your friend?" 
He let her off her leash and she did a quick spin before sprinting down the hall. Just as quick as she vanished, she reappeared, only this time she was chased by Tipper. 
The dogs hurried to the large open space at the center of the department. Kait stopped on a dime and Tipper also halted as they faced each other. Kait juked left before immediately running in the opposite direction. Tipper recovered quickly, as she was fooled only briefly, and was now hot on Kait's tail. The dogs continued to engage in a friendly game of doggy tag before duty called for Kait and Officer Pruitt. Tipper trotted back to Officer Wilcox who happily spoke about becoming acquainted with his new partner.
"She kind of took to me," he says. "We trained with a bunch of a different dogs and this dog fit with me; wherever I went, she followed. We grew a bond together while at training. She's a pup so we had to introduce her to narcotics, this is what it smells like and here's your ball if you find it. She wouldn't sit right away when she smelled the drugs, she'd actually give me an animated look like, 'dad I found it, now give me the ball'. So we had to get her to sit, that's how I know she's got something."
The K-9 officers also live in the homes of their partners. Officers Pruitt and Wilcox had to learn how to care for the dogs while off duty and learn what to feed them, what toys they can play with and how their families should interact with them, so the dogs are ready and focused when it's time to return to work.
"Right now we have the two new K-9s, they will be working primarily late afternoons throughout the evening, seven days a week," states TPD Chief Sutters. "Our goal is to have at least one K-9 on duty, helping patrol the streets of Tulalip. This is the introduction and part of our overall drug [taskforce] strategy. 
"When there's suspected narcotics on a call, in a car, in a residence or on a person, the dogs can be summoned to the scene and can use their detection senses," he continues. "If they detect the presence of illegal drugs, officers are trained to take it to the next step. We want to use all the tools available to protect the citizens of Tulalip. These dogs are great assets to the police department, they can smell through luggage, clothing, locked containers, cars, they can detect narcotics in hidden places that our officers wouldn't be able to find easily."
During their first few weeks on duty, the K-9 officers have already discovered a significant amount of stashed baggies hidden in vehicles, backpacks and on-person of users entering and leaving the reservation.
Officer Wilcox pointed out that the drugs up north are  made and cut with different chemicals than the drugs they were originally trained with, claiming they emit a different odor. Because of the recent findings, the K-9s are becoming more familiar with the smell of the drugs they will be primarily searching for in Tulalip. 
"If anything, it'll scare a lot of drug dealers from coming out here, now that they know we have the dogs," says Officer Wilcox "You'll be seeing the K-9 officers out on the road and that will impact the amount of incoming drugs."
Aside from busting local drug operations, Tipper and Kait are excited to get to know the people of Tulalip and will be visiting with the youth at the Betty J. Taylor Early Learning Academy, Quil Ceda Tulalip Elementary and Heritage High School. The dogs will also be in attendance at many upcoming community events and are happy to meet you and your family, so be sure to say hello if you get the chance. 
"Bringing our K-9 units out to the community and to the kids at the schools is beneficial for both the department and our community," says Deputy Chief Pruitt. "Our K-9 officers are a tool and a resource to our agency but are also a friend and a family member. Working for the Tulalip Tribes, we are very family oriented, so bringing on the K-9 officers to the TPD family means we are also welcoming them to our Tulalip family."