By Micheal Rios, Tulalip News 
Marysville School District's very own Equity, Diversity, and Indigenous Education department created the Student of the Month Awards to recognize outstanding students who have demonstrated commendable academic success in the classroom. Student awardees in the past have displayed an admirable dedication to their school work and active involvement amongst their peers.
Previously, only one girl and one boy student were honored, but the program has grown to include one impressive student from each of the elementary, middle, and high school levels. For their commitment to excellence in the classroom and backed by strong recommendations from school faculty, 3rd grader Leah Stacy of Kellogg Marsh Elementary, 8th grader Hudson Reyes of Cedarcrest Middle School, and 9th grader Jaycynta Myles-Gilford of Heritage High School were announced as students of the month for November.
The three students, all Tulalip tribal members, received special recognition and were given a commemorative certificate during the Marysville School District's school board meeting held on Monday, November 19.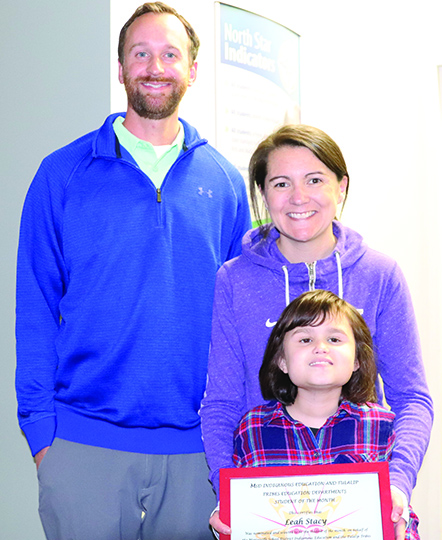 Special Education Liaison Amy Sheldon introduced Leah to everyone in attendance. "Leah is an amazing little girl and works very hard on her school work," said Amy. "She has made significant academic growth. In fact, over the last year Leah has made a tremendous jump in her reading skills."
Leah's teacher Ms. Whitfield added, "Leah is becoming a wonderful citizen at school and is so kind and polite to others. She works hard through so many challenges and doesn't give up until she accomplishes what she needs to."
Next up, 8th grader Hudson was described by Native Liaison Terrance Sabbas. "We've noticed a lot of growth from Hudson this school year, especially with his improved attendance. His grades have gotten a lot better, but most importantly as an individual he has matured into a very respectful and awesome person to be around."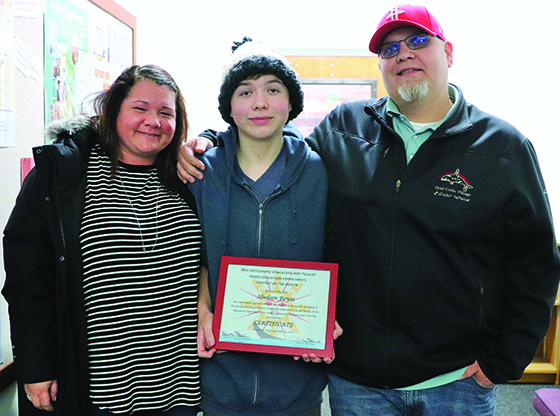 High school student of the month honors went to freshman Jaycynta, daughter of Lushootseed Teacher Michelle Myles. Heritage High School's Acting Principal praised the 9th grader by sharing, "When I first met Jaycynta there were two things I noticed right away. First, she's a super talented athlete, to the point when she's playing her sports she is so intense and focused. But secondly, when she's away from sports she's super personable and kind. I was very happy to see this duality in her as a young woman. Jaycynta is a member of ASB and contributes to our Lushootseed weather program. She's just amazing."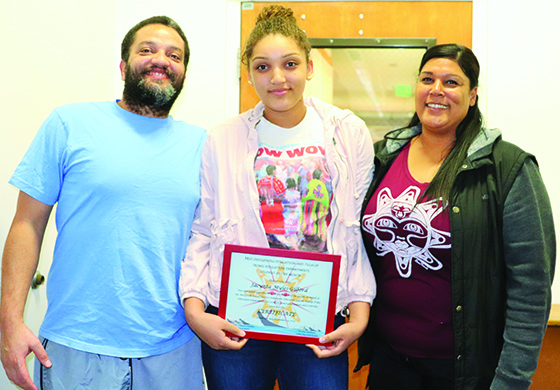 While receiving her award, the usually unassuming Jaycynta shared she aspires to be a pediatric anesthesiologist or neo-natal nurse. "I really want to study medicine and use that knowledge professionally to help children, especially our youngest ones who are in the most need," she shared.
Going forward, a selection committee will review all student nominations based on their academics and school engagement. Each month three students (representing elementary, middle and high school levels) will be recognized as students of the month.