Submitted by Jeanne Steffener, Tulalip Tribes Higher Ed
The study of criminal justice covers all areas of the justice system. This includes detection of crime through the arrest phase, trial, sentencing and treatment and eventual release of the offender. Other goals include rehabilitation of offenders, prevention of other crimes and moral support for victims. The primary institutions of the criminal justice system include the police, prosecution and defense lawyers, the courts and prisons. The criminal justice field covers a large variety of career and interest options for potential students to explore. 
A four-year degree in Criminal Justice should emphasize a focus on social justice, diversity, community partnerships, systems thinking and skill development. A social justice lens should be adopted with more focus on harm reduction and rehabilitative and restorative approaches to crime and justice. This shift in focus can lead to a reduced rate of recidivism in previous offenders.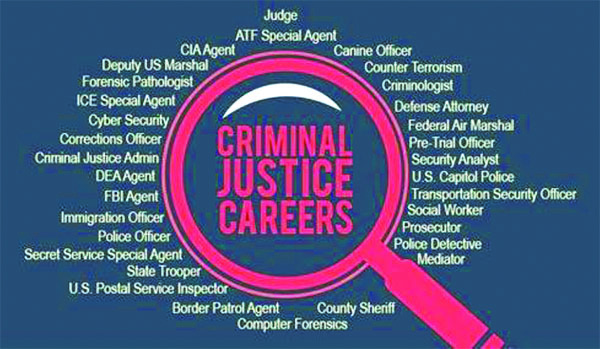 Many occupations today require college educated applicants having these skills: strong communication, ability to problem solve, critical thinking, leadership, and ethical decision-making. The (BLS) Bureau of Labor Statistics projects a 19% growth in employment in crime investigation and 12% increase in private security jobs in the future. This increased growth and the increasing numbers of baby boomers reaching retirement age ensures that law enforcement agencies will continue to hire qualified criminal justice professionals. The graphic of criminal justice careers to the left lists 32 different careers that are involved in the criminal justice field. Many positions in this field are both physically and mentally demanding, so a student is more likely to succeed if they have a genuine interest in both the law and the justice system. The criminal justice field rewards specialization and persistence and can also lead to fulfilling and well-paid careers. 
In a 4- year criminal justice program, you will learn to write reports, take fingerprints and document crime scenes. Your course work will cover a broad range of criminal justice topics including learning effective communication skills and professional ethics. Many organizations such as federal agencies (DEA, FBI and CIA), normally require at least a bachelor's degree. More advanced education will help you to stand out with potential employers while increasing your ability to advance to a supervisory or administrative position. 
There is always a demand for knowledgeable professionals to protect our country and its citizens, due to the risks to the public's safety. If you have perseverance and determination, you will more than likely enjoy a long and fruitful career in an area that is relatively immune to the ebb and flow of the private sector job market. 
The most compelling reason to pursue a degree in criminal justice is the opportunity it gives you to help other people. So if you are interested in investigating this field of study, please call the Higher ED staff at 360-716-4888 or email us at highered@tulaliptribes-nsn.gov for assistance with this educational path.