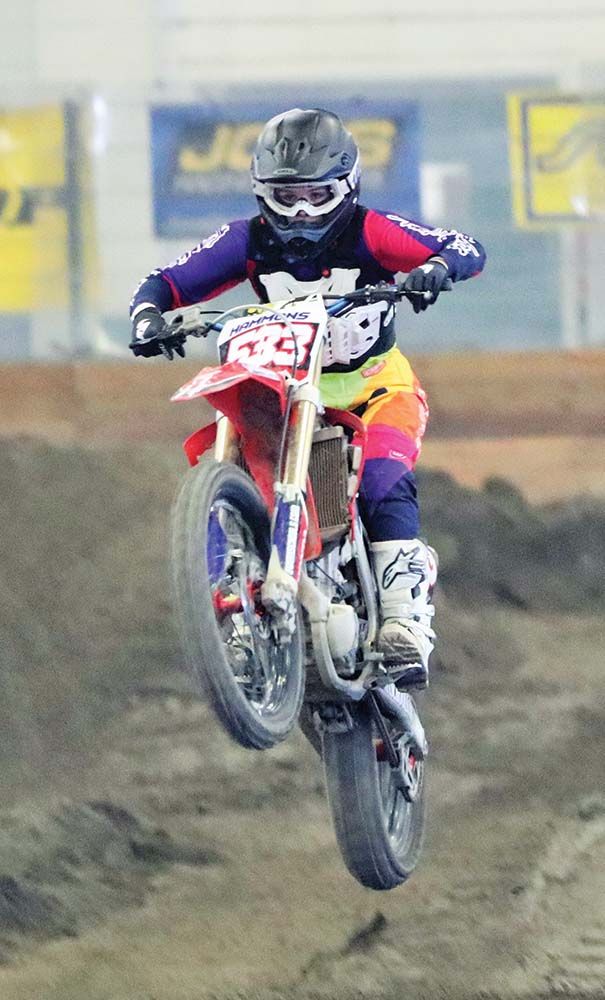 By Micheal Rios, Tulalip News
High-revving engines, roaring exhausts, and non-stop adrenaline rushes…that's the atmosphere of amateur arenacross racing. Think of it as action packed motocross, but taking place indoors. Within the non-stop, dirt bike racing scene is 15-year-old Tulalip tribal member Melissa Hammons is seeking glory on a dirt battlefield. 
"Racing arenacross is my passion, it's what I love to do most of all," declared the fierce teenager who has been riding dirt bikes and quads since she was just 5-years-old. "The sport of arenacross has changed my life because when I'm racing I feel free, nothing else matters."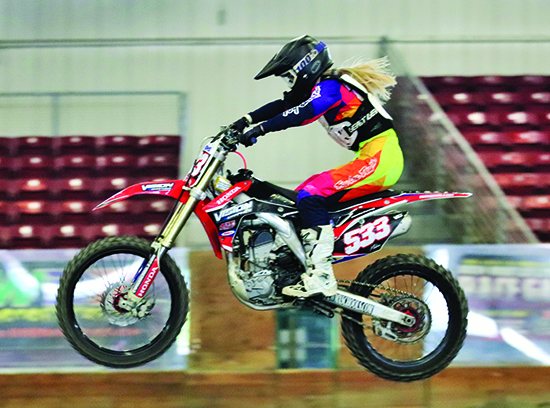 Arenacross races take place in sports stadiums and arenas all over the globe. They are run over man-made terrain courses with hills, jumps and tight turns. The scaled-down version of motocross features shorter, more technical temporary tracks and often attract large crowds. Recognized as one of the most strenuous sports in the world, it's also one of the most fun. 
What draws a female like Melissa to a sport so physically demanding and potentially dangerous? For her it's the excitement, the thrill of riding on the edge, of performing to peak potential and above all else beating other racers to the checkered flag.
"What matters most to me is getting that 1st place trophy," explained Melissa. "This past racing season was my fourth on the amateur circuit and best season I've ever had. Sure, I had my share of crashes and DNF's this season, but I've also placed in the top three a bunch. For me, taking 1st place twice this season in my women's 16+ class and 1st once in my Lites class with boys is what I'm most proud of."
That's right, not only does the 15-year-old rider compete in higher age women divisions, she also regularly races with the boys…and wins.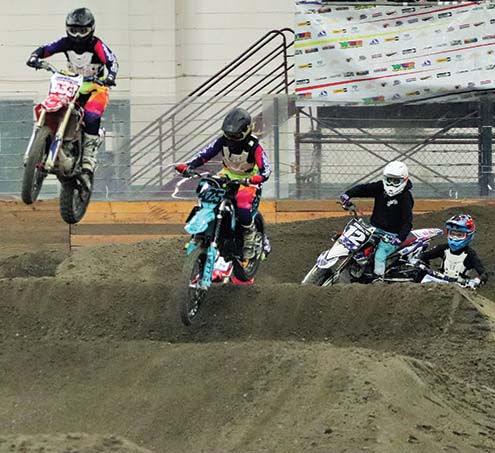 "My girl is a badass!" boasted Melissa's mom, Sara Hart. "She dominates the track even when competing against guys. As a mom, I still get nervous every time before she races with the men, but once she's out there I have full confidence in her abilities." 
What was once just raw ability and a fierce competitive spirit during her early racing days has since been honed in and given a laser-like focus based on countless hours spent practicing with racing coach Eric Waunch of E.W. MX School.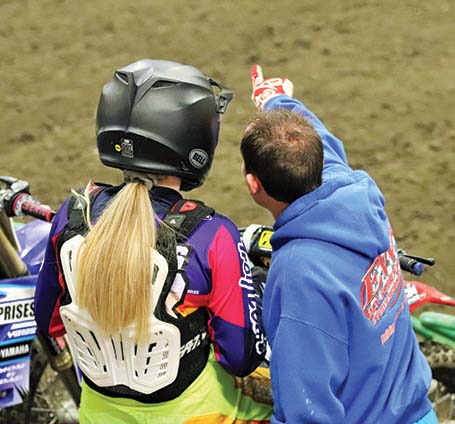 "I've been working with Melissa for about a year now, and she's really put in the time and effort into making herself a better rider," reflected coach Eric, a former long-time motocross pro. "Her commitment and willingness to always push her abilities to new limits is really a joy to coach and fun to work with. With Melissa, keeping her focus on the technical side of riding is most important. She's so fast and fearless, but when she adds precision and controlled aggression to the mix her racing goes to a whole new level."
This past season, Melissa has been placing (finishing top 3) regularly and adding to her countless bounty of racing trophies. She admitted that when she first started racing against the boys it was added motivation to win, but now that her skills have grown so much it no longer matters who or what age she is competing against. Also, it helps that she has a mighty large contingent of fans who follow her from race to race and are always cheering for her, win or lose.
"I am forever thankful for my support of family and friends, especially to my grandpa Don 'Wheatie' Carpenter who has always been my number one supporter," shared Melissa. "If it wasn't for my coach Eric, I wouldn't be achieving the things that I am right now. I've learned you can't just race and expect to go somewhere; you need to put in the time, work, and effort even if that's blood, sweat and tears."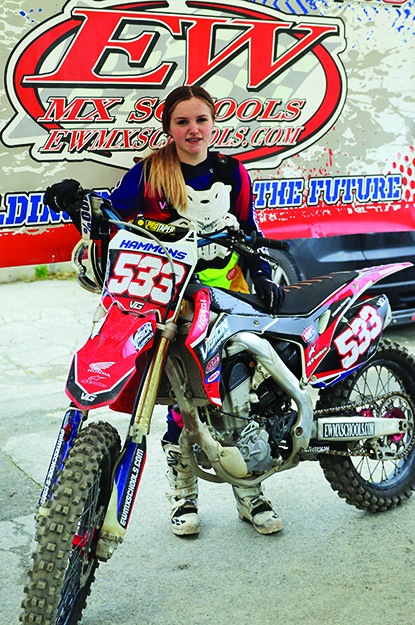 Her skills were on full display on January 19 when she competed in WHR's Northwest Arenacross Nationals that took place in Monroe. In front of family, friends, and numerous spectators, Melissa showcased her riding expertise while competing in two divisions: women's 16+ and against the boys in Lites. 
Blazing around the track on her 250cc Honda 4-stroke, Melissa wowed the dirt bike enthusiasts in attendance with a level of speed and aggression she is known for. After a series of practices and qualifying races, the four-lap Final races were a go. Against the women, Melissa finished 2nd overall. In her race against the boys, when the checkered flag flew, she took 1st to the delight of her fans and family.
"Racing in a male-dominated sport and succeeding like she does proves she is a confident, strong and independent young woman," said Melissa's grandmother, Lena Hammons following the 1st place showing. "Her aggressiveness in the races says she will not settle for less in her life. Melissa is an amazing role model and her family is so proud of her."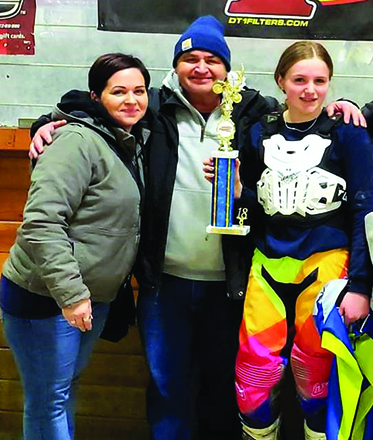 Looking to the future, the multi-trophy winning dirt bike rider has set her sight on bigger ambitions already. She wants to accomplish what many have been unable to do, become a professional motocross rider. 
"A female rider going pro, yeah a lot of people don't see it," admitted Melissa when pondering her future in the sport. "But all I know is I'm going to work hard and keep bettering my skills until it happens. Just wait, I'll be 16 soon and have a driver's license. Then I can really accomplish even more while chasing my dreams."