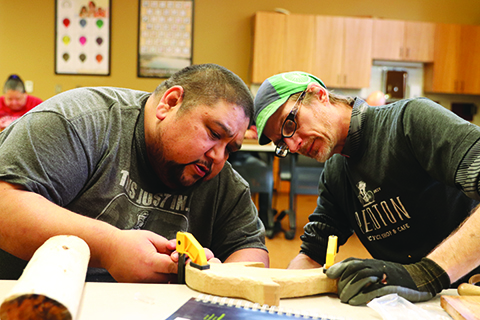 By Kalvin Valdillez, Tulalip News 
The pleasant smell of freshly cut cedar floated out of classroom 2 of the Hibulb Cultural Center (HCC) on the afternoon of January 19, as a group of ten local citizens gathered for the center's first Intro to Carving class. The museum enlisted longtime HCC collaborator and Tulalip Master Carver, Steven Madison, to teach the two-part culture series. Wood shavings fell to the floor while the group worked, constructing small projects and exchanging stories and laughter. 
Each participant was challenged to learn the art of carving in an expedited fashion, picking up new tips and tricks throughout the two, three-hour courses. As Steven bounced about the room, personally assisting each student with their carvings, he introduced them to an assortment of tools such as the drawknife, a two-handed blade used to shape wood, and emphasized technique for safety reasons, constantly reminding the class to pay attention when sculpting their pieces. During the class, Steven carefully used a bandsaw to cut a whale design out of a block of cedar for one of his students.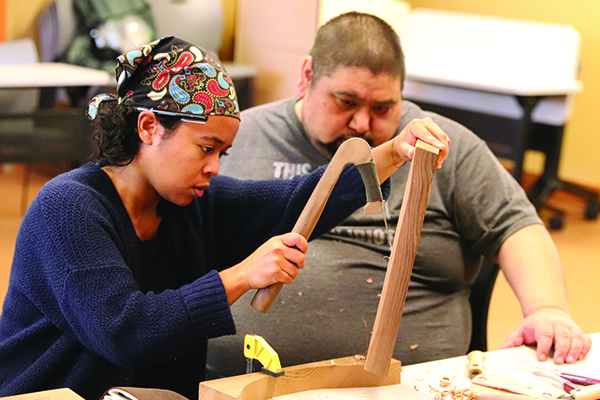 One young lady needed assistance with an adze, a large axe-like tool with a sharp blade used for cutting and smoothing out large pieces of wood. He took a seat next to the student and placed a large slab of cedar on his knee, picked up the tool before advising with a chuckle, 'don't do this on your leg' and began hacking with the adze as strands of wood flew all around him. All eyes appeared to be fixated on the master carver as he gave them a step-by-step tutorial on using the traditional tool. 
"This all started with me simply wanting to teach people how to use the adze," Steven recalls. "I did a carving demonstration here last year at the [HCC annual Salmon Bake Fundraiser]. During that demonstration, a lot of people were interested and asked their questions about my technique and the history, so I end up teaching them a lot about carving that day. After that, we decided we might as well do the carving class.
"This actually had a pretty good turnout. I really didn't know how I was going to approach this series," he admits. "Two, three-hour classes aren't really enough time to get into depth with carving. So what I did with this class is I told them to go online and find a project they wanted to make, and let them know that we're going to go all in, hands-on. Each of them chose a design; a salmon, the Tulalip whale, one girl is creating a carving with mountains and tress, like you'd see on a cedar basket. We just start carving wood and they've been learning as we go."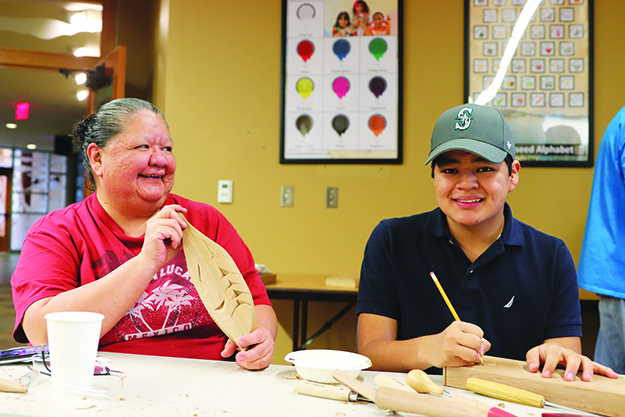 The traditional art of carving has been passed down generation after generation. Amongst Coast Salish tribal communities, carving was important to the cultural lifeways of our people. The ancestors carved items for both ceremonial purposes and everyday use, sculpting canoes, paddles, rattles, masks, totem poles and even longhouses out of the spiritual cedar tree. 
"I've always been interested in carving," expressed young tribal member Khianna Calica. "With that being said, I had no idea where to start or how to get involved. I've come to other [HCC] events and when I saw this workshop on the events list, it was perfect timing. Prior to this, I have never touched any carving tools and with the two classes I feel more comfortable with the execution. I came to the workshop today because I think that events at the cultural center are a phenomenal way to preserve the old medicine and the traditional arts and craft. We have to participate. If the knowledge keepers are willing to be here, people need to show up. I found it really important for me to show up and invite these traditions in my life, it's so healing."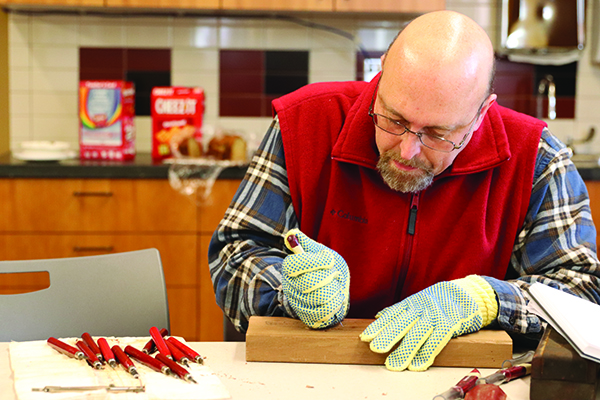 Steven believes this series is an ideal way for beginning carvers to get familiar with the tools and technique. His partnership with the museum extends throughout the course of this year, hosting another Intro to Carving class before starting an in-depth six-week course in the late summer where students will craft paddles and spindle whorls. 
"The reason we're doing this is really because we want to keep this alive forever," states Steven. "That's why it's always so good to see the younger generations learning. A lot of kids want to learn but don't necessarily have the patience for it. I'm one of few people who learned from my grandfather [Frank Madison] and Bernie Gobin. There's a lot of great carvers, but those are the ones I learned from. There are so few of us left who know the technique of the old ways and the reason why we carve. You can go to anybody to learn how to carve a totem pole, it's not rocket science, but the reason we do it is because each carving has a point and there's a story to each one. 
"Carving is so important to our people. It was almost gone before [William] Shelton carved his story poles at a time when they were prosecuting people for carving and practicing traditions. Carving was passed down from my grandfather to my uncle to me and now I'm teaching that to the upcoming generations who want to learn."
For further details about the Intro to Carving classes, please contact the museum at (360) 716-2600.