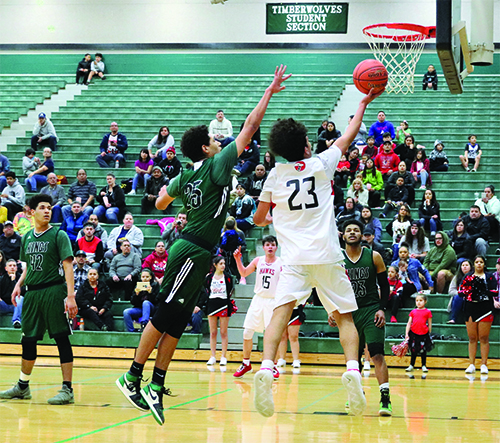 By Micheal Rios, Tulalip News 
The (20-4) Tulalip Heritage Hawks earned a #4 seed for the 1B Boys Regional Playoffs, the last stepping stone preceding Spokane's annual State Tournament. Fresh off a quality Tri-District showing and decisive victory over inner-league rival Cedar Park Christian, the Hawks hit the road on Saturday, February 22 to the city of Mill Creek. Playing on a neutral site, Jackson High School, the boys were greeted by a rather large cheering section of home fans who journeyed off the Rez to root on their squad.
Their Saturday showdown opponent was the #5 seed Muckleshoot Kings (22-3) who were riding a 13-game winning streak. Being a fellow tribal school with a quick paced, high-intensity style of play that mirrors their own, Heritage coaches knew what to expect.
"Our keys to the game are to make sure we start off the right way. That's been our struggle all year long is starting the 1st and 3rd quarters with focus and intensity," said assistant coach Bradley Fryberg pre-game. "On defense, we want to be our usual aggressive selves to make their guards struggle. When we're aggressive, especially on both sides of the ball, we are difficult to beat."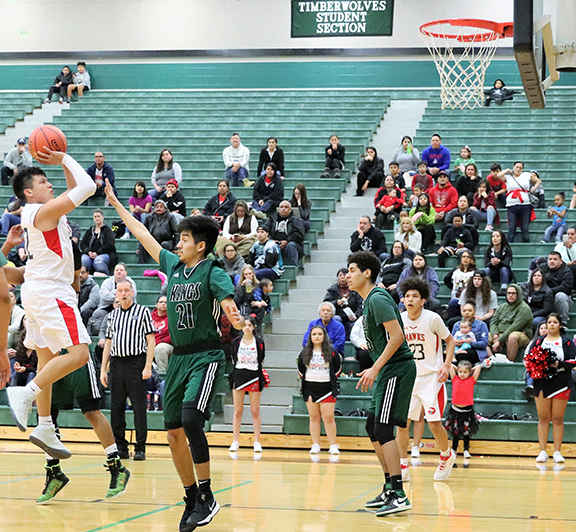 In the 1st quarter, Tulalip players were getting perimeter jump shot opportunities like they are used to, but those shots just weren't falling. Missed jumper after missed jumper clanked off the rim as the boys found themselves quickly trailing 4-12. Unable to capitalize on long-range shooting, several Hawk players stopped settling and attacked the basket. Paul Shay, Jr., Josh Iukes and Alonzo Jones each scored layups from strong dribble drives. With seconds remaining in the opening quarter, guard Leno Vela knocked down the team's first 3-pointer. After one quarter of play, Tulalip trailed 13-21.
Injuries struck both starting center Rodney Barber (rolled ankle) and his backup Oliver (concussion-like symptoms) in the 1st half, leaving the Hawks without a true big man available to rim protect. With Tulalip forced to play small ball, Muckleshoot took full advantage by feeding their two post players, resulting in point blank buckets, and taking a commanding 33-16 lead late in the 2nd quarter.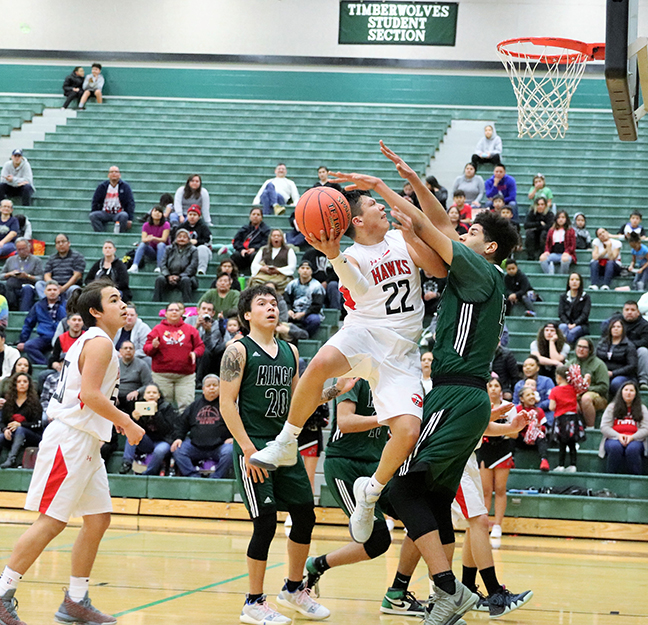 Alonzo did his best to spark a Heritage scoring run, highlighted by an emphatic block and then going coast-to-coast for a transition bucket. Heritage would cut their deficit to 10 points at halftime when they trailed 28-38. The shooting woes were exemplified by the 3-point numbers to that point with Muckleshoot knocking down six 3-pointers compared to Tulalip only hitting two.
In the 2nd half, Muckleshoot continued to execute their offense and score easy buckets in the painted area. In fact, their first six buckets of the half were all layups. Down 40-59 midway through the 3rd, senior Josh Iukes vented his frustration with an offensive barrage. Iukes scored 10 points in a span of three-minutes to give the Tulalip cheering section a jolt of excitement.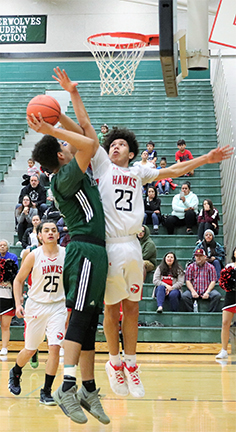 Heritage would rally late to once again cut their lead to 10 points, 55-65, but Muckleshoot immediately responded with an 8-0 scoring run to ice the game. Trailing 55-73, Coach Bubba inserted his bench players. Sixth man Josh Miranda made the most of his opportunities and scored 9 points in the game's final minutes.
Final score 65-76. Alonzo led his team with 15 points, Iukes scored 13 points, and Jr. Shay chipped in 12 points. 
"We really slowed down on defense, especially in the 2nd half and that did us in," shared forward Alonzo Jones postgame. "It was really fun to play against a fellow tribal team because the crowd was excited and got crazy after each big bucket."
"I know we can play so much better because whenever we stop playing as a team and lose focus we make it real difficult on ourselves," added guard Josh Iukes. "I know as a super senior I'm back for a reason and have to do better at leading the team when we hit a rough spot. When we play together there is no one that can beat us. We'll learn for this loss, keep our spirits up, and look forward to making a run at State."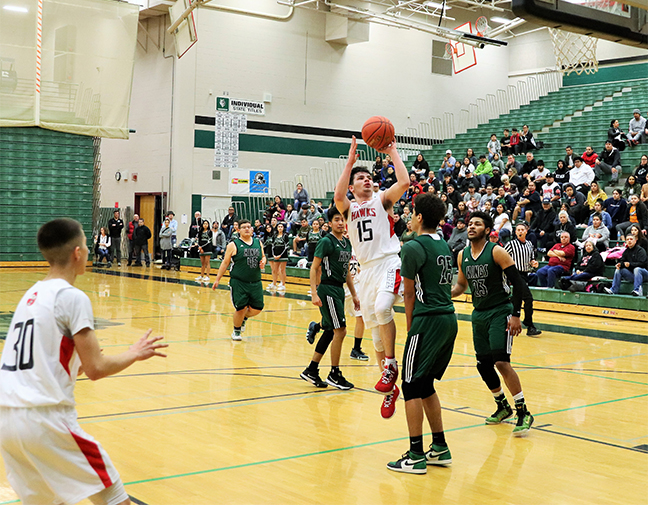 It was a disappointing loss for the Hawks, for sure, however with their high seeding they still advance to State. Their 1st round opponent is #12 seed Oakesdale. Game to be played February 27 at 7:15pm at Spokane Arena.