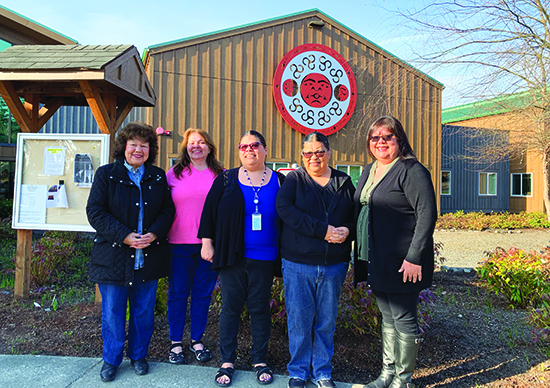 Submitted by Francesca Hillery
Last June the Board of Directors created a Health Advisory Committee to provide oversight on the policies, procedures and programs administered by the Karen I. Fryberg Health Clinic. The committee members must be Tulalip tribal members and are appointed by the Board of Directors.
"The vision was to appoint two tribal members with substantial experience in the healthcare field, and two other members currently working within our healthcare system," said Teri Gobin, who chaired the Services Committee this past year.
They are Karen Fryberg, Johanna Moses, Verna Hill, and Jennie Fryberg who all work in close coordination with Norma Razote, Managing Director of Health Services. The committee meets once a month.
Over a long career with the tribe Norma Razote recently assumed the position of Managing Director over Health Services, one of four new divisions of tribal government, following a reorganization of tribal government in 2018. One of the drivers for the restructure was to improve services to membership.
Norma sees the creation of the Health Advisory Committee as fundamental to improving health services for membership. The integration of services under the umbrella of the Health Services division is helping to improve the delivery of healthcare at the Tulalip clinic.
"One of the goals the tribe has been working towards is providing wrap-around services," said Norma. "These things take time to build but the vision is to have case workers from various programs and providers all working on the caseload of particular clients in order to improve outcomes."
This is especially needed in the area of chemical dependency where clients can have several intersecting issues that need close and consistent coordination. "Clients may have physical and mental health concerns, housing, and court requirements," said Norma.  "We can work together as a team to ensure nothing is slipping through the cracks."
The clinic recently created Patient Services, a new department that includes a caregiver coordinator, retirement home administrator, special needs and elder disability, transportation, and the hospital liaison. "The fact that the hospital liaison can do outreach with tribal members and their providers at the hospital, and then communicate their needs to our team, means we have the opportunity to provide better aftercare services," said Norma.
Another policy change addresses the wage scale of medical professionals.  "One of the most important improvements we can make to health delivery is to attract and retain medical professionals. Currently, we do not pay our providers on a competitive scale," said Norma.
Developing a relationship with providers that is based on consistency over time improves health outcomes.
Of the many areas of government Norma has served in over the years, she remarks on how far the clinic has come from its humble beginnings. "When I started working for them they were working in a little modular," she laughed. "We now have a truly great facility that delivers a wide array of health services to our people," she concluded.
When retired Health Care Administrator Karen Fryberg began working at the clinic the tribe offered few services. She recalls a time when healthcare was only available off the reservation and specialty care meant a trip to Seattle to the public health hospital.
Leveraging monies through the Indian Self-Determination and Education Act, Tulalip launched its first health clinic in a tiny building and trailer across from the old Administration building.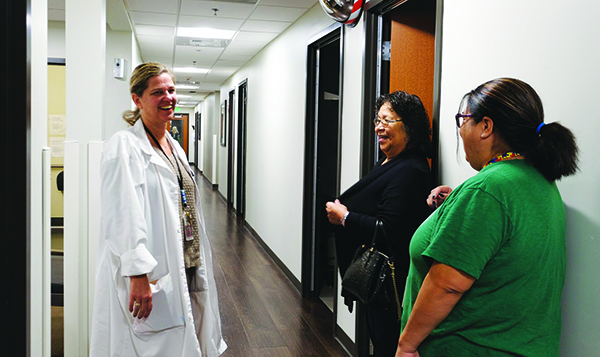 The first clinic had two exam rooms, a small lab and a temporary nurse practitioner who was there to pay off her government-funded student debt. A second nurse practitioner was added to expand maternal and prenatal care for members.
As demand for services grew, the clinic expanded with the purchase of a surplus mobile building from the Everett Clinic which allowed for the addition of a doctor and nurse as well as expanded exam and waiting space.
An analysis of prescription drug costs in town quickly made the case for a tribal-managed on-site pharmacy. Substantial savings on prescription drug costs helped purchase much needed equipment and resources for the clinic.
When the decision was made to borrow money to build the Tulalip Resort Casino, tribal leaders agreed to include additional funds for a new healthcare facility to better serve tribal membership and the dream of a comprehensive clinic began to take shape.
Opened in August of 2003, the new building would carry the name: Karen I. Fryberg Tulalip Health Clinic.
A long term dream of Karen's has been to achieve accreditation for the clinic.
While her retirement is filled with family time, sewing and craft fairs, Karen continues to worry about the health of her community, especially the young people struggling with drug addiction, the ongoing risk of overdose, and the crippling devastation caused by suicide.
Karen is a living record of the history of the tribe providing health services. Her perseverance has helped to make the Tulalip Health Clinic one of the most comprehensive among tribal clinics in the state of Washington.
When Johnna Moses was asked to join the Health Advisory Committee, she was hesitant.
The mother of six had retired after a thirty-four year career as a Licensed Practical Nurse, and had her hands full helping raise her grandchildren, along with her daughter Annie Moses, but she soon found herself appointed to the committee by the Board of Directors.
When it comes to understanding the complexities of the clinic and the policies related to the delivery of care, she admits she's in the midst of a learning curve. But, her background as a licensed caregiver and her extraordinary compassion for others makes her a perfect advocate for patients and their families.
She believes in the clinic's holistic approach to integrated care and is optimistic that the clinic is moving in the right direction.
Johanna spent ten years at the old Everett General Hospital and 24 years at the Providence campus on Pacific Avenue in Everett bringing a slow and tender touch to the work she loved. She really enjoyed the spiritual elements of the Providence hospital environment.
She sees several challenges including the need for quality patient transportation, home checks, and a better understanding of how the insurance process works. Johnna cares about everyone, and jokingly says she sometimes prays to care less.
Verna Hill has been in training for her current seat on the Health Advisory Committee since childhood.
From a very young age, she was exposed to this field of work. Growing up, her grandmother was a social worker within the Tulalip community — working with a range of members from young children through patients in hospice. Her mother served as Director of Family Services.
Verna worked at the high school for ten years when the first casino came into operation. With parents working odd hours, older children were often left to care for their younger siblings, needing assistance and support to navigate their new roles, especially when it came to understanding the complexity of the healthcare system.
She left the high school and moved to health clinic for twelve years, starting out in the diabetes program and moving to a role in patient care coordination.
Next came three years working at beda?chelh before her return to the clinic.
Verna is thankful to be appointed to this committee, "as our tribe is growing leaps and bounds." She sees her role as building bridges between healthcare providers and their patients. "We need to support the staff. This partnership is important," she said.
She firmly believes that patients are ninety percent responsible for their own care and her role serves as an educational component to help doctors communicate in terms that their patients can understand.
She wants members to realize that the healthcare clinic is a great place. "We need to believe in our doctors," she said. "Our people need to know that they can get quality care right here." Although Verna has great insurance, and could go anywhere, she has always received care here at Tulalip.
Early on the revolving door of practitioners led to patient distrust, and created an attitude that tribal health is somehow inferior, Verna works to change perceptions and help turn that energy around. "It's everyone's job to help spread the word," she said.
Verna spent nearly nine years as a board member of the Providence Hospital and it helped to inform her understanding of health care delivery in a large institution, and also how many issues, regarding tribal patients and families, they simply did not understand.
"It's about communication on both sides,' she said. "We can't stop talking to each other, the partnership is too important."
Advocating for the healthcare needs of her community is much more than Jennie Fryberg's job description, it is in her DNA.  She brings a love for her community and compassion to the work she performs everyday in a beautiful building that carries her mother's name.
As the Clinic Records Director, Jennie has served in a variety of roles at the clinic for the past twenty-one years including reception, front desk supervisor and Health Information Manager. She has worked under thirteen different administrators during her tenure.
In 2017 she assumed oversight for Patient In-Take, the Child, Youth, and Family Wellness Office, the Tulalip Family Service Office, Special Programs, Referral Specialists, Outreach Worker, and Medical Records.
The clinic is introducing the concept of wrap-around care utilizing the Medicine Wheel approach to encompass the four aspects of native health: body, mind, spirit and emotion.
In this model, each patient will have a single primary care doctor to help establish a continuity of care. This means that they will see the same provider each time whenever possible.
"We are taking care of you as a whole person," she said. "If your continuity provider will know you as a person, you will have a more trusting relationship, and will find it easier to express your needs and preferences in health care."
An added benefit to this model is a reduction in the wait time for the acute walk-in department which is now staffed with two doctors.
"We are working to align standard operating procedures and policies to best serve our members," said Jennie. "The Board of Directors has asked leadership to focus on the Contract Health Services policy, and they are working to integrate the recommendations made by the Services Committee and the Health Advisory Committee," she said.
"Recruitment is a huge challenge right now as the clinic continues to seek experienced providers who can help us build trust with our patients," said Jennie. Fighting the perception that nurse practitioners are somehow less capable than doctors, she says, is especially challenging. "They are educated and trained to provide a high level of care," said Jennie. "Patients do not realize it takes six to eight years of post secondary education to become a nurse practitioner."
The entire medical team is under the direction of Senior Medical Office Dr. Cleven who works closely with his staff and is available for consultation whenever necessary.
Working in an environment filled with high priorities, Jennie feels the pressing need to rebuild a strong crisis team to quickly offer wrap-around care, understanding and support to vulnerable members and their families the moment they reach out for help.
"Given the complex nature of healthcare ranging from eligibility and prevention to chronic disease and claims management, the need for education, health fairs and clear communication becomes essential," she continued, "patients need to understand both their rights and their responsibilities."
Jennie sums up her role at the clinic, "I am here trying to keep my mom's dream alive. Her name is on this health clinic, and all I am doing is trying to keep the dream alive, which is to take care of our people, to make sure prevention gets out there to the people."