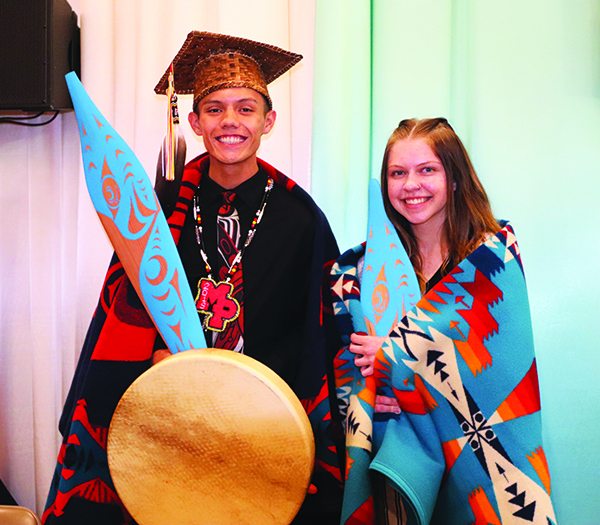 By Micheal Rios, Tulalip News
The Marysville Getchell jazz band kicked-off the event by providing an upbeat mood while guests made the most of a whimsical photo booth setup, chatted with familiar faces and made their way to designated tables. 
"Welcome to the 2019 graduate banquet!" opened emcee, Rochelle Lubbers. "We are so happy to have you all in Tulalip, in the heart of our community, on this special night to celebrate our students."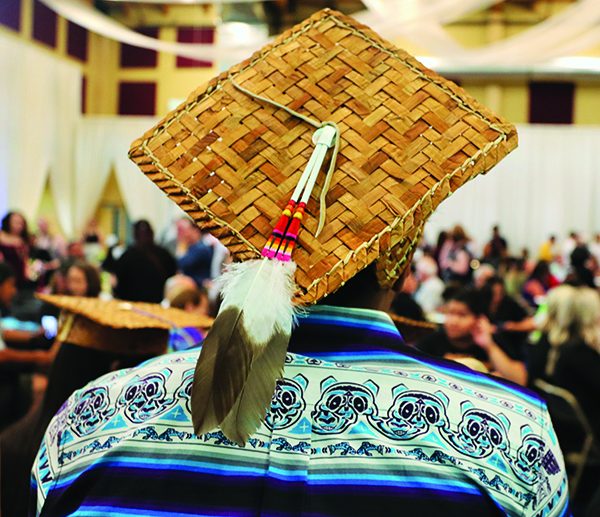 "Your community, your tribe, and your families are so proud of you all," added Chairwoman Teri Gobin. "As you take your next step on your journey, whether it's a path towards college or work, your tribe is here to support you. We look forward to seeing what path you decide to take, who you choose to become, and how you can impact our community. My hands go up to each and every one you."
Fittingly appropriate for the moment, Tulalip drummers and singers performed a song about remembering you are and where you come from. Then mother-daughter duo Deborah Parker and Kayah George offered a song representing the resilient blackfish.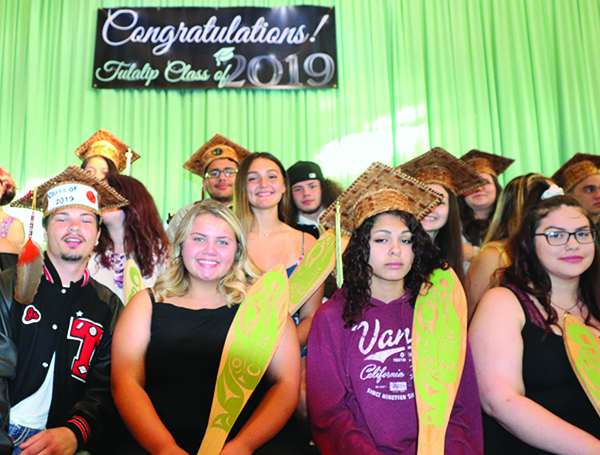 "Our Tulalip Tribes symbol is the blackfish, or the orca. It represents endurance, strength and determination to make it through tough waters," explained Deborah. "Looking out into the sea of graduates, that's what I see. A pod of blackfish with that determination, that strength to navigate tough waters and make it here tonight to celebrate an amazing achievement."
Graduating high school seniors Arnold Reeves and Kordelle Hammons each took to the podium and offered encouraging words to their fellow graduates. They reminisced over their favorite school experiences, spoke of hardships overcome, thanked their families and Tulalip community for always supporting them, and shared their excitement for great things yet to come.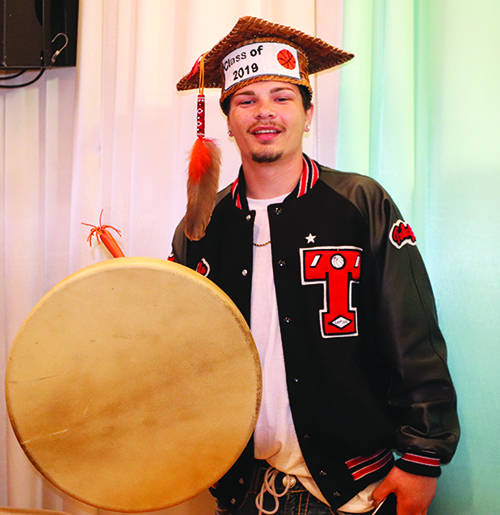 "I believe we are all prepared for what's to come next in our journeys, which is to become what our elders and ancestors have taught us to believe since kids – that we are the next great explorers, doctors, scientists, and athletes," said Arnold, graduate of Marysville Pilchuck High School. "We have shown our young siblings, cousins, nieces and nephews that graduating high school is not only possible, but is important for growth and character development. We were once future leaders of tomorrow, but now we have become leaders of the present."
Becoming leaders of the present may seem like a daunting task to most 18-year-olds who have grown accustomed to a daily consistency and structure provided by their k-12 education. However, for Indigenous youth, they've been bucking the trend and blazing new paths to educational success for years now without even realizing it. They've beaten the odds that said they would never graduate high school and overcome obstacles that could have easily taken them off their path.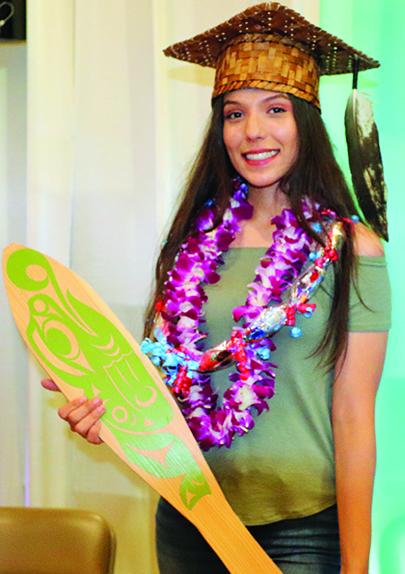 For some students, their education and high school diploma meant not only proving everyone wrong, but also meant earning independence and the opportunity to find happiness in a world of their own creation.
"High school didn't mean much to me following the MP shooting, but then I realized I had to make my friends that are still here proud," shared Paul Shay, Jr. A graduate of Heritage High School who, after a rough start refocused his energies on a family of friends and sports, made 1st team All-State in basketball and now wants to become a psychologist to help tribal youth. "The journey I took through high school was very different than most other people. I've been through every struggle you can go through and survived to come out on top. My message to the youth is to never give up, no matter what. Always keep pushing and keep trying because at the end of the day living your best life is worth it."
Following an inspiration keynote speech by Nooksack Councilmember Katherine Romero, the high school seniors reminisced one last time while the memory-filled graduate video played on the big screen project. The graduates then strutted with pride down a red carpet to the loud applause of all in attendance.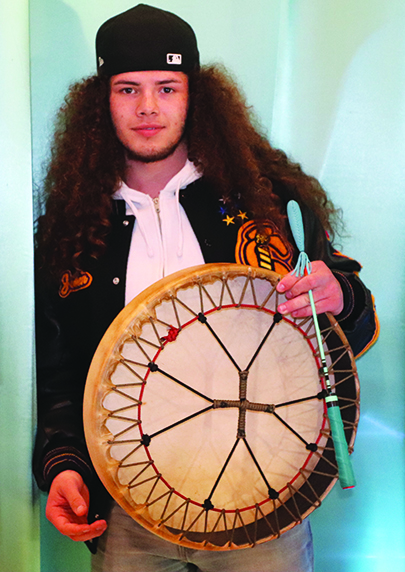 Each graduate shook hands with Indigenous Education liaisons and Marysville School District representatives while walking across the stage to be presented with distinctive cultural items. The boys were gifted drums made by Adam Jimmy and Ryan Martin, while the girls received hand-made paddles courtesy of artist Ty Juvinel.
Special honorariums included the highly coveted Tulalip Tribes senior boy and girl of the year award.
Kiley Lakins, a graduate of Marysville Getchell, received the female student of the year honor. Having overcome adversity early on as a freshman, Kiley went on to challenge herself with AP courses in Language Arts and Literature during her upperclassman years. She helped her peers and community by volunteering at the Marysville food bank, Warm Beach events, and through peer tutoring. Her teachers described her as always demonstrating an incredible work ethic and constantly holding herself to a high standard. After getting a 4.0 for her entire senior year, Kiley finishes high school with an impressive 3.6 grade point average. She plans on attending the University of Washington in the fall.
"I really struggled my freshman year, but I refused to give up," reflected Kiley. "Now, I'm looking forward to the UW and pursuing a degree within the social sciences. Thank you for everyone who has believed me and encouraged me to always try my best."
Kordelle Hammons, a graduate of Marysville Pilchuck, received the male student of the year honor. He was noted as taking advanced or honors level classes since middle school and always excelled. One teacher said, "He has proven to be a positive role model for others and has constantly demonstrated sincere desire to use his individual talents and abilities in service of those around him." Kordelle is looking forward to a 6 ½ year medical program at American University of Antigua (in the Caribbean) where he can earn his Associates, Bachelors and Medical degrees.
"My elders and parents have always told me that when you go to college, go far, because the reservation will always be here for you when you come back. When you come back bring the knowledge you have been given and give it back to your people," shared Kordelle. "This is something I hope to do by becoming a surgeon and coming back to the Tulalip Reservation."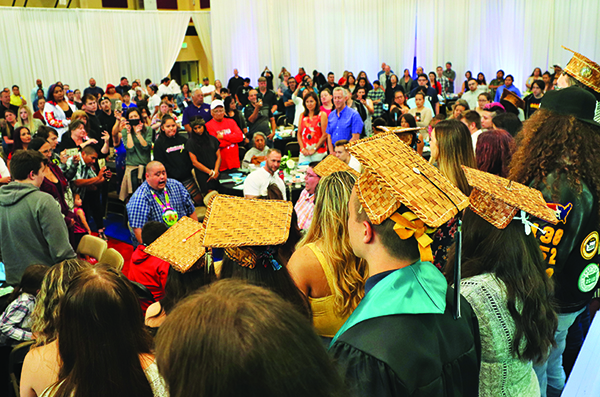 Congratulations to all those Tulalip students who put in the hard work and dedication to earn their high school diploma. Chasing a dream requires your efforts and passion. The hard work isn't over now that you have graduated, it's just the beginning as you now prepare for the new challenges waiting in the next chapter of life. Good luck and congratulations!