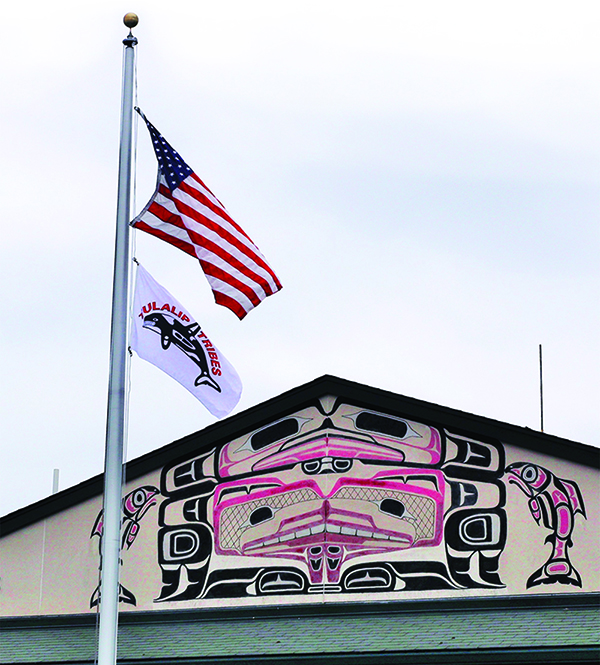 By Micheal Rios, Tulalip News
Outside the front entrance of Quil Ceda Tulalip Elementary is a flag pole that, since its inception, had one purpose and one purpose only – to fly the red, white and blue United States flag. As of June 14, that singular purpose is no longer and a once lone U.S. flag is now joined by the resilient and bold orca symbolizing the Tulalip Tribes.
"Beginning today, the Tulalip Tribes flag will be flying at QCT every day, right along with our American flag," said Assistant Principal J.J. Jensen during the school's morning assembly. "We want our community, our students and their families to know that when they are here, they are on sovereign Tulalip land."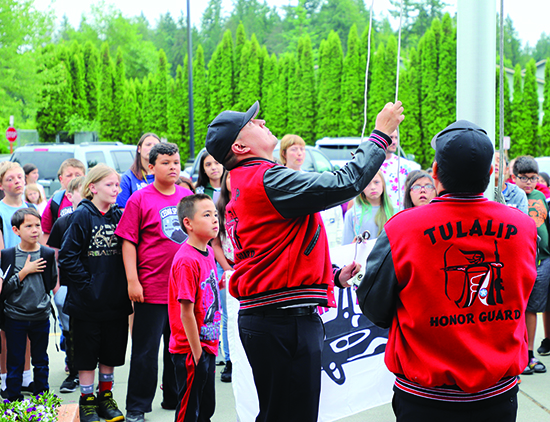 "We are very unique in that we are a sovereign nation," added Tulalip tribal member and Cultural Specialist, Chelsea Craig. "Our flag is so important because it represents our people who make up the Tulalip nation. Our flag also honors our veterans, those who chose to serve and those who sacrificed their lives so we can all be here today."
On May 30, 1916, President Woodrow Wilson issued a presidential proclamation establishing a national Flag Day on June 14. The day commemorates the adoption of the stars and stripes as the official flag of the United States. Fast forward 103 years to the Flag Day celebration at Tulalip's on-reservation elementary, where staff, students and Tulalip veterans assembled to recognize not only the importance of U.S. nationhood, but tribal sovereignty as well.
Led by students proudly holding the Tulalip flag, and followed by young drummers and singers sharing their culture through song, the school assembly routed via the gymnasium to the main entrance's flag pole. The student body remained respectfully silent as the honor guard raised the U.S. and Tulalip flags while a trumpet rendition of 'Reveille' played.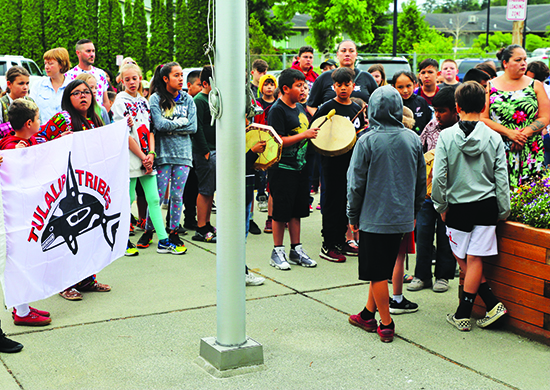 "It was the first time we've ever been asked to do a flag raising ceremony here at Tulalip. It was a great honor," said William McLean III, Veterans Coordinator, standing beside fellow veteran Rocky Renecker following the assembly. "For the students here, we hope today introduces them to the fact that flags mean something, they aren't just pieces of cloth floating in the air. Both these flags are near and dear to our hearts and represent why we chose to serve in the military."
For the hundreds of students that pass by the school's flagpole every day, the Tulalip Tribes flag waving in the wind over Quil Ceda Tulalip Elementary serves as a subtle example of sovereignty in action.