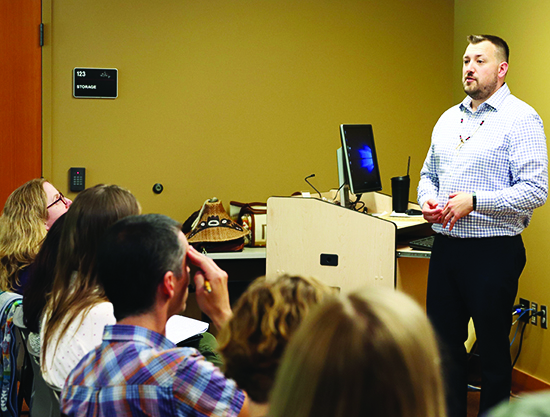 By Kalvin Valdillez, Tulalip News
"Change can either mean good or bad," expressed a local environmentalist to an audience of about sixty. "I know it's only semantics, but I think we should start addressing it as it is, a climate crisis."
A disruption of the food chain is currently occurring in the Pacific Northwest as sea level rise, pollution and ocean acidification are causing an alarming decrease in the salmon and orca populations. Climate change is not only affecting the Salish waters, but also threatening tribal ancestral lands as wildfires have unfortunately become a statewide yearly occurrence, and the recent increase of outdoor recreationalist are interfering with tribal spiritual and hunting practices.
A recent report by Seattle Times states that due to the warm weather this past May, the statewide snowpack percentage is only at 58% of the normal average, while Snohomish County's snowpack had the lowest percentage, measuring at 29%. As the snowpack melts, it delivers water into local streams, rivers, lakes, estuaries and bays. As a result of this year's dry climate, the state is gearing up for a summertime drought and preparing for a series of wildfires.
Climate change is inevitable and scientists are now reporting the world will feel the extreme effects of global warming sooner than anticipated. Several tribes are at the forefront, fighting to save Mother Earth and slow down the process of climate change by raising awareness, protesting big oil and energy companies, and dedicating their efforts to recover the once abundant salmon population. More often than not, the tribes are joined by a handful of environmental agencies who are fighting alongside for the same cause.
This past January, the Tulalip Tribes Natural Resources department organized a daylong presentation for local outdoor recreational groups in an effort to establish a positive working relationship and also equip the groups with a basic knowledge of treaty rights. The event was such a success, they decided to host another workshop, on June 20 at the Hibulb Cultural Center (HCC), tailored to surrounding environmental organizations.
"We have so many goals in common, so many projects that we should be working on together," said Tulalip Natural Resources Environmental Liaison, Ryan Miller. "And one of the best ways to do that is to make people feel included, and I think people should be included, because it's their treaty as much as it is ours. We're not just talking about treaty rights for tribal members, we all had representation at the treaty signing. If you're a citizen of the United States, you were represented by the territorial governor, Isaac Stevens, and as Indian people we also had our representation there. I want people to understand that we all have ownership over the treaty and we have a duty to uphold it, whether you're a non-Indian person or a tribal member."
Over sixty participants, from nearly forty organizations, attended the sold out presentation. Beginning their day in the HCC longhouse, the group was welcomed by Tulalip Chairwoman Teri Gobin, who offered a welcoming song. The group then proceeded to a classroom at the museum where they spent the day learning about the Point Elliot Treaty of 1855 and the significant value it holds for both tribal and non-tribal Washington State residents.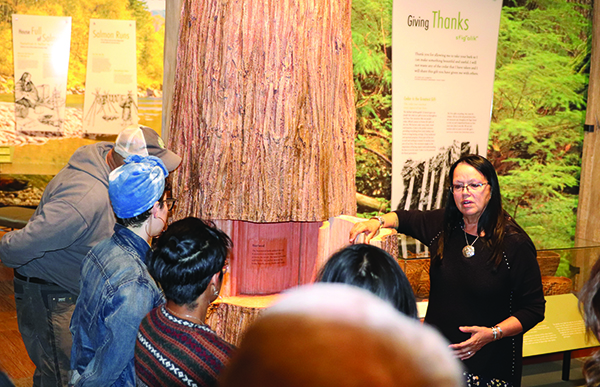 To get a basic understanding of generational trauma, Tulalip Elder and Natural Resources Special Projects Manager, Patti Gobin, began the presentation by sharing a personal family story about her grandma, Celum Young, who was a first generation Tulalip boarding school student. Patti explained that because of years of forced assimilation, Celum struggled with her identity after enduring years of physical abuse for speaking her language and practicing her traditions while at the boarding school. As a direct result from the boarding schools, Patti admitted that her grandmother avoided teaching her children and grandchildren certain traditions in fear that they would be punished just as she was. Over time, Celum and other boarding school students inadvertently passed their boarding school traumas onto the next generation and many Native families still struggle with generational trauma to this day.
Today, Patti and her family are very involved in the Tulalip culture, taking part and leading in a number of ceremonies and traditions, including stripping cedar every summer.
"Stripping cedar is a very critical part of our culture for weaving and many other purposes," Patti said. "As we were stripping cedar one day, we sang our songs to thank the cedar trees for letting us have portions of its life to become a part of our lives. As we're doing this, all we could hear was, zoom. Motor bikes were going by throughout the whole day we were there. One young man stopped and asked, 'what are you doing here, are you cutting all these trees down?' I said no we are stripping cedar, it a traditional way of our life. He said, 'oh', strapped on his helmet and zoom, he took off."
Patti shared this particular story to explain how the Tribe's treaty rights are often violated in today's society. The 1855 Treaty of Point Elliot is a formal agreement between the federal government and the people who make up the central and north Puget Sound tribes, including the Snohomish, Snoqualmie, Skykomish and other allied bands. As direct descendants of the Snohomish, the Tulalips ceded millions of acres of land, agreeing to move their people to the present day Tulalip reservation. In return, the Tribe retained their rights to fish in their usual and accustomed grounds as well as hunt and gather on open and unclaimed lands in order to continue practicing their traditional cultural lifeways.
Because of the change in the environment since the industrial revolution, the Tribe is diligently working to preserve the natural world as much as possible by spearheading a number of projects like the Qwuloolt Estuary project as well as the Mount Baker-Snoqualmie Forest huckleberry restoration. The Tribe is also making strong efforts to continue teaching the next generations how to care for the land and the waterways at the annual Fish and Mountain Camps, so that the resources remain available for decades to come.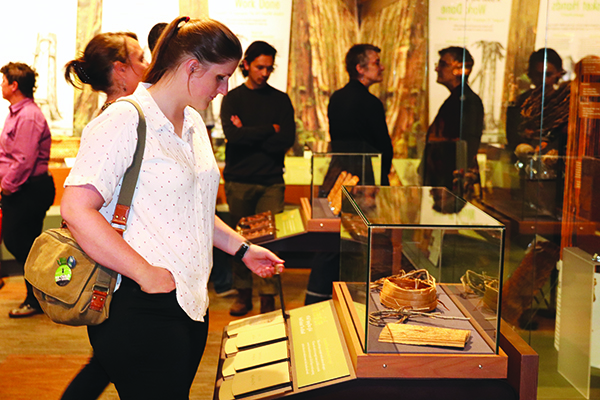 "If we're able to exercise treaty rights in a forest, that means it's a healthy forest," explained Ryan. "If we're able to fish in the salt water, then we know that we have at least some good health there. What we're really looking at is, are we protecting these places enough that they support treaty rights, and if we are, then we're headed in the right direction. It's when we get to these places where tribes don't have access to the resources, like they had before, then we know somethings wrong because we've been accessing those resources for thousands of years."
Ryan went into depth, explaining the Treaty of Point Elliot to the environmentalists while also briefly touching on the Boldt Decision. During his presentation he reaffirmed that the treaties are the supreme law of the land according to the US Constitution, and that the federal government has an obligation to uphold and support the ideals agreed upon between the state and tribal people. A major eye-opener for the participants was that the treaty not only applies to them, but they also have a role and a duty to support the treaties of the Coast Salish tribes as well. They learned how the treaty can help protect the environment and how a number of projects that would negatively affect our quality of life were ultimately shut down because they were in violation of tribal treaty rights.
Natural Resources Senior Environmental Policy Analyst, Libby Nelson, also demonstrated an informational presentation, giving the group a look at how the increasing population of the state is attributing to climate change as well as affecting tribal hunting and gathering rights.
"A lot of these organizations are going to support tribes, they just don't necessarily know about treaty rights, they don't know about tribal lifeways," Libby stated. "At a time where there's so much growth in this area, we need allies. We got a climate that is changing and there's a lot happening to the environment right now, we need to be on the same page. We think there's a lot more room for coming together through learning about who the tribes are and what treaty rights are all about. And understanding that, not only is it the right thing to do, but also treaty rights are a powerful tool for ensuring that we don't diminish further resources that are out there for everybody."
After a Q&A session, the Natural Resources department handed out a list of principles and asked the environmental organizations to consider adopting and incorporating them, as well as modifying them to meet their own personal mission and values. A local non-profit, Forterra, gave a little insight to the group on how their organization adopted the list of principles and have developed a strong relationship with the Tribe. Ryan also stated that one of the recreational groups from the first treaty rights event has also adopted the principles, while several others groups are working with their board members to commit to the principles as well.
"I'm really hopeful that this is going to continue and expand, not only for us but for other tribes, and that it will have a real tangible impact on the relationships between our sovereign nations and governments, and also between our nations and all the non-governmental organizations that we partner with," Ryan said. "One of the things we always want to be careful of and cognizant of is that this is Tulalip's view, we only represent Tulalip, we do not represent other tribes. What we are trying to do is help create educational opportunities for these organizations and governments. We're really hopeful that other tribes will pick up on this as well and that they're going to push forward to do the same thing with the groups that work in their areas."
"There was a lot of amazing information, especially for non-natives who are interested in supporting sovereign nations here in the state," expressed Jacob DeGuzman of the Seattle Parks and Recreation department. "It reinforced knowledge I did know, like treaties are the supreme law of the land, but also highlighted aspects that I didn't know, one of those being that the treaties benefit all of us. Ryan stated that as a Washington resident or a citizen of the United States, we are legally obligated to uphold those treaties and advocate for them. It helped us gain a much more expanded perspective of the land and the people that are still here caring for it."
The Tulalip Natural Resources department is planning one more Understanding Treaty Rights event during the fall which will be specific to governmental entities of the Pacific Northwest. For more information, please contact Natural Resources at (360) 716-4480.