By Kalvin Valdillez, Tulalip News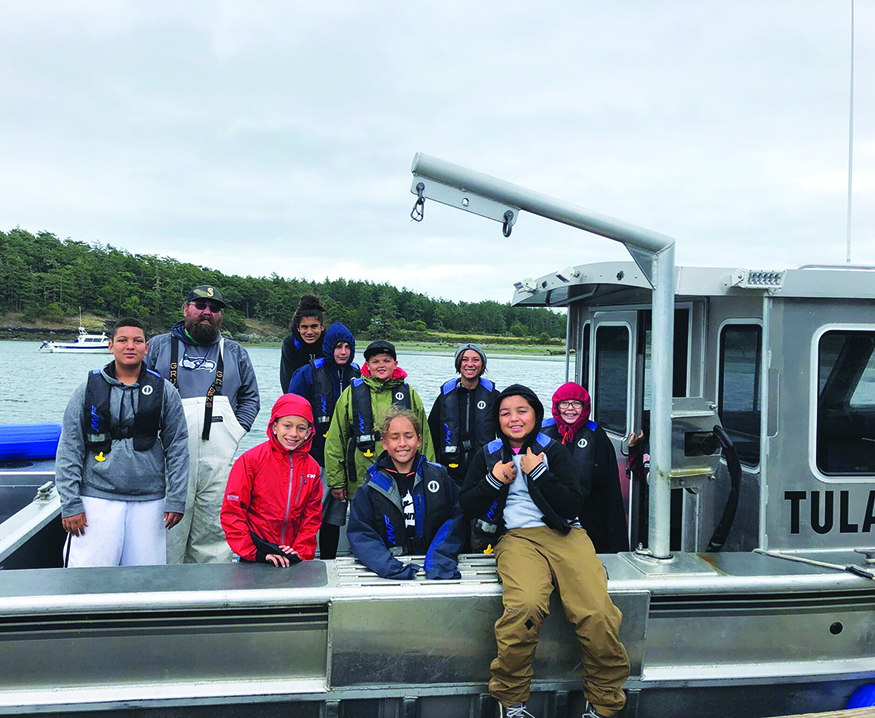 At the heart of the Salish Sea lies an island that shares a special connection to the Snohomish people. For centuries, Tulalip's ancestors journeyed to the San Juan Islands every summer, setting up camp on what is known today as Lopez Island. Aside from exploring Lopez and it's many surrounding islands, the Snohomish would fish and gather clams, crab, mussels, salmon and shrimp for their families in preparation for winter.
Fifteen local youth embarked on a camping excursion they may never forget during the week of July 15-20. Upon arriving to Lopez Island, by way of Washington State ferry, the youth experienced summer as their ancestors once had. By disconnecting from the modern world, the campers created new friendships with other young tribal members as well as a bond with the sacred waters. The kids set up camp at the south end of the island on a Tulalip owned private beach overlooking Watmough Bay. During their visit they learned about marine life, the history of their people and the many resources the island and waters have to offer.
"The kids don't always have that opportunity to get out into nature," explains Tulalip Natural Resources Outreach and Education Coordinator, Kelly Finley. "We want to provide a safe and fun way for them to get out there and see different parts of what is essentially tribal land. It's important they take part in camps like these to experience the outdoors and the traditions of their people."
Now in its second year, Fish Camp is open to local youth and is hosted by the Tribe's Natural Resources department. The idea was originally inspired by Tulalip's annual Mountain Camp, where young adults of the community spend a week at the Skykomish watershed learning about the natural world and how their people have hunted, gathered and performed spiritual work in the mountains since time immemorial. Fish Camp teaches the pre-teens another aspect of Northwest tribal lifeways, and both camps provide a perfect opportunity for the youth to not only learn about, but to also exercise their treaty rights.
"I think it's important our youth experience Fish Camp on Lopez Island because that's where our ancestors went," expressed Michael Lotan, Tulalip tribal member and Fish Camp counselor. "They would dry clams out there and they would gather food for the upcoming winter season. We visited two sacred sites. One had really big middens, or shells and charcoal that proved our ancestors were once there. We also went to Watmough Bay and learned about all of the archeology sites that were there. We went to a couple beaches and looked for some agates and we jumped off the Tulalip dock, which was awesome. We were running and jumping as far as we could."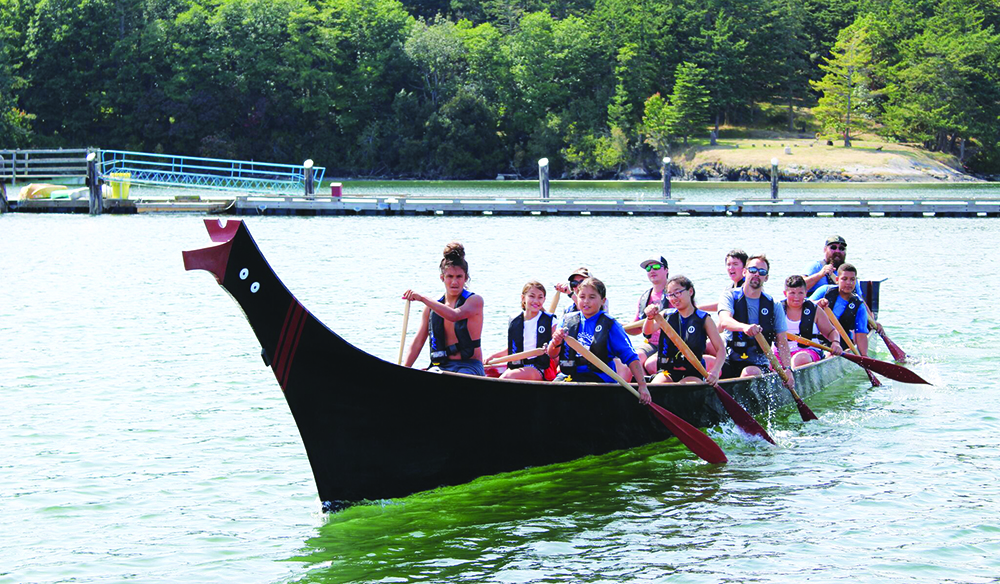 The kids were kept busy throughout the entire week, getting a first-hand look at Coast Salish traditions. A number of new activities were added this year including a chance to pull the Tribe's traditional cedar dugout canoe, Big Brother. Skippered by Tulalip Fish and Wildlife Director Jason Gobin, the young adults paddled through the Salish waters, further strengthening the connection between the future generations and those ancestors who pulled in the same waterways many generations ago.
"It made my heart lift up seeing all you guys out there," said Jason. "It reminded me of when we were all kids, running around all wild, it was a good time. This camp is great, the kids love it and it's something we could always continue to build on."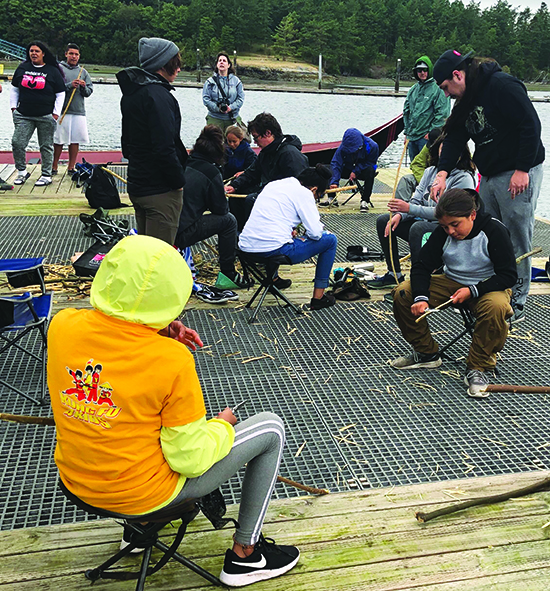 Another highlight of Fish Camp is the traditional clambake. Prepared by Tulalip tribal member Tony Hatch, the campers were treated to a delicious meal of salmon and shellfish, which they caught locally with seine nets and prepared near the campsite. Tribal member Cary Williams also made the journey to Lopez to teach the youth how to carve fish sticks, which were traditionally used to cook salmon fireside.
"We learned how to carve, we pulled canoe and we had a good time up there," stated young Tribal member, Kane Hots. "We toured a few archeological sites. The rest of the time we were able to hang out with each other and go swimming. My favorite part was swimming because it's summertime, and carving too. It was great to learn about our ancestors, about their teachings and how they were raised."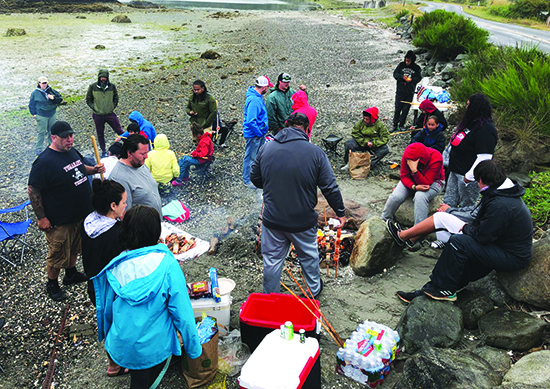 At the end of a culture and fun-filled week, the youth packed up camp and journeyed back to Tulalip where a celebration with their families took place. The kids enjoyed lunch after reuniting with their relatives and also received a number of gifts from Natural Resources including a certification of achievement, Fish Camp t-shirts and a blanket.
"It was a really good experience," said Fish Camper and Navajo/Sioux tribal member, Mahina Curley. "The best part I think was the fact we were on a real cedar canoe. In my culture, we don't have big bodies of water so that was really new to me. The fish on the stick seemed a little weird to me at first because we usually just fry it and eat it. I never had it on a stick before, but it was delicious. The clams and shrimp were really tasty and I liked learning about all the sacred places as well. It was a lot of fun, learning about another tribe was really cool. I definitely recommend it."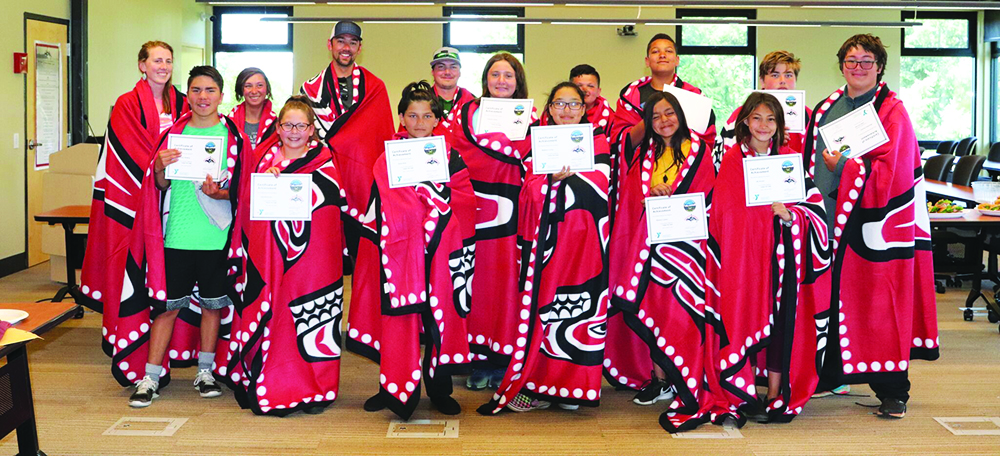 After another successful year at Fish Camp, Natural Resources is currently gearing up to host the 5th annual Youth Mountain Camp on August 5-10. For more information, please contact the Tulalip Tribes Natural Resources Department at (360) 716-4617.