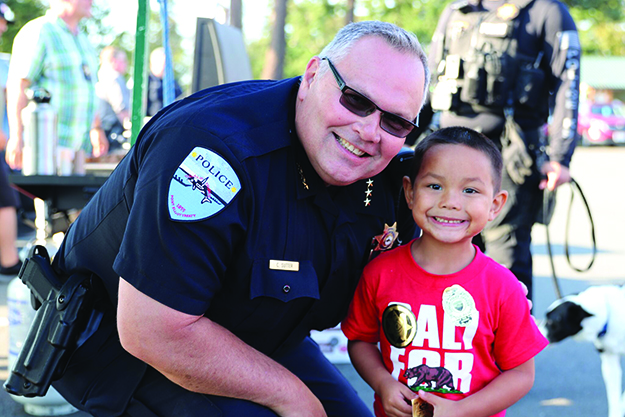 By Kalvin Valdillez, Tulalip News
You couldn't have asked for better weather on the evening of August 6. With clear skies, a light breeze and a beautiful view of the bay, Tulalip community members gathered at the parking lot of the Don Hatch Youth Center to celebrate the 36th annual National Night Out with local tribal law enforcement officers. A fun occasion for all generations, the citizens shared good times with the Tulalip Police Department (TPD) at the yearly summertime event by getting to know the officers on a personal level and thanking them for protecting our tribal society.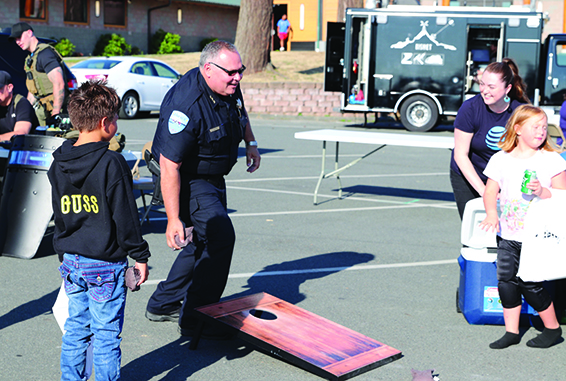 "National Night Out is a wonderful opportunity to mingle with the community and let neighbors reconnect with each other, and also with the police in a non-enforcement way, in a social setting," stated Tulalip Chief of Police, Chris Sutter. "Hopefully after tonight we'll know each other a little better, form new friendships and also reinforce our relationship with the Tulalip community. The police department coordinated this and we invited other tribal departments and other first responders. It's my hope to do this event every year, but also find new ways to connect and get out and meet with Tulalip's individual neighborhoods, get to know their issues and also further develop trust and strengthen those relationships."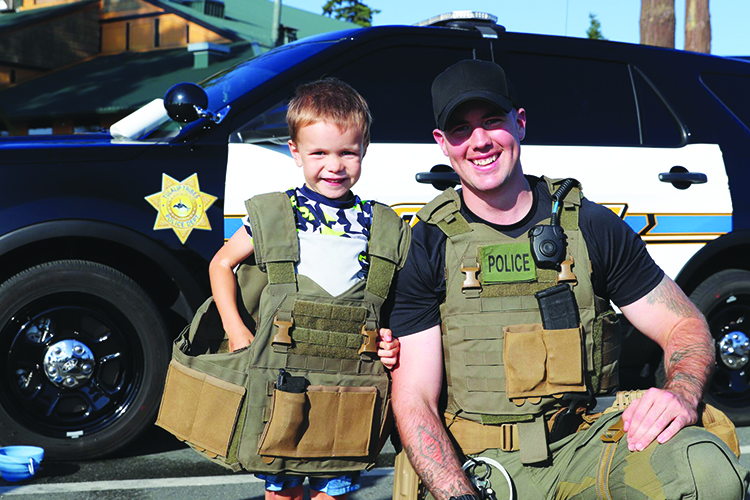 Two officers were assigned to grilling duties as the smell of barbequed hot dogs and burgers filled the air. After enjoying a meal with the coppers, National Night Out participants checked out all of the booths at the event, learning about services offered at programs such as the Tulalip Child Advocacy Center, the Betty J. Taylor Early Learning Academy and Behavioral Health. The Tulalip Office of Emergency Management provided safety information and the Tulalip Lions Club graciously donated numerous books to the youth.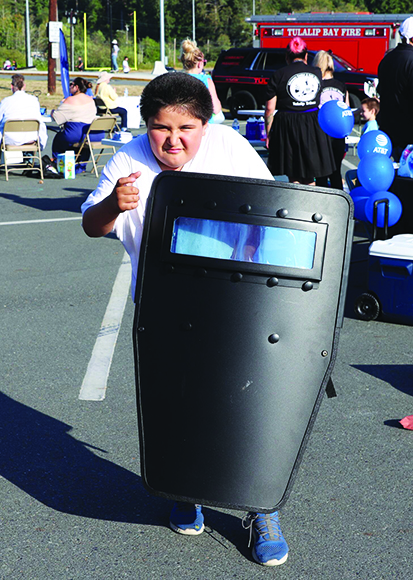 The Tulalip Bay Fire Department brought one of their shiny red fire engines to National Night Out so the youth could get a firsthand, up-close look at the emergency vehicle. For years the tribal fire department and police department have had a friendly feud but during emergency situations, as well as at events like National Night Out, the first responders put aside their differences to show support to their uniformed rivals.
"This is one of those great community events that happens all over the country," said Tulalip Bay Fire Department Deputy Chief, Jim Reinhardt. "The Tulalip Bay Fire Department feels a real sense of ownership with this community and we really try to show our support for these types of events. The solidarity that we have with the police department, we're both on the same team for different reasons, but TPD is always supporting our efforts and we're always out there for them and we're both here together for the people."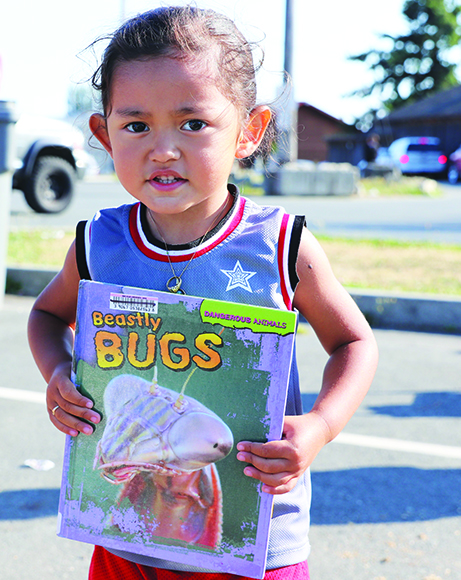 The kids of the community had a blast at National Night Out, looking up to their local heroes, jumping about the bouncy houses, touring the Tribe's Search and Rescue boat and playing fetch with Tulalip K-9 Officer, Cait. The youth also went home with a variety of gift bags filled with police badge stickers, toys, coloring books and fun stationary supplies.
"It feels nice to participate with the community," expressed Tulalip Youth Skylar Yellowwolf. "You get a behind-the-scenes look at the people who help us. There's a lot of incidents and a lot fires that happen on the rez and here at National Night Out, you can see the faces of those people who keep us safe and protect us, and also see how they help and what they do. It's nice because I feel like with the cops, there could be a lot of negative perspectives. So, to teach kids at a young age that the cops are here to help you —it provides them with a really good and safe environment to grow up in."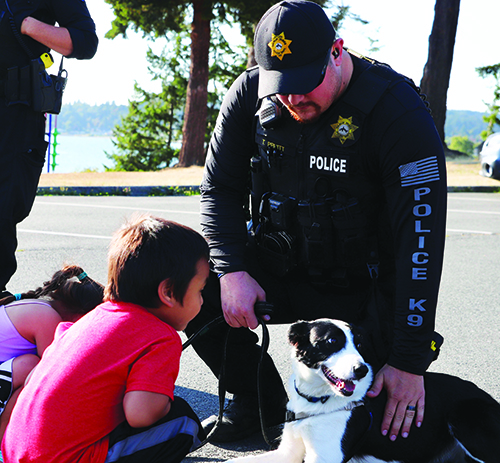 The highlight of the night this year, for adults and children alike, was the opportunity to try on and test out tactical gear, which TPD officers use during hostile missions. Throughout the two-hour event, TPD officials helped community members slip into bulletproof vests and explained the use of their various tools.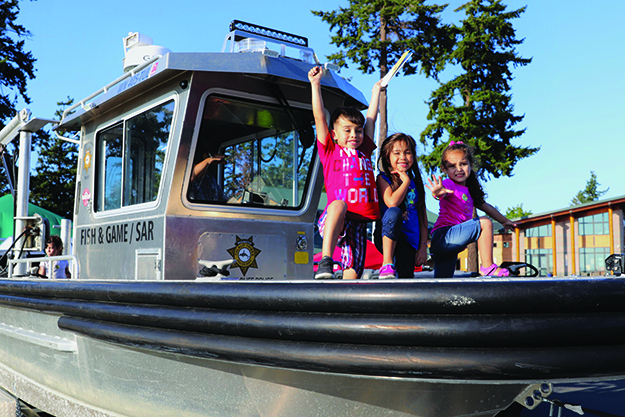 "This is our emergency response gear which is basically another way of saying SWAT gear," explained TPD Officer Ian Schmitz. "We brought out some of the tools and equipment we use; vests, shields, rams and other toys. These are basically the stuff we use for our missions, it's not our everyday gear we wear when we're on patrol. Kids love checking out our gear, it's always great to see the young ones come up with big bright smiles on their faces, that's the best part about doing this, the kids. National Night Out is basically a bonding experience between the community and TPD. The event opens up people's eyes and minds to what goes on around here. And it's in our community, which is nice, it's great just seeing all of these people on a good note. It's nice being out here, interacting with the community, smiling, laughing and building that trust and comradery between the people and our department."