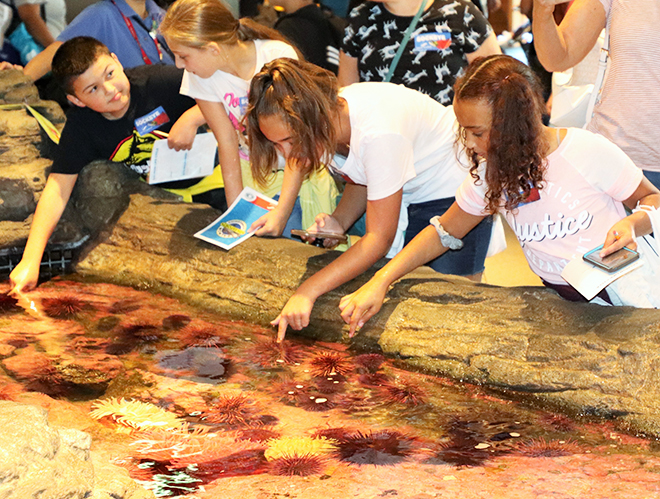 By Micheal Rios, Tulalip News
"We are honored to be on the ancestral homeland and waters of the First People of the Salish Sea. Thank you Coast Salish for allowing us all to call this beautiful place home," was the opening statement made by Salmon Homecoming Alliance staff as approximately 500 fourth and fifth-grade students from local tribal schools arrived outside the Seattle Aquarium on the morning of September 12.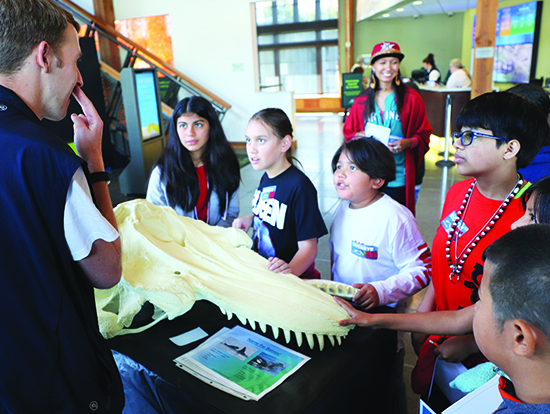 The gathering was a pre-celebration known as Salmon Homecoming School Days. A public event at Waterfront Park where interactive presentations and displays attract interest and attention on how to explore ways that support the cooperative spirit of salmon restoration and protection. 
For the fifth consecutive year all Quil Ceda Tulalip Elementary (QCT) 5th grade classes were active participants. The students were excited to spend a day out of the classroom at the Seattle waterfront where they were given an opportunity to experience everything the Aquarium had to offer, while enjoying a variety of salmon-based learning activities.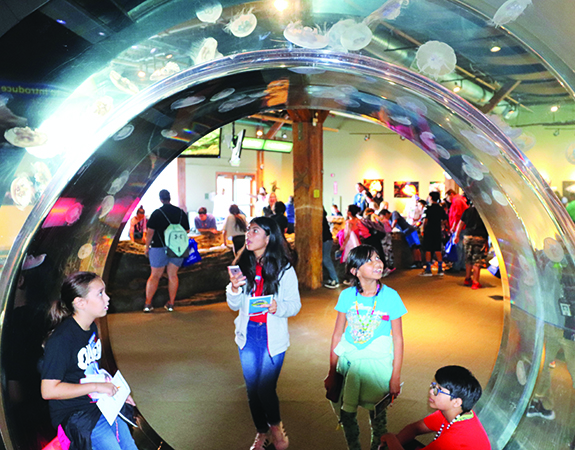 "This is an amazing opportunity for our students to continue learning about other people's cultures and to identify with other tribes in the area," explained 5th grade teacher Ms. Hansen. "Not a lot of schools get invited here, so it means a lot for us as a school to continue to have a role. This is a unique event that lets our kids be proud and true to who they are."
Interesting fact, the Seattle Aquarium is the ninth largest aquarium in the United States by attendance and among the top five paid visitor attractions in the Puget Sound region. Bolstering those stats were an additional 100 or so Quil Ceda students, accompanied by teachers and chaperones, who made the mini journey to the region's premier resource for hands-on marine experiences.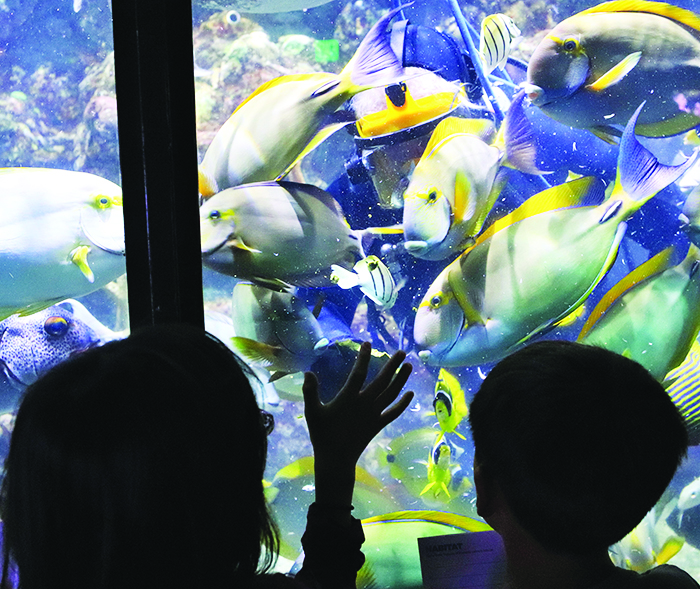 "The coolest thing I learned was octopuses huddle up in a corner when its bed time," said 5th grade Charlee Martin. "I got to see a bunch of baby sharks and even a blow fish. What I'll remember most is touching a star fish and sea anemones."
During their day-long excursion, they students wondered from exhibit to exhibit eagerly looking for aquatic friends similar to Sponge Bob and Nemo. And when they found them, the tech savvy 10-year-olds were quick to pull out their cell phones and take the all-important selfie.
Being salmon are often viewed as the traditional food source of Coast Salish peoples, and the Tulalip Tribes moniker is 'People of the Salmon', it is only fitting that the cohort of 5th graders got to learn much about their cultural icon on the trip.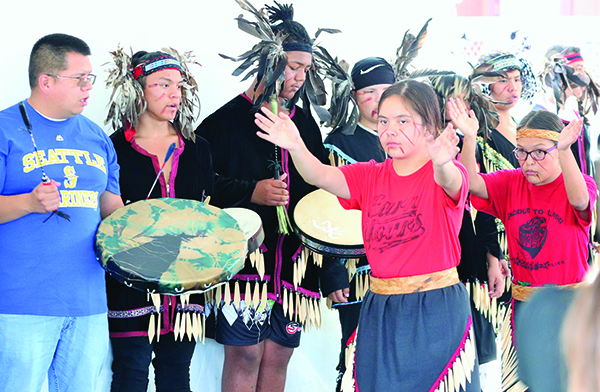 "We got to look at all kinds of fish and even touch some of them!" beamed 5th grader Noi Sisanga. "I learned about fish's lifecycle, like how they start as eggs then learn to camouflage themselves as kids. Then when they become spawning adult fish they swim home to make babies."
Inside the aquarium, a number of Salmon Homecoming learning stations were setup and made as kid-friendly as could be. Marine biologists, aquatic experts, and salmon advocates did their best to keep the energetic youths attention while explaining salmon lifecycles and ecosystems, while adding in the cultural importance of their habitat protection and restoration.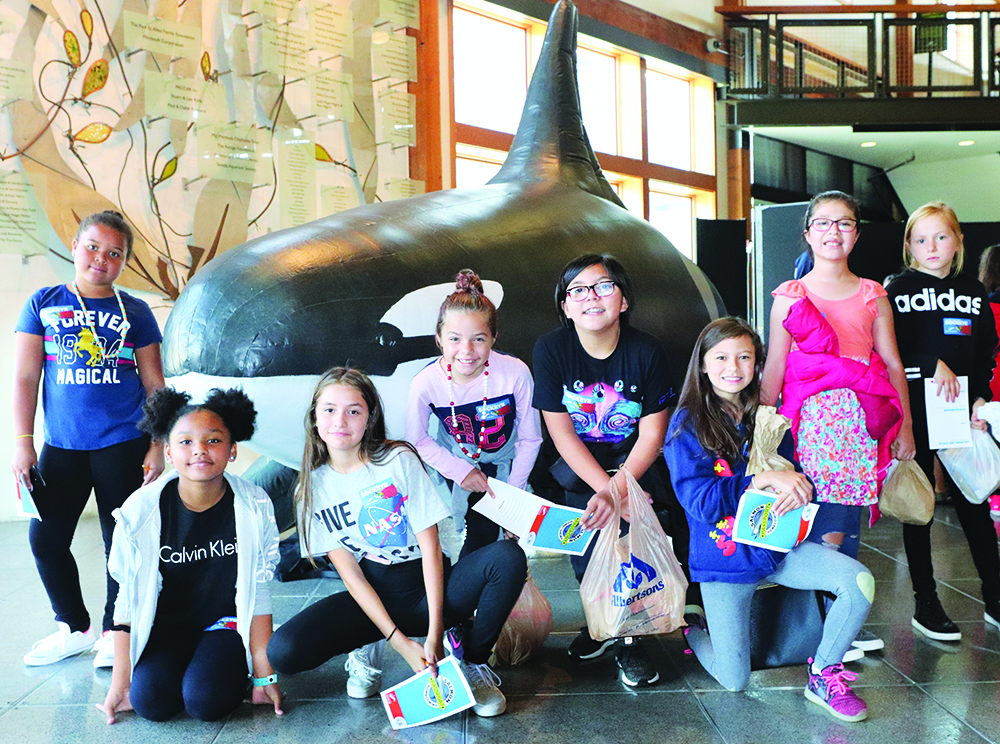 Concluding Salmon Homecoming School Days was a pair of tribal song and dance groups from Lummi Nation and Muckleshoot who shared their teachings with everyone in attendance. Several of the Quil Ceda students could be seen singing along while Lummi performed a song very similar to one sang every morning at QCT.
"My favorite memory of the trip is when our students got to sit and listen to other Native youth drumming and singing as part of the Salmon Homecoming festivities," said student advocate Malory Simpson. "It is always a beautiful thing to see our students witness other Native students practicing their traditional teachings. It helps to reinforce the ideas and values that our students are being taught at Quil Ceda Tulalip."