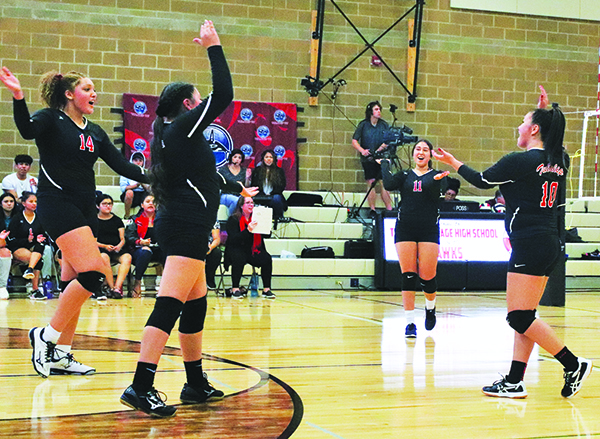 By Micheal Rios, Tulalip News
Tulalip Heritage volleyball is back. For four consecutive years now the program has secured a playoff spot and Heritage girls have played meaningful postseason games. This 2019 team enters the new season with many players returning from last year. They have a new coach in Meaghan Craig, but the mission remains the same – continue to get better and win enough games to advance deep into the playoffs.
On September 19, the Lady Hawks hosted their season opener at Francy J. Sheldon gymnasium against Lummi Nation. Their home debut also allowed most spectators their first opportunity to check out the redesigned gymnasium floor complete with a Native weaving pattern created by Lushootseed teacher and tribal member, Michelle Myles.
In the opening set, Heritage fell behind 0-2 before going on a scoring surge. One Lady Hawk after another served up several aces and got the crowd into the match. After taking a 15-5 lead, the girls kept up the pace and won the set 25-8.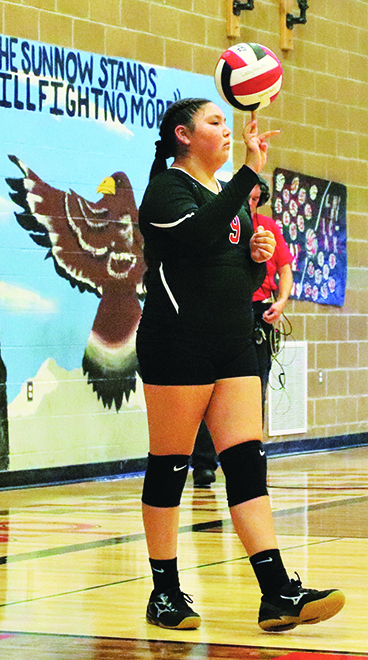 The 2nd set was much of the same. Tulalip was making a committed effort to communicating at every position, allowing each girl multiple opportunities to bump, set, or spike for points. After again taking a big lead, this time 17-7, they won the next set 25-10.
Going into the 3rd set, the Lady Hawks were all smiles. It was obvious that by their style of play they were determined to get the ball over the net at a higher rate this year, thereby not costing themselves points on unforced errors. With the much improved service game, they again took a big lead of Lummi 12-3 before closing out the final set 25-10.
Winning the match 3 sets to 0 in their season opener, and doing so in dominant fashion, gave team captains Deachae Jones and Kislyn Parks much to be proud of following the match.
"We scouted Lummi before this match, so we were prepared for them," said junior, Krislyn. "We want to be more positive with each other and work better as a team and that really shined through tonight."
"Our expectations for this game were to work together and lift each other up when we hit the rough patches," added senior Deachae. "But in this game we really didn't have any rough spots because everyone played really well."
About that improved service game as a team that led the Lady Hawks with so many aces the co-captains shared their coach has really emphasized doing whatever is comfortable to get the ball over, whether that's underhand, overhand, or jump serve. "That really gave everyone more confidence and we only expect to get better as the season goes along," said Krislyn.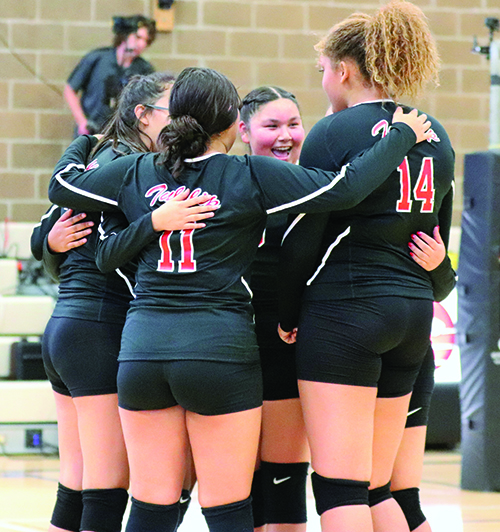 The Lady Hawks host fellow tribal school Muckleshoot tonight at Heritage High School in what's sure to be another fast-paced volleyball match.