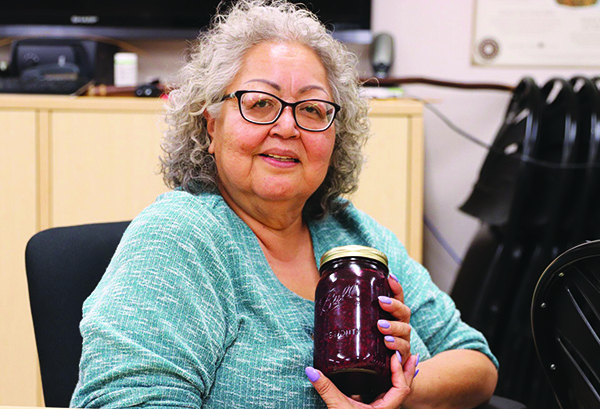 By Kalvin Valdillez, Tulalip News
"I remember my aunt, she stood up once to speak at a gathering. She was talking about our Indian food, or lack thereof, and asked 'what am I supposed to feed my inner-Indian, spaghetti?" recalled Tulalip Elder and Rediscovery Program Coordinator, Inez Bill, while letting out a small chuckle. "That always stuck with me. And also, when Chief Seattle said, 'when the tide is out, our table is set.'"
For nearly fifteen years, Inez has led the Rediscovery program, reincorporating a number of cultural aspects that were once considered common, back into the practices of the modern-day Tulalip tribal community. Through colonization, assimilation efforts and the decades of generational trauma that followed, many of these teachings were lost, or kept closely and taught within individual families.
A relatively recent revitalization resurgence saw the art, language and true history of the Northwest tribes come to light and today those cultural traits are often recognized and celebrated throughout the area. And while our lifeways such as fishing, hunting and gathering are rights that may be known to the general public, the spiritual connection to that work is an experience that is unique to the Coast Salish people.
The Rediscovery program has put an emphasis on helping Tribal members, youth to elders, experience that connection by hosting hands-on workshops at local events, teaming up with several departments to spread their teachings. If you're lucky, you may have made lip balm or salves out of local Indigenous plants with Inez and her team, while learning about the medicinal purposes each plant contains. Or perhaps you attended Mountain Camp as a youth and learned the many uses of cedar, carving walking sticks and weaving baskets. The program also oversees the Tulalip family canoes Big Sister, Little Sister and Big Brother, awakening them every spring, preparing them for Canoe Journey and putting them back to rest after the summertime event ends.
"Our people have learned and passed things on generation after generation through oral teachings," explained Inez. "Our teachings are not made up, I've heard what I heard many different times. If you go to Upper Skagit, Swinomish, Lummi, Tulalip, you hear the same thing and that's how you know it's a teaching."
Inez is always willing to pass on her knowledge of traditional Salish foods. Long before western civilization arrived to the region, the land was abundant with resources, with tall cedar trees encompassing the land, huckleberries high up in the mountains, elk that walked amongst the forests and salmon that populated the Salish Sea in large numbers. The tribes of the Northwest cared for those resources, ensuring that their people would be provided with sustenance for generations to come.
"Native foods were how our people remained healthy for years," she said. "As a young girl, I grew up going to the winter ceremonies at our smokehouse and celebrated the spiritual life. During those ceremonies, I worked in the kitchen with some of the older lady cooks. There are a lot of things I learned from them, as well as from my parents and grandparents. It was there where I learned how to gather and prepare some of our traditional foods.
"When we serve you our Native foods, we are giving you our very best. There are teachings and values that go with everything we do. From the hunter preparing for a hunt and the gatherer gathering, knowing it's going toward a ceremony or whatever work that's going to take place, that's their gift to that occasion, to share in the gathering. There were times during my life where my family would host gatherings for namings, funerals, memorials and ceremonies. It was always important to have our Indian food there. I came to know and recognize the food, and you see those same foods today, our BBQ salmon, deer steak, deer stew, clams, canned fruit, clam chowder, oysters and crab. All of that not only provides nutrition for us, but it feeds our spirits and the spirits of our ancestors."
Any given year there are several celebrations hosted within an Indigenous community and the meal is an integral piece to the ceremony. The food's flavor, serving size and overall presentation speaks volumes about the hosting tribe. During smokehouse ceremonies, Inez explained that she and the other cooks would set a table full of traditional foods, specifically for the spirits of the Tulalip ancestors, early in the day before any guests arrived. 
"We usually had the first table around three o'clock in the afternoon for our ancestors from the other side who came to witness the festivities going on. When we put the food out there, they're the first to eat. Then when our visitors come, we serve them next, before we eat. We always prepare and serve our best and that shows that we are rich in our resources and shows that we are sharing with our people and visitors."
Prayers and songs are offered before and after a hunt, thanking the land, Creator and the animal itself for the nourishment. And not an ounce of meat, hide or bone goes to waste; people fashion garb, jewelry and drums from the animal's remains. And, although it varies from tribe to tribe, the Salish people hold annual Salmon Ceremonies, thanking the fish for its sacrifice at the start of each fishing season.
"How you prepare yourself to conduct that work is just as important as the hunt, as the harvest, if not more. That's where the berry picking songs come from, to make the work easier and not so difficult. And whatever you're harvesting, you never let it waste. You take care of it, you honor it, respect it and give thanks, because it will continue to provide for you into the future."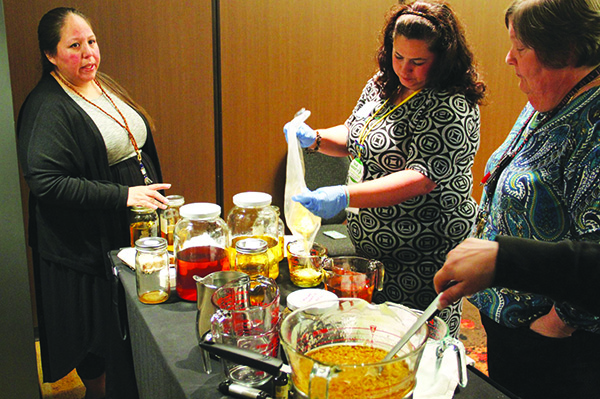 The Rediscovery program hosts traditional foods workshops and during these classes, Inez and crew provide the history of the Coast Salish foods while also showing their participants how the meals were prepared in ancestral time with bentwood boxes and cooking stones. They also prepare an assortment of food samples including teas, seafood, deer and elk meat, and usually a berry dessert concoction as well. Each dish is created combining traditional plants, herbs, berries, nuts and meat with the recipes that are popular in modern times.
"We are always experimenting," Inez proudly stated while showcasing a large mason jar filled with a berry mixture. "I always wanted to make a pie filling, this was the first year we took time to make this. I think our pallets have changed a lot. Sometimes it's hard to get people to try something unless its palatable. Our people didn't have the modern convenience of table salt or pepper. So today, a lot of people will look at those foods and say they are unseasoned.
"If you look at other cultures, such as the Koreans and Germans they have sauerkraut and kimchi, foods that have been fermented. We had fermented foods too, and we haven't done a lot of experimenting with those just yet, but we know they served a purpose. Like the sourness of Indian ice cream, a soap berry that's whipped up to the consistency of whip cream. If you ate it today without using some sort of sweetener, it could be considered too sour by some. We like to add apple juice, it makes it more palatable, but I don't think our ancestors added that to their recipe."
Inez explained that she began blending traditional and modern recipes when her late husband, Hank Gobin, was diagnosed with diabetes.
"He wasn't supposed to eat bread. I kept thinking of ways to get him bread. And I found a way to make flour out of hazelnut. It doesn't have any salt or sugar and we grinded the nuts down to the consistency of flour. He was so happy to get that bread, and since then we kept on experimenting, trying to figure out how to make today's recipes healthier for our people by substituting some of the ingredients with our Native foods. Or we'll take a Native recipe and figure out how to cook it in an oven or on a stovetop."
Today, many people around the globe are attempting to switch back to the traditional diets of their culture. For Native people specifically, that includes giving up many of those dishes that we formulated from government commodities, like frybread and hangover soup. The lack of access to healthy foods combined with the diminishing salmon and wildlife populations have caused serious, and often deadly, health issues throughout Native America. But since many tribes began educating their people about some of the dangers of modern processed foods and incorporating pieces of their traditional meal plans into their diets, diabetes and hypertension are on the decline for the first time in decades for Indigenous people as a whole.
Several tribal and Indigenous chefs have documented their journey in reclaiming food sovereignty. And more often than not, the individual claims to feel better and healthier. However, that is just a start. There are many foods that we have grown accustomed to over the years that can initially be hard to cut out. And until we do so, we may very well continue to have health concerns due to the way foods are manufactured and mass produced.
Now that we are in the middle of the hunting and gathering season, Inez urges the younger people to go out and experience the traditions of the Snohomish people, practice their treaty rights and help provide for their people.
"I marvel at the wisdom of our ancestors to include the right to hunt, fish and gather in the treaty because those are the lifeways of our people," she stated. "It's more important to share and do that work for the elders in your family or community in-need. It says a lot of a person who does that type of work. It shows that you must be good people, you listened and learned the teachings of our ancestors. When families do that, they are remembered and those good thoughts and feelings will bring a blessing upon them for sharing with the people. As far as an Indigenous community, that's exactly what we want to happen. We should continue to rely on our Native foods; the fish, deer and berries. We can't completely go back to the way it was for our ancestors, but if we went back to a-ways, then we would be a lot healthier."