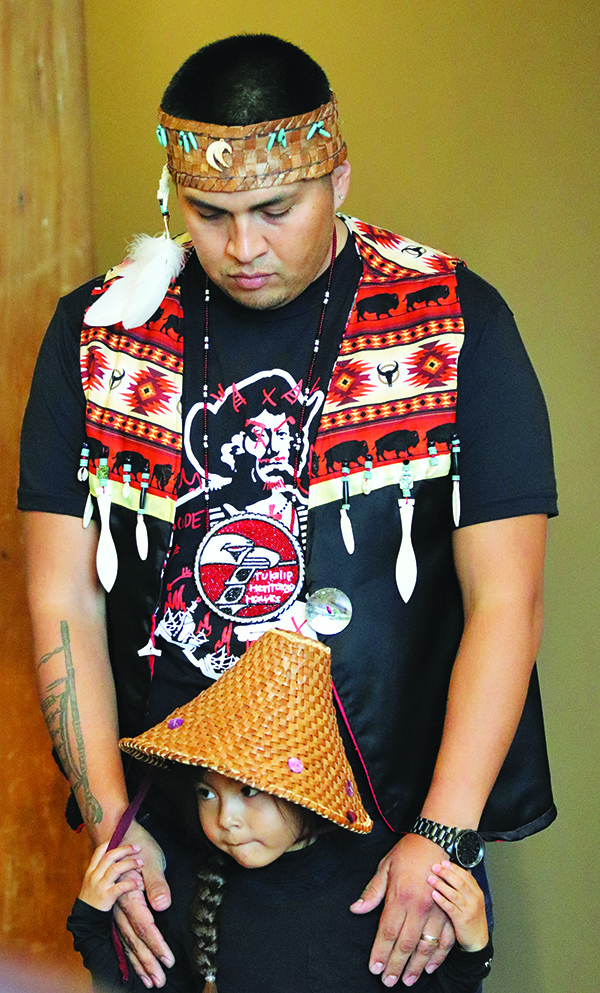 By Micheal Rios, Tulalip News
For the sixth consecutive year, the greater-Seattle area and its thousands of Native citizens celebrated Indigenous People's Day. Replacing the former misbegotten holiday dedicated to a slave trader and lost navigator, the commemorative day to honor the past, present and future of Indigenous knowledge and cultures takes place annually on the second Monday in October.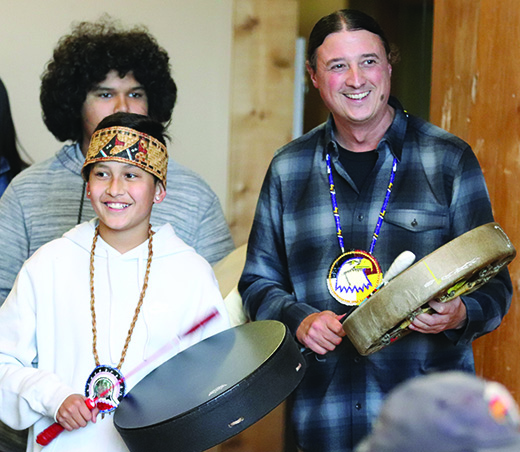 "People ask, 'Why Indigenous Peoples Day and why not American Indian Day or Native American Day?' It's only appropriate that we honor the legacy of work that's been done," explained Matt Remle. His efforts, along with many other Native advocates, were instrumental in getting a proclamation voted on by the Seattle City Council and signed into law by then-mayor Ed Murray in 2013. "It's not only honoring legacy, but when we say 'Indigenous peoples,' it's referring to more than just the tribes of colonized United States. We're talking about all Indigenous peoples who've been impacted by settler colonialism around the world."
Since its inception into the Puget Sound, the Indigenous Peoples' Day movement has spread to over 120 cities and been embraced by 9 state governments. Even 8 universities and a couple school districts have indoctrinated the holiday to celebrate global Indigenous cultures.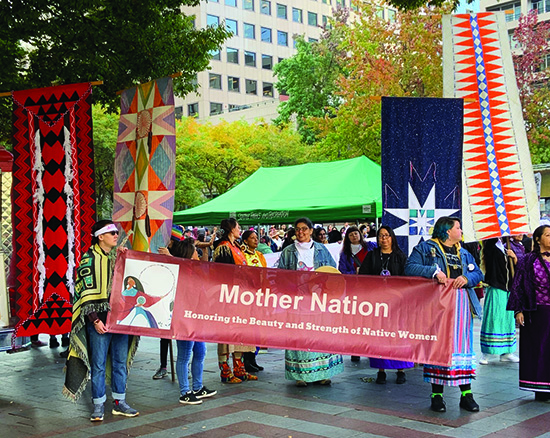 On Monday, October 14, Native people and allies from around the Pacific Northwest gathered at Westlake Park, on ancestral Duwamish land, for a march and rally to celebrate Indigenous Peoples' Day in Seattle. The dedicated early morning group proudly wore cultural garb and traditional regalia while traversing from Westlake Park to Seattle City Hall, where a rally of celebratory song and dance was held.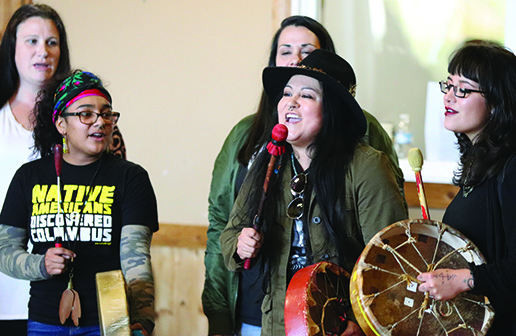 "It's been a beautiful day to see so many Indigenous people come together and be filled with so much joy," shared 20-year-old Ayanna Fuentes, a member of Indigenous Sisters Resistance. "Our younger generation is growing up not knowing what Columbus Day is, and that's an amazing thing."
In the evening, the festivities continued at Daybreak Star Cultural Center with an honoring celebration for Native nations in the Puget Sound Region and their fellow Indigenous allies. Sponsored by Tulalip Tribes community impact funds, the Daybreak Star gathering included hundreds of urban Natives, dancers from a variety of Indigenous communities, and non-Natives who wanted to share in the memorable event.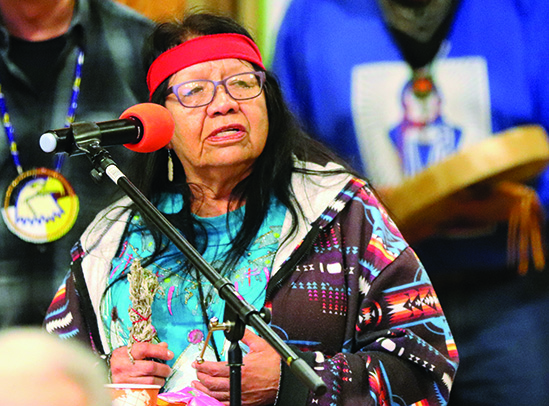 The American Indian Movement (AIM) honor song kicked off the evening while Sili Savusa and Feanette Black Bear were blanketed for their longstanding commitments to Indigenous progress. A high-energy hoop dance performed by Ryan Yellowjohn was next, followed by a variety of cultural performances representing Mexico, Chile and the Pacific Islands. For the finale, an overflowing DayBreak Star crowd was treated to several songs offered up by the Tulalip Youth Council.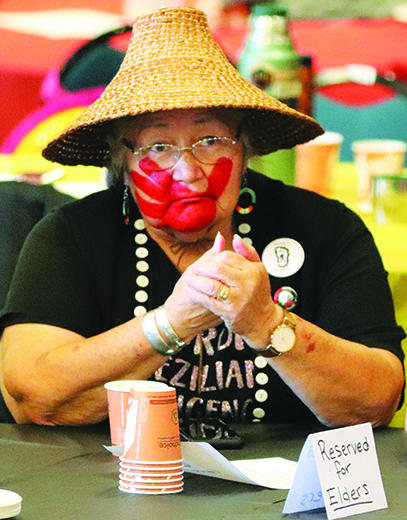 "I thank the ancestors for giving me this opportunity to be here today with you all and hold the sage," said Feanette. "There are over 500 Indigenous tribes across this country and we are all here because our ancestors said prayers hundreds of years ago for their future generations. It is up to us to stand up and take care of Mother Earth and our relatives all across Turtle Island."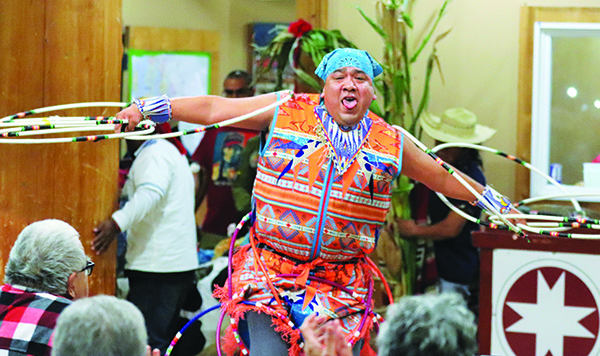 A variety of states, cities, counties, community groups, schools, and other institutions observed Indigenous Peoples' Day on October 14. They all did so with activities that raised awareness of the rich history, culture, and traditions of the Indigenous peoples of the Americas.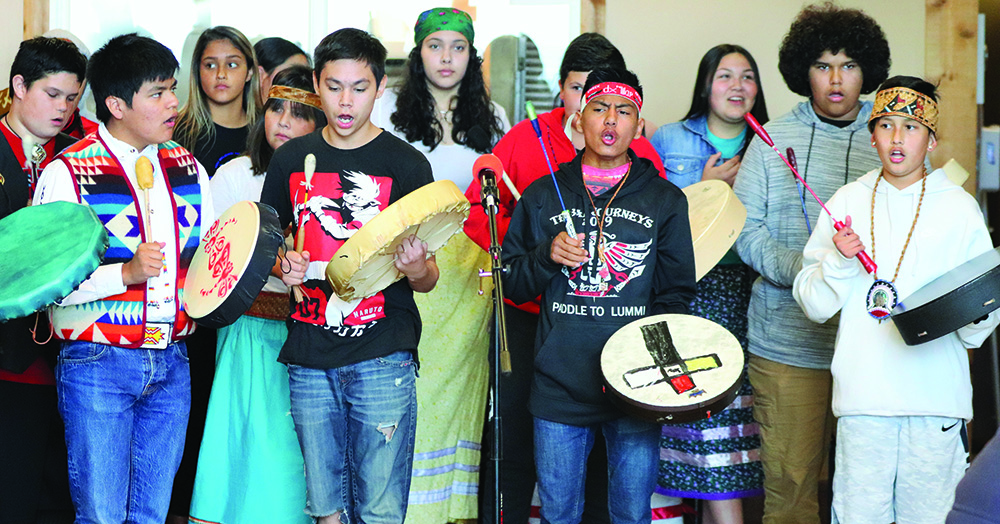 "Indigenous Peoples' Day, at its core, aims to celebrate and honor the past, present, and futures of Native peoples throughout the United States and acknowledges the legacy of colonialism, which has devastated Indigenous communities historically and continues to negatively impact them today," stated Native educator and activist, Matt Remle. "More importantly, however, Indigenous Peoples' Day moves beyond the narrative of oppression and honors the histories, cultures, contributions, and resilience of contemporary Native peoples."